Quick question. How much money do you think bloggers make with affiliate marketing? $50/year or $200,000/year? The answer's both. There are bloggers who make barely any money with affiliate marketing and those who make 6 figures. There's plenty of affiliate programs for lifestyle bloggers to easily fall into either categories.
Easiest way to ensure you qualify for any top affiliate marketing network is to have a library of quality content on your website, high audience engagement and retention, great user experience and a family-friendly website.
With so many affiliate programs for lifestyle bloggers and little to no cost to get started, there should be nothing stopping you from dabbling into the world of affiliate marketing. Here's a list of some of the best affiliate programs for lifestyle bloggers!
In this list of programs, apart from popular affiliate marketing platforms like Amazon, ShareASale, etc., I've included several other affiliate programs for lifestyle bloggers in the travel, beauty, home, gardening, hiking, niche too. So, you will definitely find something to complement your blog.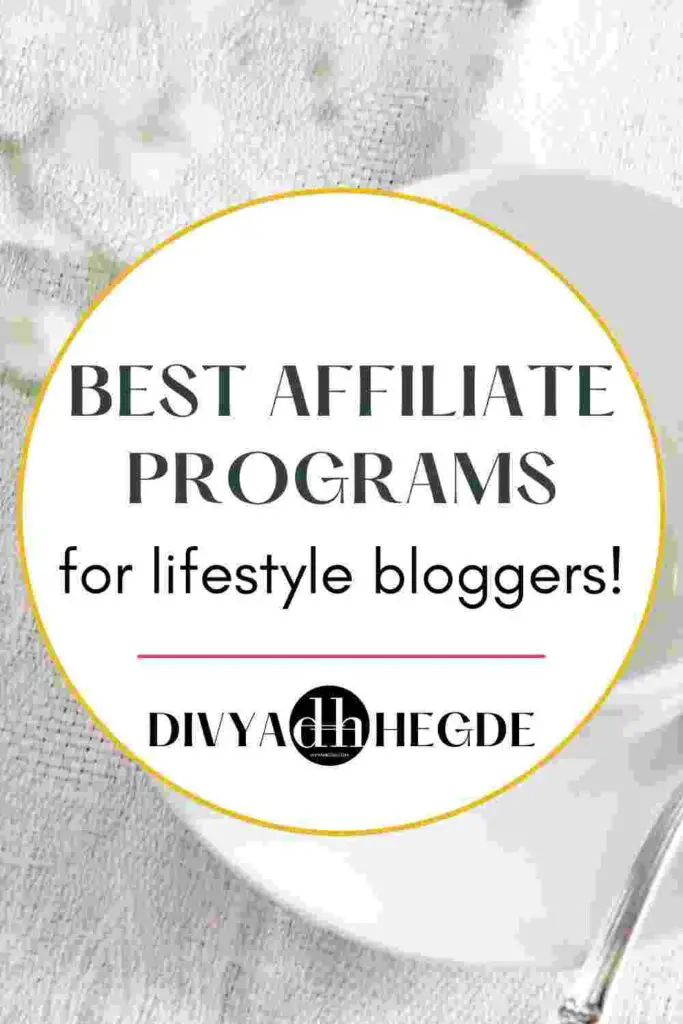 This post contains affiliate links through which we may make a commission at no extra cost to you. Read the full affiliate disclosure.
Best Affiliate Programs For Fashion/ Lifestyle Bloggers
1. Amazon Associates Affiliate Program
Plants. Shoes. Hiking equipment. If there's one website where you can get it all and more, it's Amazon. Amazon Associates is one of the most well-known affiliate marketing programs out there for bloggers of literally any niche.
As an influencer/ lifestyle blogger you can create your own Amazon store/ shop featuring all of your favorite Amazon finds in one place! Making it easier for your followers to shop your style.
Brands:
Apple, Tom Ford, Charlotte Tilbury. You name it, Amazon's got that brand. Since it is the biggest retailer with no-name and luxury brands alike, adding amazon affiliate links to any product under the sun that your readers can benefit from is so easy!
Sign Up & Approval Process:
Amazon affiliate store is the best way to monetize your lifestyle blog right from the get go. All you have to do is sign up and create an Amazon Associates account and start recommending products to your audience.
You will be required to make 3 qualifying sales within 90 days to be a part of the Amazon affiliate program. If you cannot fulfil this requirement, you'll have to repeat this process again.
Amazon Affiliate Commission rate: 4-10% depending on the product category
2. Target Affiliate Program For Lifestyle Bloggers
Target affiliate program is one of the best affiliate marketing programs for lifestyle bloggers whose audience is mainly based in the US. Since target affiliate program provides a wide variety of products to promote to your audience, it is very similar to Amazon.
One of the pros to Target affiliate program is that the cookie window is 7 days unlike the 24 hour cookie period of Amazon.
Brands:
Affiliate networks like Target have a number of no-name and common household brands you could think of.
Sign Up & Approval Process:
Becoming a Target partner is an easy process. Go to Target website, sign up and start recommending their products. It may take anywhere from 2-7 business days to hear back from them.
Target also sends out newsletters with promos and deals helping you create content that your audience could benefit from.
Important things to note before you consider to become a target affiliate:
Target pays a 0% commission rate to products in certain categories. Verify before applying.
Apply only if you have a predominantly US based traffic since Target does not ship internationally.
Target Affiliates Commission rate: Up to 8% depending on the product
3. LTK Affiliate Program
LTK App (previously LiketoKnowit and rewardStyle) is an affiliate marketing program with a global network of 5000+ retailers to choose from. You get access to a personalized shop on LTK with 300k+ active shoppers.
The LTK app allows you to create curated content your audience will enjoy and helps you partner with some of the most coveted brands across the world. Once you publish content on your LTK shop, you can promote your shop across all social media platforms!
Brands:
Urban Outfitters, Reebok, ULTA, Supergoop, Topshop and a number of other brands from categories including but not limited to Home, Maternity, Technology, Food & Beverages, etc. to promote.
Sign Up & Approval Process:
To become an LTK partner ensure you have a public and active social media account and a blog. Apply through their website and start promoting your favorite products! Their audience growth tools and data-driven strategy will help you make money blogging through affiliate marketing.
Commission rate: 5-20% depending on the product category
4. Sephora Affiliate Program For Lifestyle Bloggers
Sephora is the best affiliate marketing platforms for beauty and lifestyle bloggers who want to promote premium beauty products. With more than 200 brands and 13,000 beauty products to promote, you can ensure your readers get the best recommendations from you!
Also, Sephora helps you find the best deals for your readers. As a Sephora affiliate you get product sneak peeks, affiliates only special offers and other perks.
Brands:
Bobbi Brown, Burberry, Maison Margiela, Makeup by Mario. Every makeup and skincare brand you could think of is probably available at Sephora for you to promote.
Since Sephora is well established, you don't have to worry about your audience feeling icky about the products you promote. Thus, Sephora Affiliate program is best for you. From skincare to bath & body, you have a lot of options to pick from.
Sign Up & Approval Process:
To become a Sephora Beauty affiliate, sign up on their website, wait for approval and once approved, you get access to a unique dashboard with analytics, links for products, etc. You get a lot of perks as an affiliate. Special offers, discounts, etc. are a few to name.
Sephora Affiliate Commission rate: 5-7% depending on the product
5. ShareASale Affiliate Program
In the online affiliate marketing world, ShareASale is one of the top affiliate programs for lifestyle bloggers. Top brands of various categories, insights to performance data, and custom tools like short links make it hard to not be a ShareASale affiliate.
Unlike Amazon, ShareASale's minimum payout is $50 which makes it easier for you to get paid at the earliest.
Brands:
Leading brands like Reebok, Nectar, and Minted are a part of ShareASale. Fashion aside, ShareASale has retailers from niches like technology, home, garden, etc.
Sign Up & Approval Process:
Since you don't have to pay a commission to be a part of the ShareASale affiliate program like Awin, you can simply sign up and start promoting your favorite products. Go to their website, fill the form and wait for approval.
ShareASale Commission rate: 20% of the affiliate payout
6. CJ Affiliate Program For Lifestyle Bloggers
CJ (Commission Junction) Affiliates is one of the top paying affiliate programs for lifestyle bloggers with more than 500 brands and retailers across multiple niches.
Brands:
Office Depot, IHG (Hotels & Resorts), Barnes & Noble, overstock are some of the many brands you can promote on Commission Junction.
Why choose CJ Affiliate program as a lifestyle blogger?
Easy onboarding and brand discovery.
Insights and analytics on metrics like audience location, commissions, conversion rate, etc.
Sponsored opportunities with some of the top brands.
Payment available in more than 150 currencies via direct deposits or through Payoneer.
Sign Up & Approval Process:
To become a CJ Affiliate, you need to sign up on their website and start promoting your favorite brands. Minimum payout threshold is $50 which will be paid within 20 days at the end of each month.
CJ Affiliates Commission rate: 4-10% depending on the product category
7. Awin Affiliate Program
Awin is a top affiliate marketing network with world's best known and leading brands across multiple networks.
Brands:
Asos, Dorothy Perkins, boohoo are some of the many brands you can promote to your audience. Apart from fashion and home, Awin also has a range of travel advertisers for car rentals, hotels, flights, etc.
Making it one of the best affiliate marketing programs for lifestyle bloggers.
Sign Up & Approval Process:
To become an Awin affiliate you need to sign up on their website, pay a small commission fee of $5 which will be refunded upon approval.
Awin Affiliates Commission rate: 50% depending on the product category
8. Rakuten Affiliate Program For Lifestyle Bloggers
Rakuten (previously Ebates) is a cashback site which pays you a certain amount every time you make a purchase through their website.
Not only can you get cashback for every purchase you make but also promote products to your audience and earn a commission for the same.
It's super easy to become a Rakuten influencer. For every new member you sign up, you get paid a flat fee. Apart from this, you get special influencer perks such as support with best practices to improve your earnings and promos to keep your audience engaged.
Brands:
Nike, Macy's, Walmart are some of the top shared stores at Rakuten. Super convenient affiliate programs for lifestyle fashion/ lifestyle bloggers.
Sign Up & Approval Process:
To qualify for the Rakuten affiliate program, you need to sign up on their website. A qualified referral must make a qualifying purchase within 90 days of signing up. And both of you must be located in the US, District of Columbia or Canada to qualify.
Rakuten Affiliates Commission rate: 8-20% depending on the product
9. Sigma Beauty
Sigma beauty is one of the premium makeup brands every makeup-enthusiast raves about. Their brushes are still one of the most sold makeup products out there. Becoming a Sigma affiliate will allow you to promote these quality products to your audience while earning a commission.
The best part about Sigma beauty affiliate program is that it is open worldwide. So, if you are a beauty blogger from outside of the US, you still have a shot at promoting Sigma beauty to your readers!
Brands:
All Sigma Beauty products featured on their website are up for promoting.
Sign Up & Approval Process:
To become a Sigma beauty affiliate program partner, fill the online application available on their website.
Sigma Beauty Commission rate: 10% on all sales
10. ShopStyle Collective
ShopStyle Collective is one of the best affiliate marketing programs for fashion bloggers as you not only get access to top brands but also get options to create custom product widgets to embed in your blog.
What makes ShopStyle Collective unique is that apart from promoting affiliate content, you can bag sponsored campaigns by uploading your media kit and matching with brands of your preference.
Brands:
Macy's, Walmart, Nike, Gucci Beauty, Revolve, Sephora, Goop, Glossier, etc. are some of the brands available at ShopStyle Collective affiliate program.
Sign Up & Approval Process:
To qualify for ShopStyle Collective, you need to be 18+ years old. Sign up to become a ShopStyle Collective affiliate partner on their website and start providing your audience an engaging shopping experience through your website and social media channels.
ShopStyle Collective Commission rate: 4-10% depending on the product category
These were some of the best affiliate programs every lifestyle blogger should be a part of to make money blogging! Which ones will you be applying for? I'm curious!
Tips to Get Started with Affiliate Marketing as a New Lifestyle Blogger
Choosing the right affiliate networks for your niche is super important as it can really help you scale your blogging income.
Since 99% of the time, a company/brand you know has an affiliate marketing program, it can be tempting to apply to each and every one of them. But, this will only make things complicated for you as you cannot give your full attention to all of them while trying to increase sales.
Finding a couple affiliate networks you really believe in and adding those affiliate links in your blog posts will take you a long way.
Think about it like this. Let's say you're a part of a couple affiliate programs for lifestyle bloggers. You start focusing on creating quality content, adding affiliate links, driving traffic to these blog posts through SEO and social media.
And once you start sending a large number of people to a certain affiliate network website, you can negotiate with the affiliate marketing platform to increase your commission rate. This way you gain trust not only from your audience but also from retailers!
If you're just getting started with affiliate marketing and have no idea how to crack the code and develop strategies that ensure high returns, check out the Zero to Superhero Affiliate marketing course by TheSheApproach.
She's an established blogger, growth strategist and consultant averaging up to $77,550 from affiliate marketing. Check out her income report for the complete blog income breakdown!
From making your first affiliate sale to quick video tutorials, affiliate programs masterlist, and affiliate marketing case studies, you get to learn how to actually get started with affiliate marketing from someone who has years of experience and expertise. The best part is that this course works for bloggers of all niches. You should definitely check it out!
How to Increase Affiliate Sales
Affiliate marketing takes time but is totally worth the try as you can earn a passive income from your blog. Adding in a couple affiliate links here and there expecting to make $200,000/year is not the right way to go about affiliate marketing. Guilty!
You need the right strategies in place to get there. This takes a lot of trial and error. And most importantly, learning from others' experiences.
It's so easy with affiliate marketing companies for lifestyle bloggers to make pennies for the amount of effort you put into your content. If you're stuck with making less than what you think should be, check out this 14-day challenge by TheSheApproach.
The Affiliate Sales Surge Challenge is a 14-day challenge to help bloggers increase their affiliate earnings, and breakthrough the affiliate plateau. If you've been stuck earning the same in affiliate commissions for a while or your income went down suddenly, this will help you get back on track to earn $500+ per month.
Learn advance affiliate strategies left out in most courses, why your current affiliate network links are not bringing in the returns you want, and get an exact blueprint for the changes you need to incorporate to increase your affiliate marketing sales and income.