Since more than 90% of their work is done online, bloggers and content creators are always in search of the best technology to help them work efficiently. With this best tech Christmas gifts for bloggers guide, you can be sure of gifting them something they'll obsess over this Christmas!
Buying tech gifts for bloggers and content creators (or anyone in general) can be stressful which is why most of us end up buying socks with gift cards in them.
But, it doesn't have to be so this year, thanks to this amazing tech Christmas gifts for bloggers guide! The best part is that you could use these gift ideas to buy a Christmas present for any college going student too!
Since I've been blogging for a while now, you can be sure that these gift ideas are pretty relevant to bloggers. So, let's get right into it!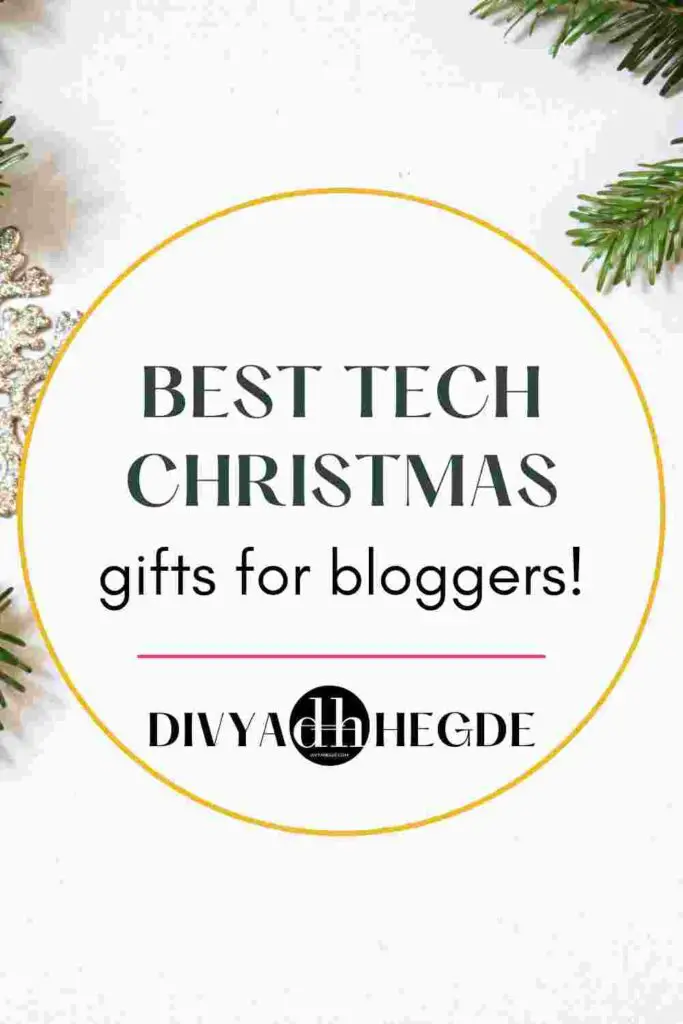 Best Tech Christmas Gifts For Bloggers And Content Creators
I've compiled some of the best tech gifts in 2021!
This post contains affiliate links through which we may make a commission at no extra cost to you. Read the full affiliate disclosure.
USB-C Hub
USB-C hub one of the top tech Christmas gifts for bloggers in 2021 under $60! This expands a single port on mobile devices and makes it versatile. You can connect headphones, SD cards to transfer images easily!
LogiTech MX Master 3 Productivity Mouse
A productivity mouse would make for a really cool Christmas gift for tech lovers and bloggers. This ergonomic mouse by Logitech is specifically designed for ultra-fast scrolling with comfort shape in mind.
It is extremely comfortable with great ergonomics, perfect number of buttons to enhance your work flow. You NEED this in your life!
Sony ZV-1 Camera
A brand new Sony camera is the coolest tech/ electronic Christmas gift any blogger or content creator could ever get. It is small but extremely powerful in terms of video quality (up to 4k resolution).
It supports Slow motion videos and is touchscreen! Since it is all-in-one with lenses, you don't even have to spend too much money buying extra lenses!
Definitely a tech Christmas gift any blogger or content creator would appreciate!
12.9" iPad Pro With M1 Chip
iPad Pro -this again, is one of those top tech gifts every blogger and content creator would love! Super efficient with the M1 chip and high processing time so you can work smoothly.
iPad Pro is the top of the lot being the most powerful tablet out there! iPad Pro would make a great tech Christmas gifts for bloggers in the graphic design, social media marketing niche!
12.9" iPad Pro Magic Keyboard
If your blogger friend already has an iPad Pro they use a lot in their blogging routine, you should definitely gift them a magic keyboard for Christmas 2021!
This iPad magic keyboard by Apple is perfect to ease out the blog writing process!
Combo Touch iPad Keyboard
The perfect alternative for magic keyboard by Apple is the combo touch keyboard by Logitech. For half the price, it does an amazing job of giving you a quality keyboard!
iPad Air 4
iPads are literally one of the best tech Christmas gifts for bloggers! If you don't want to get the iPad Pro, this iPad Air 4 is the perfect pick for you. Better display, speakers and touchID compared to the iPad 8.
Apple Pencil
Apple pencil is another great tech Christmas gifts for bloggers who love taking handwritten notes, sketch their upcoming products, designs, etc.
Compatible with iPad Air 4, iPad Pro 12.9" (3rd, 4th, 5th gen) and iPad Pro 11" (1st, 2nd, 3rd gen)
Apple iWatch
If they have an iPhone, definitely check out the Apple iWatch which is great for keeping up with the notifications mid-work.
It comes with powerful sensors that help you check blood oxygen levels and take an ECG anytime!
Samsung Watch
Not an iPhone user, this Samsung smart watch is perfect for every android user to manage notifications. It's amazing touchID is definitely worth gifting it as a Christmas gift for bloggers who are on the go!
Microsoft Surface Tablet
Not ready to step into the Apple ecosystem yet, you don't have to! This amazing Microsoft Surface Tablet will not let you down. It could make for the perfect tech Christmas gifts for bloggers!
RavPower Power Bank
Power banks are perfect tech Christmas gifts for bloggers on the go. You can never have enough power!
Especially when you're working remote! This power bank from RavPower is for perfect fast charging.
BEACOO Charging Stand
How cool is this electronic gift idea? With all these pieces of tech lying around, you're going to run out of chargers. Why not get this all in one charging stand to make charging less stressful?
This charging stand has to be one of the best tech Christmas gifts for bloggers under $50! You can charge your iPhone, iWatch and AirPods all at once!
Satechi Dock5 Charging Station
Ok, this Satechi Dock5 charging station is one of those must have gadgets for bloggers you need to get this Christmas 2021! Unlike the previous charging station, this one lets you charge up to 5 devices! Including iPads.
Keep your space organized and charge 5 devices simultaneously. Compatible with iPads and Microsoft Surface Tablets.
Sony Noise Cancelling Headphones
Sony noise cancelling headphones is the best tech gifts ideas under $50 for bloggers and content creators!
KeyChron Mechanical Keyboard
Due to long working hours most bloggers spend on their laptop typing, a mechanical keyboard would the best gadget for bloggers. This KeyChron keyboard is super lightweight, wireless and works for both Windows and MacOS!
You could get it for less than $70 and make their Christmas 2021 merrier!
Orbi WiFi
A mesh WiFi like Orbi WiFi is a must have Christmas gadgets. A powerful mesh network that provides WiFi up to 5000 square meters.
Amazon Echo
Amazon Echo is one of the best tech Christmas gifts under $100 for bloggers that they will obsess over this Christmas 2021!
Tech Organizers- TomToc Podfolio
A tech organizer is literally the most practical tech Christmas gift a blogger or content creator could ever receive! This tech organizer by TomToc is perfect if you have a lot of tech to store in one place.
Since it comes with an inbuilt section for iPad or tablets, your tech is fully secure in one place!
These were some of the best tech Christmas gifts for bloggers? Which one will you be getting this Christmas? I'm curious!
Loved this gift guide? You may love these too:
Help me out by sharing this post with someone planning to buy Christmas presents for bloggers or content creators!
About Divya Hegde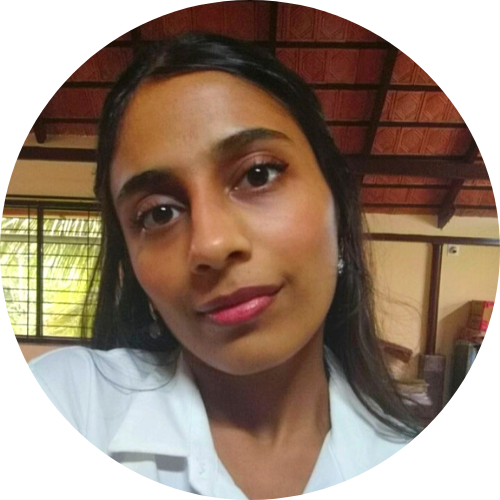 Divya Hegde is a blogger, writer, and designer who helps businesses grow their online presence through content writing and social media marketing.