The essential equipment for blogging, a set of realistic blogging goals and a productive blogging routine is all you need to turn your blog into a successful business.
To start a blog, you need a laptop, web hosting, domain name and basic blogging equipment. Choose a profitable niche, setup social media accounts for your blog and start blogging. Invest in a camera and graphic designing apps to attract the right audience.
A blogging platform, ring light, tripod and microphone are some of the basic equipment a blogger needs for making a good, successful blog.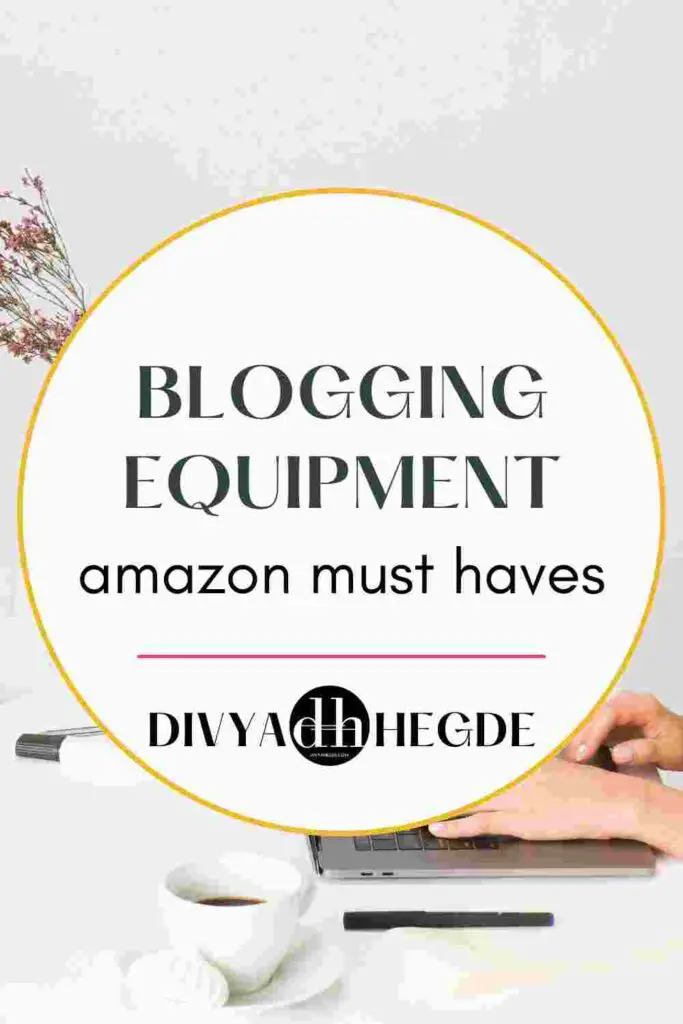 Planoly, MailerLite, Grammarly, Canva, Lightroom and Teachable are some of the apps that most bloggers use for Instagram, email marketing, writing, social media graphics, photo editing and hosting courses.
In this blogpost, I mention 15 equipment that you'll need for blogging. Yes, it sounds overwhelming. Please keep in mind that you don't have to have all of these to start a blog. You can always upgrade or add to your blogging equipment list over the course of years.
Not having the best equipment should never be a reason for you to not pursue blogging. Everyone starts somewhere :))
15 Equipment You Need For Blogging From Home
This post contains affiliate links through which we may make a commission at no extra cost to you. Read the full affiliate disclosure.
1. Laptop
Laptop is the most essential equipment you need for blogging. You could use a computer too but laptops are portable so, you work from any corner of your house. Lenovo Yoga is one of the best affordable laptops for blogging.
I use Lenovo yoga and I absolutely love it. It is so versatile wherein you can easily flip it around and it works as a touchscreen tablet. This 2 in 1 laptop helps me so much with my illustrations and blogging at the same time.
2. Ergonomic Desk
Setting up a workspace where you can focus on your blog without any distractions is very important. A comfortable desk and monitor will help you write and edit hours worth of blog post content without straining your eyes.
This desk with wheels is best for you if you want to change the position of the desk frequently!
Want to get a desk but not sure how to fit it in a small home office setup, check out this work from home office essentials blogpost I wrote where I mention other options for desks for small home offices!
3. Ergonomic Blogging Chair
A comfortable chair to blog in is a must have in your home office setup. As you'll be sitting for the majority of time, make sure you invest in an ergonomic chair which is especially made for people working from home keeping comfort in mind
I found this Amazon #1 best seller ergonomic chair that is adjustable, has armrests and a soft cushion made for long hour usage. The best part? It comes in so many different colors: pink, green, orange, blue, white, etc.
How many hours do you spend blogging on your chair? Comment down below!
4. Monitor
A monitor is one of those blogging equipment you think wouldn't make a difference, but it does. Staring at your small laptop screen for hours long is not a pleasant experience.
This LG Ultra wide monitor will not only help maximize productivity but also comes handy when you go live frequently. You can easily split your screen while live and have no issues seeing things clearly.
5. Web Hosting
Web hosting is the most necessary equipment you need to start a blog as a beginner blogger. Choosing a hosting service best suited for your needs is important as there is no one perfect hosting service.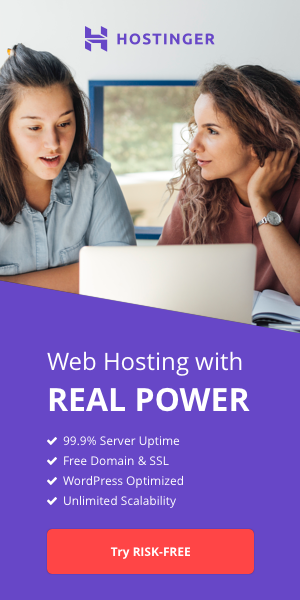 Starting a blog on WordPress and self-hosted will not only make you look professional but also help you with ranking on Google. Read this blogpost to understand why it is important to go self-hosted. As there are so many web hosting plans, it can get overwhelming to pick one.
If you are looking for an affordable web hosting to see if blogging is for you or not, check out Hostinger starting at $0.99/month. Read: How to install and setup WordPress on Hostinger. [This website is hosted through Hostinger]
6. Webcam
Logitech webcam is one of the best webcam for laptops out there and being Amazon's choice, you can expect it to be a high quality product. Turns out, it is. This Logitech webcam is best if you film Youtube, Twitch or Tik Tok videos.
It works really well in low lighting and poor backlit setups. If you do video blogging, host a podcast, interview other bloggers in your niche, you need to get your hands on this Logitech webcam. Stream and record vibrant videos in HD 1080p and give your readers a unique experience through your videos.
You can improve the camera quality on your laptop by using a Logitech webcam. If you do a lot of Facebook and Instagram lives on your laptop or conduct conference and consultation zoom meetings, Logitech webcams are perfect for you.
With autofocus, automatic light correction and 2 built in mics, Logitech webcam C922e for laptops is the number 1 equipment you need for blogging.
7. Microphone
One of the best blogging equipment investments you'll make is a microphone. I know what you're thinking. What does blogging have to do with a microphone? I'm sure you've seen blogposts where you can listen to the blogpost instead of reading it? You'll need a microphone for that.
Also, you know how important it is to have multiple sources of income. Putting all of your eggs in one basket is never reliable. Podcasts and video courses are a great way you can create an additional source of income.
Re-purposing your blogposts into podcast episodes, video courses or an audiobook is a great way to diversify not just your content but also income. Rode Wireless (above) microphone is a go to option for most bloggers. For a more affordable option, check out audio technica (below)
8. Best Camera For Blogging/Vlogging
Investing in a camera, the best blogging equipment you could have will pay off later on. The needs of a blogger, professional photographer and vlogger are different. As a blogger, you can get away with a decent quality photo as opposed to a vlogger or photographer.
If you know for a fact that you'll be strictly sticking to blogging and just want a camera that does the job at an affordable price, get the Panasonic Lumix.
It is super affordable, compact, lightweight, user friendly and does the job. As it is a point and shoot camera, it does not come with interchangeable lens option. Create amazing HD videos with Panasonic Lumix!
If you have the budget and want to shoot amazing videos in 4K, go for Sony a6400. A basic vlogging equipment with great autofocus, excellent low light performance and high quality photos and videos, it is one of the best cameras for blogging and vlogging.
9. Tripod
This Amazon's choice, best seller tripod can has a phone holder and a wireless remote that is compatible with all cameras, phones and webcams. It is one of the best tripod you could get for an affordable price.
UBeesize 67" Camera Tripod with bag is one the cheapest tripods for blogging I found that it helps you get amazing product shots. If you sell your own products online, product photographs make or break a sale. So, use a tripod to get those B-rolls and steady shots!
10. Ring Light
If you are a beauty blogger, do social media lives, conduct zoom consultations or film videos for your blog, you need to invest in a ring light or else you'll have to rely on natural light to film. The best ring light most bloggers and Tiktokers use is Neewer Light which is also an Amazon bestseller.
With this ring light by Neewer, you get a dimmable LED ring light, adjustable light stand, soft tube, white and orange color filter and a bag which is best for self portraits, Youtube videos, livestreams and TikToks. You can use your camera or smartphone, android and iOS.
11. Memory Cards
If you are a food/fashion/beauty/travel blogger, you need to click the best pictures to stand out and attract readers. So, using a good quality camera with a great memory card becomes necessary.
Most of the bloggers I've seen use SanDisk for memory cards which is a top seller on Amazon after Samsung EVO. Both of these cards are the most reliable memory cards and have 128GB ideal for pictures and videos in 4K. You can use them for your phone too.
12. External Hard Drive For Bloggers
Every blogger needs to have a hard drive to backup and protect their photos, videos and blogs. Backing up your pictures and raw footage in an external hard drive is necessary as you no longer have to be limited by your computer storage. You can also use cloud storage.
External hard drives can help you store millions of photos and videos in one place. Best affordable external hard drives most bloggers use are Seagate Backup Plus Ultra Slim (2TB), Seagate Backup Plus (5TB) and WD Elements Portable (2TB).
While we're talking about backups, be sure to take regular backups of your blog and website to ensure none of your content is lost forever. I use this FREE WordPress plugin to take regular backups of my site!
13. Photo Editing App For Bloggers
It's no secret people are drawn to visuals more. To edit your photos like a professional blogger, pick a color scheme, click multiple pictures in proper lighting in different angles and use presets to achieve a consistent, color coordinated social media feed.
If your blog depends on visual content to tell a story, high quality beautiful images are a must have. Photo editing apps like Lightroom or Photoshop are a go to for most food, fashion, beauty and travel bloggers. You can also buy presets from your favorite bloggers to get their Instagram look!
14. Graphic Designing App For Bloggers
Canva is the best graphic design app for bloggers. They have a wide range of fonts, colors and templates you can use to create eye catchy graphics for your blog. Use stock images from Canva and add pre-made templates to create better social media graphics for your blog.
I and millions of other bloggers use and love Canva. It is the best graphic design and editing app you can use for your WordPress blog if you are completely new to graphic design. You can create any type of graphics including social media, greeting cards, business cards, etc.
The best part about Canva is the 30 day FREE trial for their Pro version which has more than a million stock photos that are eye catchy. Try Canva Pro.
15. Blog Planner
A blog planner is a planner bloggers use to plan, create and organize content for an entire year. You need a blog planner to visualize your goals and set priorities for your blog. Using a planner helps you measure your progress and manage your blog. Every good, successful blog has a strategic plan behind it.
Planner by Ban.do is a 17 Month (2020-2021) classic daily planner. You get weekly and monthly views starting from Aug 2020 – Dec 2021. This hardcover planner comes with laminated tab dividers easy for organizing, encourages self care and goal reflection at the same time.
Each month is started off with an intention setting page and ends with a reflection page. How thoughtful is that? Also, it comes with 3 sticker pages created by female artists. Definitely check it out if you love colors and floral prints.
I figured it is only fair to include an undated planner because it is easier to change goals as per our needs. Ban.do has this amazing 52 week undated planner. 52 pages, each one for a week that will you last you a full year! Best for habit tracking, meal planning, to-do list for each day.
The best part about undated planners is that you can take a short break and resume when you feel ready. This way you don't have to waste paper or feel guilty for not using the planner fully. The illustrations, stickers and colors of this planner take the cake!
These were some essential equipment you need for getting started with blogging. What equipment will you be buying? Let me know in the comments!
Help me out by sharing this thread on Twitter or with someone who could find this useful.
I send out a newsletter 2-3 times a month where I go in-depth about blogging and marketing. Subscribe if you'd like to receive one!
About Divya Hegde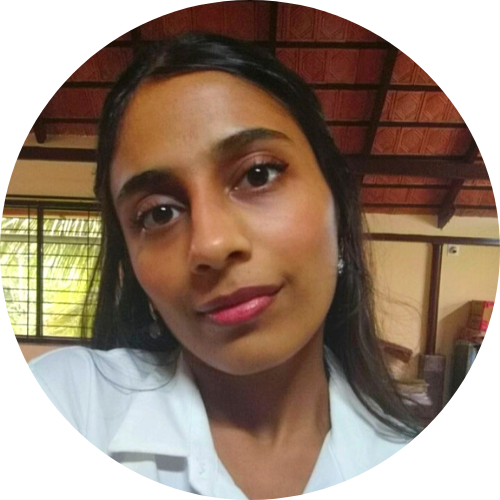 Divya Hegde is a blogger, writer, and designer who helps businesses grow their online presence through content writing and social media marketing.