Start a blog for free and make money. Sounds good on paper right? But is it really possible to start a blog for free, maintain and monetize it? The short answer is yes but the long answer is maybe maybe not, depending upon what your blogging goals are.
If your goals for blogging is just a hobby where you would like to make money occasionally, then free blogging sites should be your go to.
But if you want to make a decent amount of money blogging, you should avoid free blogging platforms.
Most free blogging platforms limit the ways in which you can monetize your blog and how much traffic you get.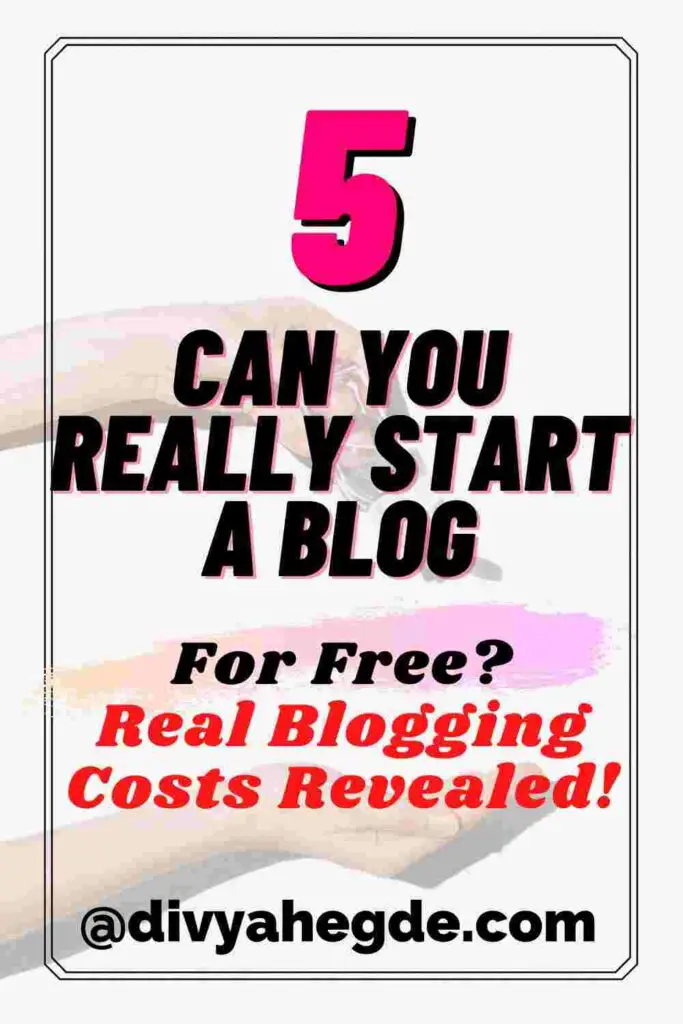 As traffic is the most important driving factor for the number of pageviews you could get, you are intentionally stopping yourself from making more money.
If you know anything about websites, blogging or content creation in general, then you know how important traffic is.
Any kind of money you want to make online depends on it. Related: Ways To Monetize Your Blog From Day 1.
In this post, you will get to know how much does it cost to start a blog on WordPress
This post may contain affiliate links through which we may make a small commission. This will not cost you any extra money. Read the full Affiliate Disclaimer.
How Much Does It Cost To Run A Blog?
Everybody talks about how to start a blog for free but not many talk about the maintenance cost. This post will hopefully clear the air for you.
1. Web Hosting
The first step to get started with blogging is by buying a domain and hosting for your WordPress website.
There are a variety of hosting services you can choose from. If you are just getting started with blogging, a somewhat reasonable hosting service is ideal.
You can migrate your site to another hosting provider later on. Most hosting services like bluehost, hostgator and godaddy cost roughly around $50-$100 per year.
But, if you are a student or someone wanting to get started with a website hosting for a lot cheaper but with same and extra perks ($0.99 per month), check out hostinger.com where value for money is a top priority.
More about hostinger (which I personally use and recommend): WordPress Website Setup With Hostinger
2. WordPress Plugins & Themes
Yes, you'll have to pay for a beautifully designed, fully functioning theme on WordPress. Not absolutely necessary though.
You can totally blog with a free theme but if the design of your website is a priority to you, you'll have to save up for it. Wondering how much does it cost to design WordPress website? It can range from $25-$350.
Coming to WordPress plugins, they are basically parts of software you can install to enhance the functioning of your WordPress website.
While there are many plugins you can install free of cost, the most installed (recommended) plugins with extra features require you to pay.
This depends on the plugins you install. The keyword research tools, plugins and SEO related plugins, security plugins are some examples.
Related: Free WordPress Plugins Every Blogger Needs.
3. Email Marketing Services
So, once you have setup your blog and publish posts, you should get started with email marketing.
Email marketing is to this day, a professional and valuable way to engage with your audience.
Most email marketing services like ConvertKit, Mailchimp or MailerLite have a free version for 500-1000 subscribers.
But after you cross the limit, you will have to pay to send emails to your subscribers.
The amount you pay also depends on the number of subscribers you have. This can be roughly averaged to $30-$50 per month!
4. Scheduling Apps
Marketing and promoting your blog posts is as important or more than you think it is. Especially if you're new.
This is where social media schedulers come into play. Most bloggers swear by Pinterest for driving traffic to their site.
Then there's Facebook, Instagram, Twitter, etc. Now you can't sit in front of your computer everyday and make posts, tweets pages, pins, etc.
The smart way to go about this is creating bulk content, repurposing your content and scheduling them months before they go live to save time.
For this, you need social media scheduling apps. For Pinterest, it is Tailwind. And Tailwind costs $104-$120 per year.
Related: Pinterest Strategies For Beginners To Promote Their Website
5. Stock Photos, Products & Courses
No website can get high audience retention with plain text. This is when you'll need images related to your blog post.
Yes, you can click pictures for your blog. But, if you don't have the time or patience, you'll have to invest in stock photos from websites like Canva.
There are website providing free stock photos but these are overused and may later be claimed by the website/artist. Hence, paid stock photos are recommended. This can cost around $30-$50.
After a year or two into blogging, most bloggers get started with creating their own products/courses. This is how most bloggers make a lot of money.
So, naturally you'll have to spend money on Teachable to make your own courses or any other products you make. This costs around $500+ including taxes.
Remember that this (products & courses) will be possible when you have substantial amount of traffic and followers.
A fun game would be to add up all the expenses mentioned throughout this post. Spoiler alert, it costs around $2000 just to maintain your website.
So, can you really earn money from free blogging? Let me know in the comments.
These are some areas where you need to get spend money to make money blogging . Which was the most useful to you? Let me know in the comments down below! I would love to hear what you have to say.
If you liked this post and would want to get instant updates about similar posts, please be sure to subscribe and join the list!
Easiest way to help me out is b sharing this thread on Twitter. I'd really it!
About Divya Hegde
Divya Hegde is a blogger and copywriter who is on a mission to simplify blogging. She writers about blogging, content writing and marketing and helps aspiring bloggers turn their passion into a successful business.