Day in the life of a blogger is oscillating between different social media platforms trying to create content. Pinterest, Instagram, Facebook, Twitter… the list of platforms to create social media content to promote your blog goes on.
To create social media content for your blog on more than 3 platforms, you'll need well defined goals, a solid social media marketing strategy, graphic designing tools and a social media scheduler.
Like it or not, social media is the biggest force driving people to discover new things, learn about a topic, decide what's cool and what isn't. If you haven't thought of using social media for your blog, think again.
When was the last time you had the patience to go around and find a small business near your area of stay? Now think of the number of small businesses and bloggers you found on Instagram. I'm sure there's at least a couple.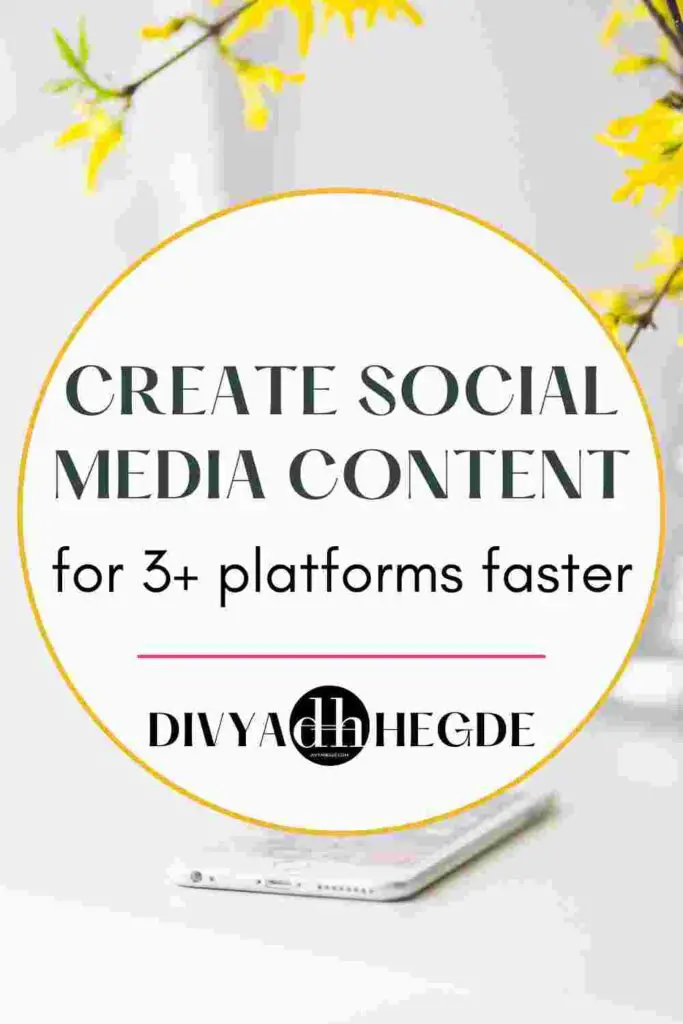 Discoverability has never been this easy. Ever. Why not take full advantage of this and give social media a shot? You'll be amazed by what creating social media content for your blog will do in your favor!
Tips To Create Social Media Content For Your Blog
This post contains affiliate links through which we may make a commission at no extra cost to you. Read the full affiliate disclosure.
1. Define Your Blog And Social Media Goals
Creating a social media strategy with intent is a key factor for success online. Having well defined goals will help you attract the right audience from day 1. Setting realistic goals is important as it is easy to get swayed by numbers.
Set monthly goals for all aspects of your social media strategy. From number of posts you want to publish to what action you want your readers to take.
Keep in mind to create goals and content with intent. So you know exactly what to expect. For example, creating multiple posts that help people achieve something in your niche and then pointing them to your services.
This way you know you are creating posts to drive more sales and find clients. You can focus on finding your ideal client and target posts to them instead posting a bunch of posts targeted to no-one.
2. Choose Top 3-5 Social Media Platforms
After you've decided what exactly you want to achieve through social media, it's time to pick social media platforms that'll help you achieve these goals.
Picking the right platforms is very important. You want to be present exactly where your target audience hangs out.
Easiest way to find out where your target audience is active is to do some research. See where established bloggers in your niche post. Go to those social media platforms and try to find similar bloggers.
Check what other platforms bloggers use to find and connect with their audience. Then, create business accounts on all of those platforms.
3. Know The Ins And Outs Of Social Media
Before creating social media content to promote your blog you need to know the ins and outs of the social media platform you'll be using.
What I mean by this is, if you go on Twitter and plan to write in-depth tips about a topic, or post square photos, you'll probably never gain traction.
Likewise, if you plan on growing a community on Pinterest, then it's going to be hard as it is a visual platform with little to no community feedback.
See what type of content performs best on all platforms you picked earlier and create similar content with your own spin.
Loved what you read so far? I send out in-depth blog and social media tips 2-4 times a month. Subscribe if you'd like to receive one!
4. Social Media Tools And Upload Schedule
99% of the bloggers you follow create content in batches. Meaning, they create social media content for their blog for a month (or more) in one sitting and schedule them beforehand.
This is way better than manually posting content everyday as it is a waste of your time.
You are 100% sure of what social media platforms are best for your niche and you've defined your goals. Now, it's time to pick scheduling tools and come up with an upload frequency.
4.1 Pick Scheduling Tools
Picking social media scheduling tools beforehand not only saves a ton of your time but also gives you a clear picture of what your content creation process will look like.
For example, if you use Canva Pro, you can create social media graphics and schedule them right away with their scheduler. How convenient is that? Sign Up to Canva Pro as you get a FREE 30 day trial! From Instagram to Facebook, Twitter, Pinterest, LinkedIn and more.
Some of the other scheduling app widely used are Planoly, Coschedule, Hootsuite, etc. Make sure you check what social media platforms these apps support before creating an account.
4.2 Finalize Your Upload Frequency
Consistency is key. You need to show up everyday, every week or every other week. Give your audience a time so that they know when to expect your content.
Depending on your lifestyle and commitments, pick a schedule that doesn't push you to burnout!
5. Come Up With a Social Media Marketing Strategy
Social media marketing strategy is combining your goals and social media content to align with the results you expect.
If you could setup a roadmap with the exact steps you want anyone who stumbles upon your social media to take, you win!
Social media marketing should be a part of your content marketing strategy. Click the link to create the perfect content marketing strategy for your blog!
Decide how much time you want to dedicate each day to connect with your audience, respond to comments, start conversations, etc.
6. Create Cohesive Social Media Graphics
Now that you've done all the taxing work of planning, curating and strategizing your social media content, it's time to start creating social media graphics for your blog!
Batch content creation is the way to go when you have to deal with multiple social media platforms at once.
6.1 Pick Best Performing Blog Posts
Start off by picking blog posts that are extremely popular on your website. You can find what blog posts your audience likes by check the Google analytics dashboard. Refer to this Key Metrics To Focus on Google Analytics for more details.
Now, come up with ideas revolving around your blogposts that'd make great social media copy. Short, crisp and straight to the point is the only format that works on most social media platforms.
6.2 Create Graphics in Canva
After making a list of posts your audience would love and benefit from, go to Canva or any other graphic designing tool and create a blank canvas for each social media platform.
If you use Canva, which is free by the way, you can type in the social media platform you want to create graphics for and it will automatically pull up the required sizes for you.
If you don't use Canva, make sure you get the social media post sizes correct. This is very important as you don't want your posts to get cut off or look out of place on your social media accounts.
So you have the blank canvases for all of your preferred social media platforms. Let's start creating graphics.
Now, create graphics in such a way that you can re-purpose them on most if not all of your top social media accounts. The best way to do this is by keeping the contents of your graphics centered.
What I like to do is create graphics for Pinterest first with most of the text in the middle. This way, I can use the same graphics for Instagram, Facebook and Twitter. Also, I create Idea pins and repurpose them as Facebook and Instagram stories.
Another trick I stand by is creating reels first and repurposing them as Idea pins and Facebook videos. Instagram reels are a great way to get more eyes on your blog.
6.3 Check Your Insights
After 2 weeks, make sure to check social media stats for the content you created. Find the best performing posts and videos and try pushing out similar content.
Trust me when I say this saves you a lot of time and puts you in the right direction of creating social media content for your blog that'll get more reach.
7. Outsource If You Can
If creating social media content for your blog is too much of a task, not your forte or you simple cannot design graphics, it's good to outsource.
Not only does it take a load off your shoulders, but also give you time to create what you're best at!
If you are looking for someone to create eye catchy graphics for your blog, be my guest. Hit me up if you'd like to work with me and we can discuss! Take a look at my Instagram, Pinterest and Facebook to see if you like what I put out!
These were some of my tips to create social media content to promote your blog on 3+ platforms without losing your mind. Do you have some hacks that saved your social media content creation life? Tell me in the comments!
Also, heard you're being extra generous today? It'd be amazing if you'd share this thread on Twitter or with someone who's struggling to manage their blog's social media!