Oh so you're thinking of writing about a certain topic? Chances of millions of blogs talking about the same exact thing is.. well, in millions. The irony is that you may find millions of blog posts on this exact topic, how to build a content marketing strategy on Google.
Actually never mind, I Googled it. Here's what the search results had to say.
About 2,57,00,00,000 results (0.68 seconds) 
There's too many zeroes for me to comprehend. To be honest, I don't even know what that number is!
Jokes aside, how do you (and I) plan on getting people hooked to what we have to offer when there are millions of people already doing it? Through content marketing? Yes and no.
Yes, because it seems like the easiest way out of this rabbit hole of producing the "same" content and stand out from all the resources available online.
Also no, because most people think content marketing strategies have been overused!
Do blogs need content marketing strategy? Yes. Content marketing strategy is the simplest way for bloggers to reach their target audience.
Read the Basics of Content Marketing Strategy to get the full picture of why bloggers need a content marketing strategy!
Let's dive right into the essential steps to follow to build your content marketing strategy!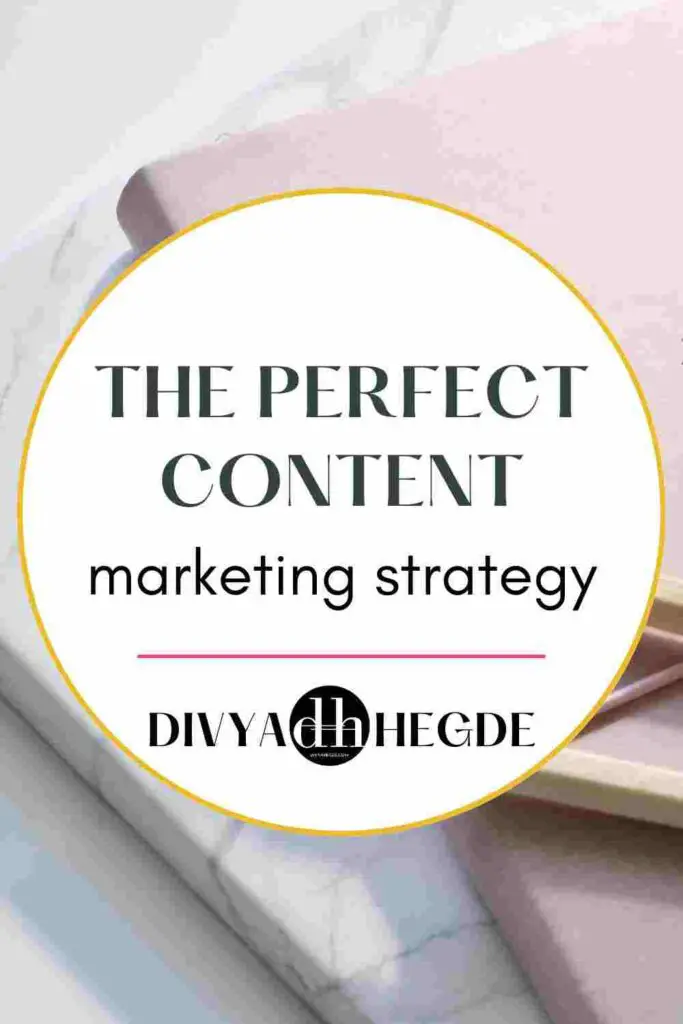 5 Steps to Build a Content Marketing Strategy
This post contains affiliate links through which we may make a small commission at no extra cost to you. Read the full Affiliate disclosure.
1. Content Marketing Basics
1.1 What is Content Marketing?
So, what exactly is content marketing and why are all these businesses and mega bloggers obsessed with the term "content marketing"?
Content marketing is basically drawing in potential customers through your content. Allowing customers to make a more informed decision on why to buy your product is the power of content marketing.
1.2 Why Bloggers Need a Content Marketing Strategy
Some bloggers don't seem to actually sit and plan a marketing strategy because that's what "businesses" do.
Blogging is a business and it needs strategies. Not only do these strategies give bloggers the flexibility to experiment but also hold them accountable.
Having blog goals, more importantly, realistic blogging goals is necessary to create a content marketing strategy.
Read Here's why bloggers need a content marketing strategy to get a better understanding of how important it is.
2. Prerequisites For Creating a Content Strategy
So, how do you write a content marketing strategy? There's a few things to keep in mind before you build a content marketing strategy for your blog.
From defining a buyer's persona to identifying your blog/brand's unique selling point, here's how you can tackle each of these.
2.1 What is in a Content Strategy?
All content marketing strategies & techniques beginner to expert have one thing in common. Guess what? Content.
Great content attracts an audience that could be potential buyers. A content strategy is actively curating content with the intentions of increasing brand awareness.
What exactly should a content strategy contain? A clear roadmap for your readers to follow. Be it signing up for a course or purchasing an e-book.
Carefully creating content to help you achieve just that is content strategy.
2.2 Identify your Unique Selling Point
Unique selling point, as the name suggests, is something that sets you apart from your peers. Your brand's personality. What makes your product a better choice over your competitors'? The problems it solves? Yes!
Identify problems your readers have and create products that solve exactly that.
2.3 Find your Ideal Reader
Writing content without keeping in mind who it is for can delay content marketing success unnecessarily for you.
Identify who your existing and potential customers are and create content for them.
This is called creating a buyer's persona. Check what kind of experience they are looking for and offer them that.
3. Build the Perfect Content Marketing Strategy
Now that you've identified your unique selling point and have a rough idea of who your target audience is, it's time to build that content marketing strategy you've always wanted to.
3.1 Tell Amazing Stories
It is your writing style and connection with your audience that will set you apart from your peers.
Make sure you paint amazing stories that will get your audience hooked!
3.2 Conduct a Content Audit
I think we all know how important content writing is in digital marketing. From building deep connections with your audience to getting leads and regular customers, the words you put out matter.
Creating fresh content is key to solidifying your brand message and getting exposure.
But what about all the existing content? They are equally as important if not more. Conduct a content audit and draw conclusions about what attracts users the most.
Content audit is assembling all of your content and analyzing it for it's strength and weakness and adapting your content strategy to put forth those strengths.
Modify your old blog posts to align with your current content marketing strategies.
3.3 Choose Social Media Channels
Social media is the easiest way to reach your target audience. You can do this through paid media and earned media.
Although there is nothing wrong with creating ads for your content, it is always a good idea to invest some time and effort into producing content.
Organic traffic and engagements earned is still highly appreciated. So, choose relevant social media channels and create content.
An important thing to note here is that all of your marketing strategies will succeed only if you have a strong call to action.
Provide extra information and tips related to your niche for free on your social media and see how people start trusting you.
Go an extra mile and engage with your audience through live sessions or comments.
3.4 Repurpose Old Blog Posts
Combining the best performing blog posts or videos and repurposing them will help you diversify your content types.
From podcasts to e-books, consultation calls, courses, etc. there's a lot of ways you can achieve this.
Repurposing old blog posts as social media posts or tweets/ webinars/ live sessions sounds like a great idea too.
Breaking down long form articles into bits and sending them as tips to your email list weekly not only helps with diversification but also keeps your audience engaged.
4. Market and Manage your Content
4.1 Create a Content Editorial Calendar
An editorial calendar is a fancy way of saying "to do list". I guess. Anyways, if you've spent at least a minimum of 2-3 months creating content, you know how easy it is to get lost keeping up with posting schedules.
I've spent hours on something that could be done within minutes (if only I'd planned before hand).
This is why creating an editorial calendar to help prioritize work is necessary. It makes you more efficient too.
To create a content editorial calendar for yourself, keep in mind things like number of blog posts, frequency of publishing posts, social media content, email list, etc.
Platforms like Trello, Notion, Google Sheets, etc. are made exactly for this.
4.2 Consistent Content Distribution
The answer to how to create a successful content marketing strategy is create and share valuable content consistently.
You're done with creating content. What about sharing it? Social media marketing strategies are there for a reason.
Find 2-3 social media platforms where your ideal customers hang. Then, post. Post. Post and observe. Expecting an overnight blow up is delusional.
What you can do instead is carefully track what works and what doesn't. A/B testing will be your best friend.
The million dollar question that still bothers most businesses is how to identify which social media platform is ideal for marketing.
The best way to figure this out is by trying out 2-3 social media platforms and see how your content performs.
Does your content have a lot of visuals? Pinterest and Instagram are your go to. Do you have an older audience? Consider Twitter, Facebook or Google+
Find and stick to a posting schedule. This will give your audience a time to show up. Automating tweets, pins and posts will save your time.
Subscribe to get weekly blogging and content marketing tips!
4.3 Best Content Marketing Resources
Best content marketing resources to create a content marketing strategy for your personal brand are large in number.
Emphasis on personal brand because… there are a million blogs and a billion posts talking about the same topics, etc., etc. Here are some for copywriting and marketing.
Content Marketing Resources for Copywriting
Copywriting is writing text that compels people to take some action. Mediocre and uninteresting content will not stand a chance anymore.
Here are some of the best content marketing resources for copywriting.
This book, Epic Content Marketing by Joe Pulizzi, founder of the Content Marketing Institute walks you through the art of creating stories people will be intrigued by.
He gives a number of content marketing strategy examples.
I recently finished this book. It's safe to say I've implemented a lot of the tips. Read the book and let me know if you find some of those tips in this blog post!
If you've read any of my blog posts related to content writing, then you'd know how much I recommend this book, On Writing by Stephen King.
He talks about his writing life and gives advice to aspiring writers.
Content Marketing Resources for Marketing
Sending emails is a huge of part of any content marketing strategy.
With MailerLite, you can create and send personalized emails for free for your first 1000 subscribers!
As far as stock images and infographics are concerned, using Canva, will save you a lot of time.
From Pinterest pins to Facebook and Twitter posts, they have everything you need in one place.
I would also like to recommend 1 year worth of blog content in 1 month challenge to build a solid content marketing strategy.
This challenge by Ana from The She Approach will help you with content creation and accountability check ins. Click on the above link for details.
5. Analyze your Marketing Strategies
Analyzing the performance of your content marketing strategies is very important. Most of the time, your audience is giving you clear signals about the type of content they expect. Use these cues to improve your future content.
Remember those goals you set at the beginning of your content marketing strategy? It's time to evaluate if your strategies were able to accomplish them.
If not, there'll be so much you can learn from the insights and analytics.
Ways to Measure Content Marketing Success
How to measure the ROI of a content marketing strategy? There are a number of ways you can do this.
1. Google Analytics
Google analytics is the #1 and the only analytics tool you'll ever need. From audience behavior to bounce rate and goal conversions, you can get the smallest of details about the performance of your content strategy.
Check out Google Analytics for Beginners to know how you can improve user experience.
2. Google Alerts
Google alerts will email you every time someone uses/mentions your content on the web. You'll have to sign up through email and add the content you want. This also helps with plagiarism checks.
3. Email Marketing Stats
Another obvious way to evaluate content strategy is by checking the analytics dashboard of your email list.
Emails and lead magnets make a huge part of call to actions (CTA). They pan out a roadmap for your readers to follow after they've stumbled upon your blog.
Metrics such as open rate, bounce rate, link clicks, unsubscribes, etc. help you understand audience behavior.
Open rates are important but, you need to focus on what people do after opening your emails too.
Segment your audience and improve your email marketing strategies to send personalized emails. Studying your email stats and improving will help you a ton.
4. Social Shares
Social shares also help you gauge the ROI of your content marketing strategy. Keep telling great stories that people would want to share.
In conclusion, the secret to winning the content marketing game is by engaging and evolving with your audience's needs and preferences.
As you carry on with your content marketing strategies, you'll discover new things to learn about.
Carefully curated blog posts and resources on those topics will be waiting for you on this website. Come back!
Also, don't forget to subscribe, share this post and check out my Twitter for more! How do you write a content strategy? Let me know in the comments!