Apart from starting a blog, getting your way around the WordPress dashboard and figuring out the ins and outs of marketing your website, there are other factors you need to focus on. The most important one is to write irresistible blog posts to convert every new visitor of yours to a returning visitor.
It is obvious that the most important part of your website is its content. The better your blog posts are the more visitors you will attract.
But, it does not end there. You need to write good blog posts that will make those new visitors want to return.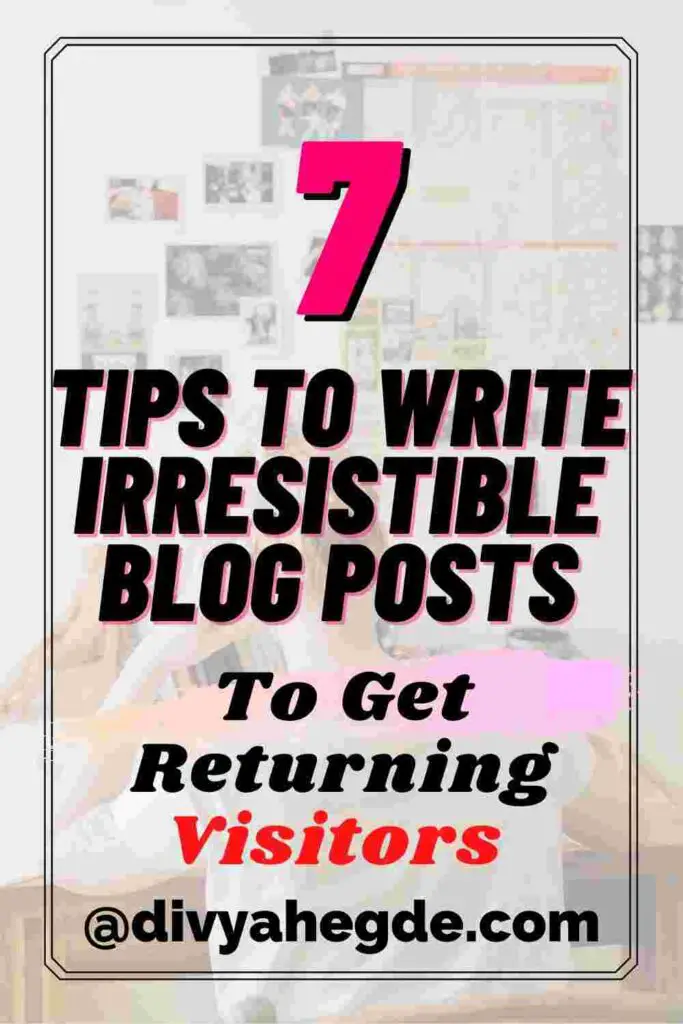 As a blogger, the ultimate goal for your website is converting any random visitor to a returning visitor or a potential customer. The more returning visitors you have, the better you are performing.
A returning visitor is someone who visited your website, visits again with the same device. You can find out how many of your total audience are retuning visitors using Google Analytics.
So, for someone to come back to your site, you need to have a blog post strategy and a solid understanding of your audience. Check out How To Write Blog Posts When You're Not Feeling It for some actionable tips.
With these simple and actionable steps, you will be able to write irresistible blog posts! If you make it to the end, there is a freebie waiting for you!
7 Tips To Write Irresistible Blog Posts
1. Problem Solving Blog Posts
This is hands down the most important step that will make or break your blog post. People are on Google looking for solutions to certain problems they have. Agree?
Make the most of this and write posts that solve certain problems people may have.
If you look at any established business, one thing common among them is that they solve problems people may have or offer certain services.
Put time and effort into your blog posts. Do extensive research and get to the point straight away.
Give your readers value and useful takeaways. This is how to write blog posts effectively and gain your readers' trust.
Don't be shy, share your knowledge with others and help them out! The ROI (return on investment) with this is priceless. And that is their time and trust.
2. Set The Tone
Let the readers know what they can expect from your blog post right away. A key to write irresistible blog posts is keeping it crisp and on point.
Going off rail and adding unnecessary anecdotes will bore your audience. The best blog posts are those where the reader knows what they are getting into and what they can takeaway from that post.
Time is precious and people will appreciate you for not wasting theirs!
3. Structure Your Blog Posts
Want to know how to write blog posts that sell? The secret behind writing good blog posts that people read till the end is blog post structure.
A solid blog post structure makes it easier for the readers to navigate to specific parts of your posts easily.
It gives the visitor an overview of what they can expect from your blog post.
The best way to structure your blog post is by adding descriptive and catchy headings and sub-headings to your post. This way, the reader can just skim through your post and still find value.
Nobody likes to read long paragraphs. So, breakdown chunks of your blog post into several paragraphs or add bullet points.
By doing this, you make it easier for the reader to understand what you've written even when accessed on mobile phones.
Add Images to keep your audience engaged. It is more likely for a reader to stay on your site if you add at least one image. This is good for your SEO too.
Loving the content so far? Consider subscribing to get instant blogging tips and latest updates!
4. Write SEO Friendly Blog Posts
To convert a new visitor into a returning visitor, your website needs to get new visitors frequently in the first place.
How do you get new visitors as a new blogger? SEO! SEO or search engine optimization will get you new visitors everyday.
This is why writing SEO friendly articles is so important. It doesn't matter if you are a new blogger, intermediate or a well established blogger, you need SEO.
If three of my blog posts (from a two month old blog) can rank on Google SERPs, then so can yours! How did this happen? Well, I spent hours to optimize blog posts for SEO.
To learn how to write blog posts for seo, check out this post: 11 SEO Tips And Tricks To Promote Your Website For Free. I have included and FREE blog SEO checklist which is downloadable+ printable. Get your hands on it now!
If you are a complete beginner blogger and have no idea what is SEO, then check out this post where the Basics Of SEO For Beginners is explained in detail.
5. Study Your Google Analytics
Studying your analytics is the best way to understand your audience. If you have been blogging for a while, then you know how important knowing your audience is.
Google Analytics is a free WordPress plugin with which you can understand your audience better.
They give you every piece of information you need to know from age demographic to gender to time spent on your site to location.
You can see what posts get maximum views and how long people stayed on your website. This is the most important metric to decide how to write your blog posts.
Here is an in-depth explanation of how to use Google Analytics and make the most of it. You will learn Google analytics terms like audience segmentation, acquisition, behavior and more. Don't worry, these Google analytic keywords are easy to understand!
6. Link Cohesive Blog Posts
Cohesive blog post or similar blog post or follow up blog post is what many bloggers add to keep the audience retention rate high.
If you are writing about a topic that will be too long to fit into one post, then you should split it up into 2. This way, readers will find it easier to read.
A follow up blog post doesn't have to be as what I mentioned above. It could be any other blog post you have already written.
Let us take this blog post as an example. In #4, I mention 2 SEO related posts which may not be a follow up post but is very much relevant to the topic being discussed.
Mentioning related posts in your blog posts is necessary. Even if you have them listed down below. This way it can be easily accessed by the reader.
Do not add all your post links in every blog post of yours. Remember that it has to be cohesive!
7. Call To Action (CTA)
After following all of the above steps to write a killer blog post, what do you want your reader to do? Just forget about you and leave?
Remember that the purpose of your blog post is to provide information and a takeaway.
Letting readers off the hook after providing useful information is not something a smart blogger would do. What would a smart blogger do then? Give readers a call to action. This will help you a lot with building an email list. Read Email marketing strategy for bloggers to know why having an email list is very important!
If you noticed in the beginning of my blog post, I mentioned that there's a freebie at the end of the post. This is an example of CTA.
Call to action is when you ask the reader to do something after they finish reading.
It could be asking them to subscribe, check out other related posts, comment or sign up for a freebie they wouldn't want to miss (which you should too by the way!)
This doesn't mean you keep creating freebies for every post of yours. You can create a couple of freebies related to your posts and mention about it in other relevant posts you write in the future.
Conclusion
These were some of my tips on how you can write irresistible blog posts that will make visitors want to come back for more. Find blogging related posts on SEO, marketing and more in the 'Blogging' category of the Categories section down below!
As you have made it to the end, I have a freebie for you! It is a make your blog posts irresistible checklist which is downloadable and printable! Grab yours now! See what I did there?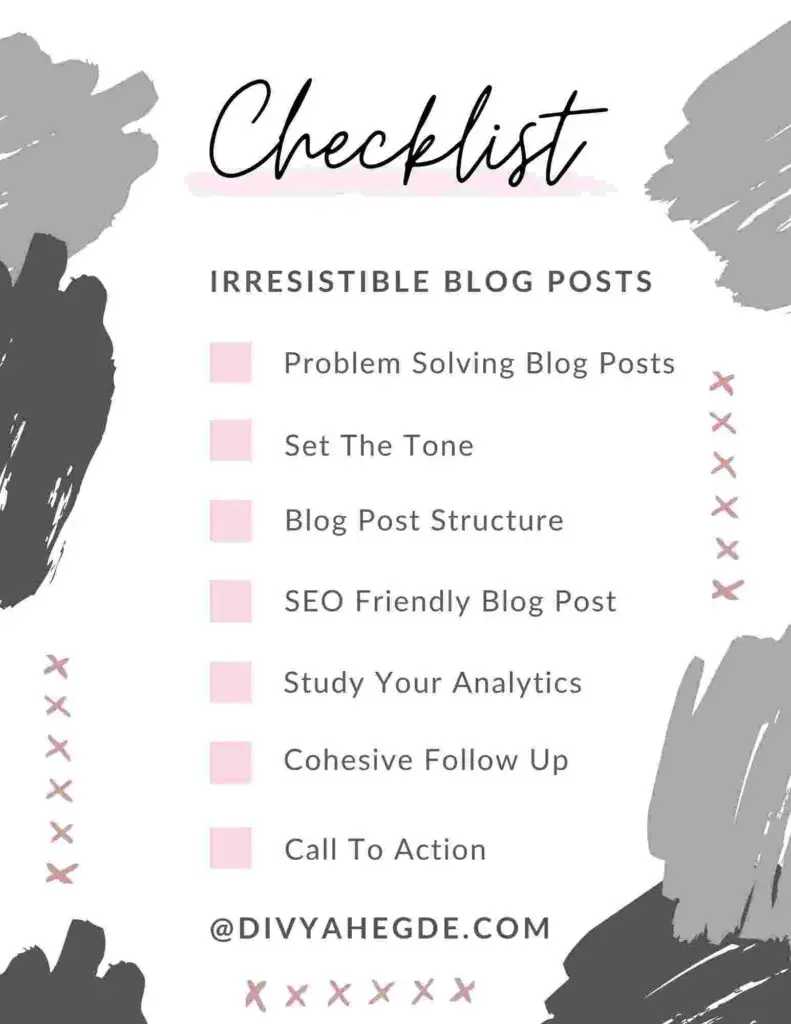 If you found this post useful, then help me out by sharing this thread on Twitter or pin it. Share it with someone who could benefit from this!
Have any suggestions? Don't hesitate, leave them down below in the comment section! I want to know what you have to say.
If you liked this post, then you might also enjoy my newsletter I send twice a month. I go in-depth about blogging and personal development. Subscribe if you'd like to receive one!
About Divya Hegde
Divya Hegde is a blogger and copywriter who is on a mission to simplify blogging. She writers about blogging, content writing and marketing and helps aspiring bloggers turn their passion into a successful business.