If you want to transform your room into something full of life, colors and textures, then you have to check out these cheap bohemian bedroom ideas. Don't worry, there is everything you'll ever need even if you are on a budget!
Yes, incorporating these ideas will make your room look like those on Pinterest! To make a bohemian bedroom, choose a color palette and add in a lot of textures, patterns and styles.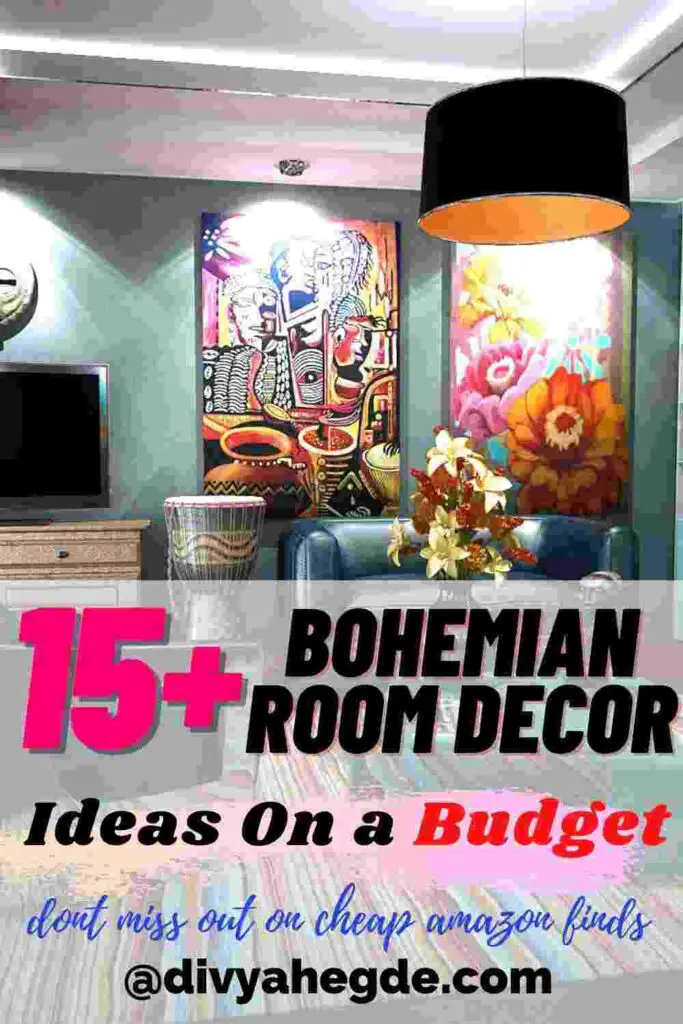 Boho colors can be rich, saturated and pigmented. This shouldn't stop you from opting for a warmer boho tone if that fits you more.
Warm boho colors are golden yellow, ruby, pink, saffron, orange, magenta. Cool boho colors are turquoise and jade.
You don't have to stick with one boho color palette. A mix and match carefully put together should be fine.
After all it's your room! Bohemian decorating style basically makes your room look and feel comfier.
Learn how you can create a boho room on a budget with super simple additions to your room in this post!
15+ Bohemian Bedroom Ideas
This post contains affiliate links through which we may make a small commission. This will not cost you extra! Learn more about our Affiliate Disclaimer.
Also, if you find certain images not loading, please refresh the page and I can guarantee you it will show up.
1. Macrame Wall Decor
Easiest to purchase has to be this macrame wall decor! The warm colors will lighten up your room.
2. Wall Art
If you're not into the macrame decors, then these wall arts should be good. transform your room easily with these bohemian inspired wall art pieces.
3. Faux Rugs
Yes, you can add these faux rugs too. These would be the perfect mix and match with a bright pattern throw pillow.
If you're not into this, check out these bohemian accent rugs.
4. Mirrors
What is the point of a bohemian bedroom ideas post without a mirror section in it? These mirrors will give you the best Instagram pictures! They are the perfect height if you put it up in a dorm room!
Put the mirror on the floor instead of putting a mirror above your bed so that you get those pics!!
Related: Pinterest inspired college dorm room ideas under $10!
5. Geometric Wall Shelves
Want to add a little edge and a little pop? 😉 These geometric wall shelves are the best way you can do so.
These different shapes are definitely a must have to keep your room organized.
6. Round Mirrors
Full length mirrors are not your thing? These round mirrors will definitely help you get that bohemian decor going.
The round mirrors with oak, birch or wooden frames will set the tone of your room!
7. Coffee Table
The best way to decorate your living room to make it look like a bohemian living room, add some of these coffee tables!
A bright bohemian accent rug underneath these tables will surely give you that bohemian living room vibe you are looking for.
8. Woven Baskets
These woven baskets will add that extra texture and patterns you are looking for! These can be used for laundry or plants!
9. Side Tables
Look at the different styles and patterns these side tables come in! You should get one of these if you are looking for a small side table.
10. Throw Pillows
Throw pillows are the easiest way you can transform a not so boho living room to a boho one!
They make your living room look more put together and expensive. Just visualize these pillows on your bed or couch with an accent rug, a mirror, a woven basket and some plants!!
11. Bohemian Wall Paintings
You can add one of these paintings above your bed instead of a headboard to instantly turn your room to boho style.
12. Bohemian Abstract Tapestry
Wondering "what should I hang above my bed?" Then this abstract tapestry should definitely be on top of your list!
You can hang this tapestry behind your bed instead of headboard for a change.
13. Room Fragrance
Room fragrance plays a huge role in fully getting into that bohemian home zone.
These candles will make you never want to leave your room! Also, how cute is the first one?!
14. Bohemian Accent Rugs
These bohemian accent rugs are definitely a steal! They add so much definition to your room.
15. Bohemian Bedroom Furniture
Swing chairs and hammocks are a cute addition to your bohemian bedroom furniture set! Getting amazing looking furniture for this cheap is a steal! Take your bohemian home decor to the next level with this number.
16. Plant Hangers
Nothing screams more bohemian bedroom ideas than plants! The more you have the better!
These plant hangers will get you a level up with your bohemian theme room!
16. Bohemian Style Lanterns
These lanterns are totally Halloween vibes! These are the best bohemian bedroom ideas for small rooms!
A combination of these with the candles I mentioned above is the best way you can style your room for Halloween.
17. Bohemian Bedroom Curtains
These bohemian bedroom curtains give Atonement vibes! The aesthetics in that movie is unmatched!
The curtains will definitely make you wanna look outside the window more 🙂
That was a long list! What is your favorite piece? What are you going add to your cart now?? Let me know in the comments down below. I would love to know
If you liked this then feel free to share it with your friends and family! For more posts on lifestyle, personal development, college and blogging, please be sure to subscribe! I would really appreciate it!
This website is a participant in the Amazon Services LLC Associates Program, an affiliate advertising program designed to provide a means for sites to earn advertising fees by advertising and linking to amazon.com.
About Divya Hegde
Divya Hegde is a blogger and copywriter who is on a mission to simplify blogging. She writers about blogging, content writing and marketing and helps aspiring bloggers turn their passion into a successful business.