College dorm room decor can be super overwhelming as you need to plan all of it beforehand. Also, you will have to make sure you get the right deal because sometimes these supplies cost way too much! In this post, I discuss the best college dorm room ideas for as cheap as under $10!!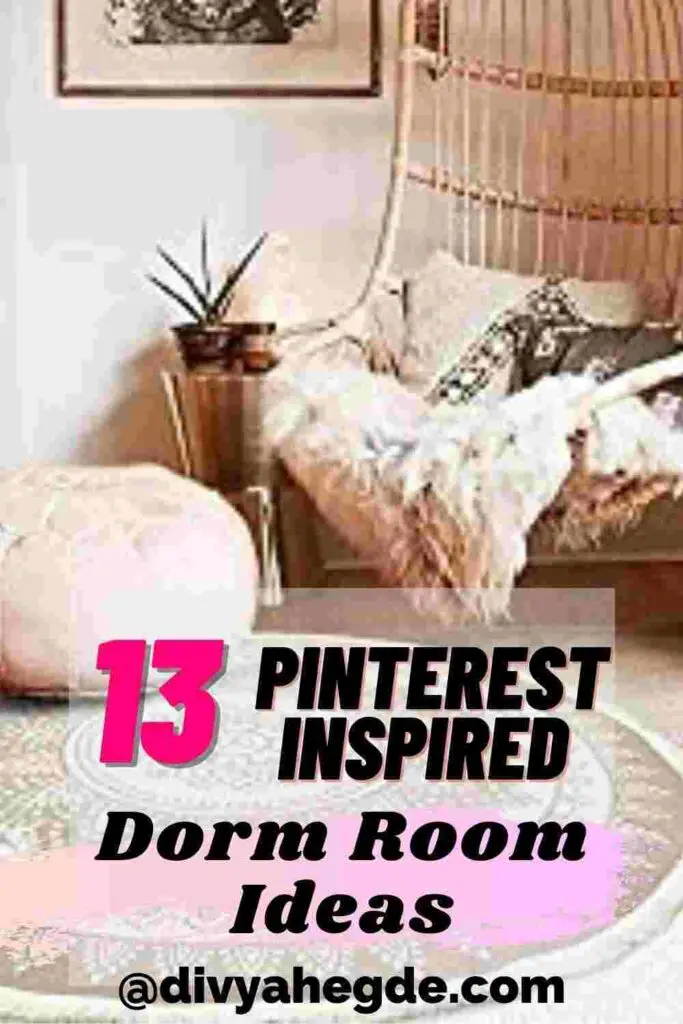 As newbies in an entirely different country or state, the least you can do to feel at home is by making your college dorm room look cute. A clean and well organized, put together place can really change the way you feel!
So, here are some Pinterest inspired cute dorm room ideas that you can achieve without spending way too much $$
Decor Every Dorm Room Should Have (Pinterest Inspired Ideas)
This post contains affiliate links through which we may make a commission at no extra cost to you. Read the full affiliate disclosure.
1. Wallpapers
Most dorm rooms are plain white and boring. So, to spice things up, you can add some wallpapers. The best part is that these are removable or peel off! Now, you can decorate your dorm room without nails!
You can decorate your college dorm room walls with wallpapers, LED lights, bohemian paintings, picture collage and some green plants or succulents!
If you like a more minimalist yet chic wall, go for this white brick wallpaper. You can do so much with it!
If you're not into the plain, brick type aesthetic, here are some floral wallpapers to spice up your dorm wall.
I love this green floral print. So fresh and an easy way to instantly make your dorm room look more nice and cozy!
This dark green wallpaper is the best way to get your dorm room looking like it's freshly painted even though it isn't!
Last but not the least, this light pink wallpaper. This is best if you are not into loud patterns but wouldn't mind something subtler.
2. Jewelry Stand
Having a jewelry stand is the best way to ensure all your dainty necklaces don't get tangled! This jewelry stand is best for organizing your rings, bracelets and earrings. Bonus points for being around $10!
I found this 360o jewelry organizer on Amazon. Perfect for storing all types of necklaces and rings.
Lastly, this black tree like jewelery organizer is so easy to use on your table as a decor piece plus you can store your everyday jewelry here.
3. Vision Board/ Mood Board
Looking at your goals every morning can help you get more motivated to make it your day!
Visually envision your goals and make them come true with the help of these vision/mood boards.
4. Fake Plants
College is hard and needs a lot of work. This means you probably won't have time to water real plants.
So here are some fake succulents that will add an edge to your room with minimum effort!
5. Throw Pillow Covers
Making your bed comfy will definitely help you sleep better. The best way to spice up your boring bed and make it comfier is by adding some throw pillwos!
Here's a set of 2 Throw Pillow Covers
Some single throw pillow covers if you don't want two of them.
These are obviously available in many colors! Feel free to experiment!
6. LED Strip Lights
Everyone has one of these! They make some really cool Instagram pics. Also, these LED strip lights are multicolored and come with a remote control!
These for $9.99 are definitely a steal!
Liked this blog post so far? Consider subscribing to receive weekly college tips, productivity hacks and more!
7. Tapestry
I mean look at how cool this tapestry is! You should definitely get one as it gives your college dorm room some definition.
Tapestries are the one of the best college dorm room ideas in my opinion. So easy to incorporate no matter what kind of dorm room you have!
Check out these bohemian room ideas on a budget! So many cool colors and prints!
8. Lightbox
These light boxes can make your study desk look put together. This can also act like your little motivation corner.
9. Photo Frames
If you are a huge photo hoarder like me then get one of these! I couldn't really find cute ones for below $10 so bare with me on this one!
10. Desk Organizer
Having a clean desk will make you want to study more. These desk organizers will help you sort out all your stuff.
11. Corner Shelf
Storage capacity in dorms can be less. So it's better if you have a corner shelf to stack up stuff you frequently use!
12. Rugs
Rugs can make your dorm room look so much more put together! It also makes it comfier. I tried finding some for under $10 but they were all 2′ x 3′ so excuse me!
This rug is super cute and blends in with any college decor you might previously have.
13. Photo Clip Lights
If you have too many photos or Polaroids then the best way to organize them is by using photo clip lights!
They make it look much more cuter!
These were some Pinterest inspired dorm room ideas roughly under $10. I tried my best to find all the products under $10 though for some I couldn't. Hope you liked it :))
Leave a comment down below if you liked it and for more such posts, please be sure to subscribe!! I would really appreciate your support!!
This website is a participant in the Amazon Services LLC Associates Program, an affiliate advertising program designed to provide a means for sites to earn advertising fees by advertising and linking to amazon.com.