A coffee mug that says some cliché blogger jargon is cool but why settle for the bare minimum when you could make their Christmas extra special by getting practical Christmas gifts for bloggers that are being slept on?
This ultimate Christmas gift guide for bloggers will help you save lots of time spent looking for practical gifts for bloggers.
This one's a long post so, to cut to the chase, a Canva Pro subscription, a scented candle and a kindle will do the job! Your blogger friend will absolutely love it.
Practical Christmas Gifts For Bloggers Under $25
This post contains affiliate links through which we may make a commission at no extra cost to you. Read the full affiliate disclosure.
Best Planners For Bloggers
Planners are a must have for bloggers or anyone who likes to organize their tasks and thoughts.
I've linked a few of the best planners made for bloggers by bloggers. So you know these are going to be good. Certain aspects of these planners are tailored specifically for bloggers which is why this has to be one of the most practical Christmas gifts for bloggers!
1. Blog Well Planner
Blog Well Planner by Katie Hornor is a quarterly planner perfect to start off anytime of the year because it is undated!
You also get 2 calendar spreads to visualize your schedule better!
2. Epic Blog Planner
Epic blog planner by Regina Anaejionu is an editorial blog planner. This means, it is more of a workbook/ thought-provoking planner where you answer questions to understand your blogging business better!
Best practical Christmas gifts for bloggers as it comes with blog post ideas list, monthly calendar and is undated!
3. The Bada** Blog Planner
Badass blog planner by Sarah Morgan as a blogging gift would be perfect since
4. Create
Create Blog and Editorial Planner by Meera Kothand, a certified email strategist, is one of the best planners for bloggers.
I highly recommend this as a gift to a blogger who has just started out or needs some solid foundation principles to make their blog a success!
5. Panda Planner
Panda planner is the cutest undated planner out there. This is the go-to for everyone. Bloggers, content creators, Youtubers, students, etc.
Read: Best planners for bloggers for the full breakdown of what you get in these planners+ how to plan your blog content!
Blogging Books
Books are a must in any blogger's life. Improving blog writing skills, vocabulary and marketing strategies are always on your blogger friend's list. Why not surprise them with some of the best blogging books every blogger must read?
6. Kindle
Kindle, not really a book but you get the point. This is a life saver for bloggers!
The number of blogging books you can read is unlimited. I Definitely recommend a Kindle as the best practical Christmas gift for bloggers!
7. Cashvertising
Cashvertising by Drew Eric Whitman is a marketing book geared towards people wanting to make a lasting impression online.
Any blogger would find this Christmas gift perfect!
8. Talk Triggers
Talk Triggers by Jay Baer & Daniel Lemin is by far the best word-of-mouth marketing book bloggers can learn so much from!
Get your hands on this book asap because you get it for $2.58 on Kindle or for free with Audible!
Audible Plus, like Kindle is one of those practical Christmas gifts for bloggers you could never go wrong with!
Get Audible Plus subscription with a 30-day FREE trial where you get access to a library of books. Possibly all of the blogging books I mentioned above ;))
10. On Writing by Stephen King
On Writing by Stephen King hard cover or get it for free on Audible!
This book will solidify blog writing skills and help understand how to write content that sells. Every blogger's goal!
3. Blogging tools and subscriptions
Bloggers are always on the hunt for tools and subscriptions that could reduce their overflowing tasks by a significant amount.
This list of blogging tools and subscriptions will be the best practical Christmas gifts bloggers could ever receive!
11. Canva Pro
Canva Pro has a library of unlimited photos, videos, audios and templates to choose from. Getting a blogger Canva Pro subscription is like buying them their comfort!
Best Christmas gift idea for bloggers is this subscription. Get them one!
12. Canva Pinterest Templates For Bloggers
Creating click worthy Pinterest pins is a must for bloggers.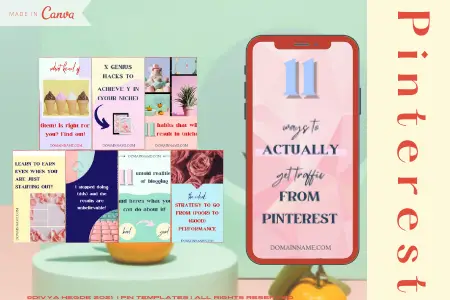 This set of Pinterest templates will help your blogger friend create pins and get done with Pinterest marketing faster!
13. MailerLite- Email Marketing Tool
MailerLite is by far the best email marketing tool for bloggers.
Get them a MailerLite subscription so that they can wow their audience with email marketing.
14. Blog Content Challenge by The She Approach
I would also like to recommend 1 year worth of blog content in 1 month challenge to build a solid content marketing strategy.
This challenge by Ana from The She Approach will help you with content creation and accountability check ins. Click on the above link for details.
15. Amazon Prime
Amazon prime for bloggers. I mean, yes there's free shipping, PrimeVideo, etc. but what bloggers will truly benefit from is Amazon's unlimited cloud storage for photos and videos! Help your blogger friend out by gifting them a 30-day free trial of Amazon Prime!
Click here to get 50% off on Amazon Prime!
4. Tech and Blogging Equipment List
Tech and blogging go hand in hand. With the right equipment, blogging can get so much easier. Here's the ultimate list of equipment needed for blogging your blogger friend will be thankful for!
16. Ring Light
Ring Lights make the perfect gifts for aspiring influencers and bloggers under $25! Easily on top of the blogging equipment list!
To be honest, a ring light is one of the best gifts for Instagram bloggers, content creators, entrepreneurs. Basically anyone with an online business!
17. Memory Cards
From photos to videos and more, bloggers are always running short of memory. Why not gift them a 128GB Memory Card? This is literally the most practical Christmas gifts for bloggers under $25 since 80% of their business is online!
18. LED Lights
This LED bulb is compatible with Alexa and Google making it 10x easier to operate at all times. Hands-free!
Definitely a top recommendation if you're in search of practical Christmas gifts for bloggers!
Amazon echo is one of coolest tech gifts 2021 you could ever gift someone/ receive!
Go hands-free with most tasks. Multitasking becomes so much more easier with an Amazon echo dot. Increase your productivity by getting one!
20. Laptop Sleeve
This laptop sleeve is the go-to practical gift for bloggers this Christmas if you have nothing else in mind. This is one of those Christmas presents bloggers will truly appreciate.
Apart from your MacBook, you can also store your iPad in it! This sleeve is water-repellent which is super handy.
5. Comfy home-office gifts for bloggers
21. Coffee
What's a gift ideas for bloggers guide with no coffee mentioned? Coffee is the bread and butter of all those late night blogging shenanigans, last minute website changes, etc.
I found world's strongest coffee that will revolutionize your morning (more like 3 AM). Take my word for it! This Death Wish dark roast will give you that extra boost to keep up with your productive blogging routine!
The best part about this coffee is that it's NOT bitter!
22. Coffee Mugs
Jokes aside, coffee mugs are a necessity. This cute, transparent mug is so chic. It fits well with any aesthetic you've got going on!
Could you find a more practical Christmas gifts for bloggers? Tell me in the comments!
Unlike traditional coffee mugs, this double-wall vacuum-insulated body protects your hands from hot or cold contents while keeping coffee, chili, oatmeal – you name it – well-insulated
24. Tea
So your blogger friend is not a coffee person. Don't worry, I've got something for your tea-loving friend too!
A good Christmas gifts for bloggers? Tea! A total of 48 tea bags included in this amazing Tea box collection will have your blogger friend stocked for the cold winters!
From English Breakfast to Earl Grey, Decaffeinated Breakfast, Lemon & Orange, Pure Assam, Green Tea with Jasmine, Organic Peppermint, and Organic Chamomile, each variety will keep you energized and active.
Get this Taylors of Harrogate tea box for your blogger friend. A practical Christmas gifts bloggers will appreciate!
25. Scented Candles For Bloggers
Blogging gifts need not always be something related to tech or a subscription. A scented candle that lifts up your mood and motivates you to crush your goals will do!
This "Home Office" candle by Homesick is the perfect gift for any blogger or content creator because it embodies their career. Through scent!
With 60-80 hour burn time, this candle is perfect for a cozy yet productive morning while working from home!
A scented candle is cheap yet one of the most practical Christmas gifts for bloggers 2021! So, get your loved one a scented candle for Christmas this year.
26. TimeCube LED Timer
This is the absolute cutest timer you could ever gift a blogger or a homepreneur/ anyone for that matter!
You can set a countdown timer for 5, 15, 30 and 60 minutes without using your phone and get distracted while doing so! This Miracle TimeCube is one of the most unique Christmas gifts bloggers could ever receive. The best part is that it is under $25!
The best part about this TimeCube LED timer is that you can set a silent alarm where basically when time's up, the LED lights will notify you! One of the most practical Christmas gifts for bloggers under $25!
These were some practical Christmas gifts for bloggers under $25. What will you be picking up? Let me know!
Also, share this thread on Twitter or with someone who needs a gift guide for Christmas!