There's no doubt about Pinterest being the #1 traffic source for most bloggers. Are aesthetic pictures enough to get millions of link clicks and drive massive to your site? Or is there something more to creating click worthy Pinterest pins?
TLDR; yes, there's a lot happening behind the scenes. Getting a lot of impressions is one thing and converting them into loyal subscribers is another.
If you are getting a lot of pin impressions but not many Pinterest clicks, the strategies discussed down below will help you a lot.
But, before that let's cover the basics. Skip to strategies if you'd like to.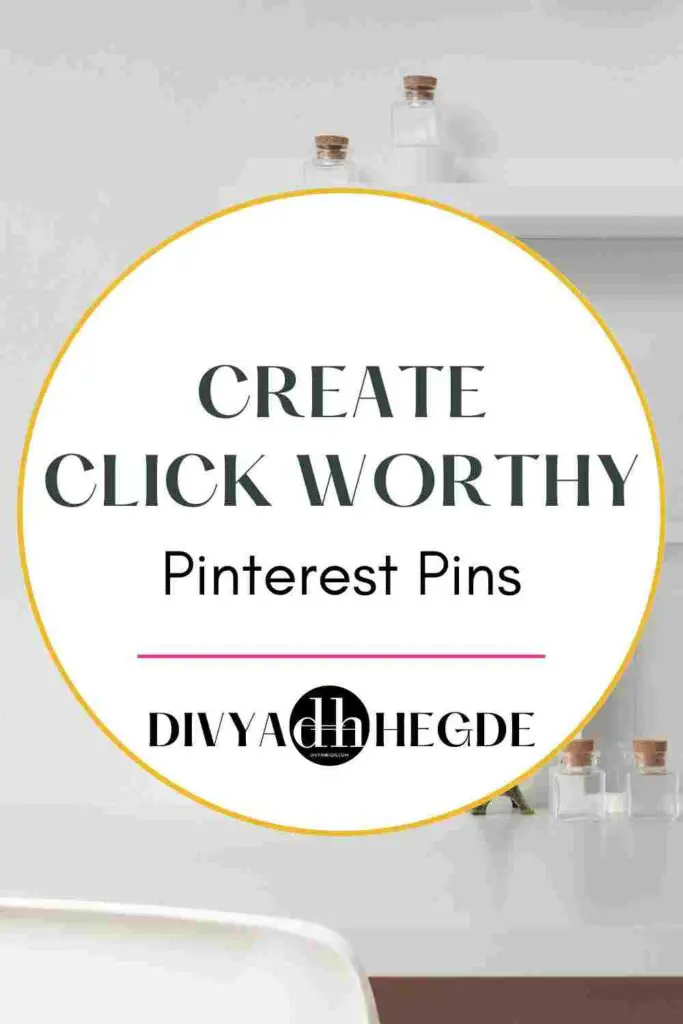 How do I get noticed on Pinterest?
First comes the impressions, then comes the clicks. Getting noticed on Pinterest, by Pinterest as a new account with 0 followers is extremely hard.
With numerous changes to their algorithm, most new bloggers drop the idea of getting noticed on Pinterest. As they think it is a waste of time. It's not.
Here are few tips to get noticed on Pinterest as a new blogger with 0 followers.
Post high quality original content everyday on a schedule.
As long as you pin everyday at a set time, it doesn't matter how many pins you pin in a day. Unless it's 30. Please stop. The last thing you want is to get caught in Pinterest's spam filter.
Make sure your pins are good looking. Recommended 2:3 pin size, on-brand images, etc.
Stick to your niche. Pinterest still does not know what your account is about. So, pin others' content similar to yours.
Go all out in your Pin description and alt text. Use keywords and hashtags (not a priority)
Find and join Pinterest group boards in your niche.
Get your Facebook and Twitter followers to follow you on Pinterest.
Join Tailwind tribes. The best way to get that instant Pinterest boost.
Use these beginner friendly Pinterest strategies to make your pins go viral like I did. It takes time though.
How do you get your first 1000 followers on Pinterest? Start a Pinterest group board of yours. This is the easiest way to get people to follow you on Pinterest.
Why do you need 1000 followers in the first place? Pinterest is a search engine not a social media platform. Focus on link clicks.
After you've followed the generic how to create click worthy Pinterest pins like:
Post original content
Recommended Pin size has an aspect ratio of 2:3
Aesthetic images
Re-pin others' content
Keywords in title and description
Try implementing these Pinterest marketing strategies behind creating click worthy Pinterest pins to level up your game!
7 Tips To Create Click Worthy Pinterest Pins And Get More Pinterest Clicks
1. Intriguing Pin Headings
By pin headings I mean the heading in your pin image. That's the first thing most people lay their eyes on. This is easily one of the best ways to create click worthy Pinterest pins!
Make use of bright vibrant colors that pop. This is the first step to get noticed on Pinterest among a million other pins.
Now, write headings that intrigues them or causes a sense of urgency. Something that persuades them to take action then and there.
For example, compare Social media strategies to grow your business vs Do you know the value of your social media content.
The latter causes a sense of urgency and makes people want to click right away. If anything, it is way more intriguing than the former example.
Another thing to keep in mind is that people like simple headings. Short, easy to understand. It is so easy to go on and on but, ask yourself "so what" after each line you write.
Got an answer? Keep it. No? Delete! Also, make sure the heading is memorable.
2. Attention Grabbing Pin Title
You have 40 characters to grab someone's attention. Tell people what to expect without telling them.
Pin titles should be a combination of keywords and action words. Keywords for Pinterest to do it's job and action words to give people a reason to click.
Even though maximum characters allowed for a Pin title is 100, it is the first 40 that people can see. Make sure that the first 40 characters are attention grabbing and deliver the purpose.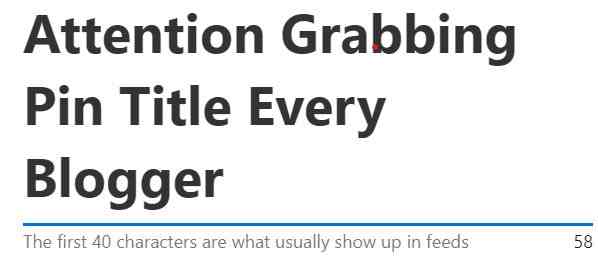 This way people don't even have to bother reading the entire title before deciding to click on your pin.
As characters that show up in people's feed are limited, do yourself a favor and don't waste it by re-writing your Pin heading. It's already visible to people. Give them more context.
3. Pinterest Story Pins
People have mixed opinions about Pinterest story pins but, if anything, they help in getting you the kind of exposure you'd only get when your account is at least a year old/well established.
I've had random people's stories pop up on my feed that were really good. Which made me want to click on their profile and know more.
I'll say this once and I'll say this a million more times (down below) just because you don't get immediate and/or direct engagement, doesn't mean things don't work.
What do I even mean by this? Immediate engagement = saves/likes/comments/link clicks and direct engagement = link clicks.
With story pins, people have complaints that there's no way you can link to your website. And as it doesn't bring in any direct traffic, it's a waste of time. Hence, ignore story pins.
But, video pins work wonders when posted as story pins. The amount of impressions you get is unimaginable. Here are some stats:

This is a fairly new account (mine). And by fairly I mean, 2 weeks old. An entirely different niche, zero promotions or mentions.

As you can see the stats above, this account was created after Apr 1. Apr 4 to be exact. And by Apr 9, this Pinterest account managed to garner nearly 4k impressions.
That is something a beginner can only dream of. My official Pinterest business account for this blog took almost 6 months to get this kind of traction. There were no story pins at the time.
Also, don't be fooled by the 0 saves in the above image. With these story pins, I was able to gain new following.
Anyways, the point here is to experiment with story pins. Content's quality cannot be compromised. And add a CTA. A simple go to domainname.com to get more tips will do.
I send a newsletter bi-weekly where I go in depth on blogging and marketing. Subscribe if you'd like to receive one.
4. Pin Image To Text Ratio
Pin image to text ratio is something to keep in mind as it plays a huge role in getting those Pinterest pin clicks.
If the image you use takes up more than 60% of the pin image, it's time to change things up. Keep in mind that this can vary from niche to niche.
If you have a cooking blog, you'll obviously want your dish to take more space than the name of the dish.
But, if images are not a part of your CTA, then be mindful of the space it takes. As the image itself is a part of the CTA for cooking bloggers, the image taking up maximum space is understandable.
If marketing, writing, personal development, etc. is what you write about, then make sure your image to text ratio is at least 40/60.
What you offer has to speak to people because most bloggers in these niches use similar stock photos.
5. Pinterest Pin Templates
Pinterest pin templates make it easier to create click worthy Pinterest pins in batches. They also help you maintain a certain aesthetic throughout your feed.
Have you ever come across a pin when scrolling through Pinterest and immediately recognize who's it was?
That is the power of personal branding. Being consistent with the pin colors, fonts and style is important. It helps people identify your pins then and there. Pin templates make this job easier.
Cop these fully customizable Pinterest pin templates by me for $6.53 using discount code: dyvya6. Hurry up only 20 left!
I want this!
They come with pre-filled action words that will make people want to click on your pins immediately!
6. Refer To What's Trending on Pinterest
Those notifications Pinterest keeps sending about what's popular on Pinterest at the moment, yeah don't ignore them this time.
Along with the topics that are trending, Pinterest also shows a list of Pins that fall under this category too.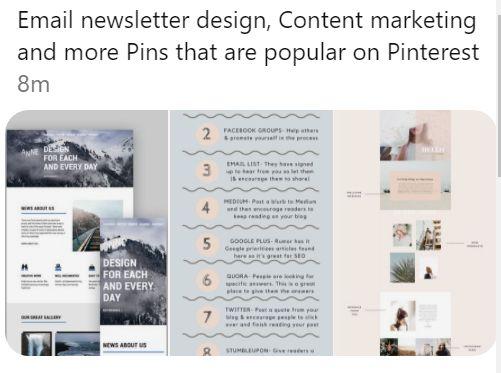 Click on each one of them and note down anything you observe that people are doing different. From Pin titles to descriptions and Pin design.
This way, next time you create Pins, you'll emulate everything you've observed. Take it a step further by creating similar pins then and there so that Pinterest picks up your pins!
And, the best part about these notifications you get from Pinterest is that they are usually based on your niche!
Like in the above image you can see email newsletter and content marketing are totally my niche. I talk about it all the time.
7. Create "Popular" Pins
What exactly do I mean by "popular" pins? Go to the Pinterest search bar and you'll find this segment where Pinterest displays different categories of certain niches.
Now take full advantage of this and create pins that directly fall under this category. You know these pins will perform better in the long run.
Remember that Pinterest is a long term game. Want easy clicks and instant gratification? Quit Pinterest.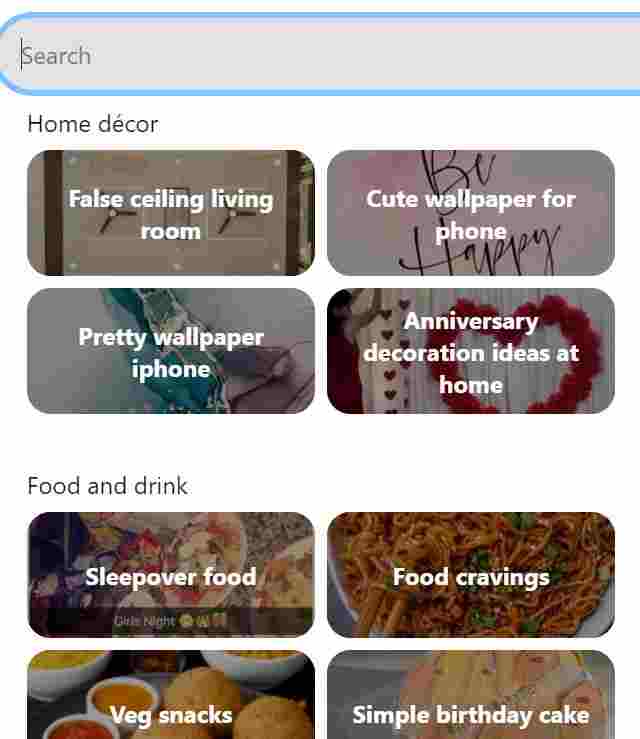 Check out this image above. We have False ceiling living room, Anniversary decorations, etc. under home decor.
If you have blog posts related to this, create pins with these exact words included in the Pin title, description and alt text. If not, write one and follow all the steps we discussed above.
8. Pinterest Group Boards
How do I get noticed on Pinterest? Pinterest group boards is the answer! Especially if you're new, getting your pins out there can be really hard.
With Pinterest changing it's algorithm every now and then, it isn't as easy as it was to drive massive traffic to your blog by randomly pinning 50 times a day.
People have a lot of opinions when it comes to Pinterest groups boards but honestly, they've always worked in my favor.
Start off by joining established Pinterest group boards in your niche. The more niche specific the better. Then, make sure you join some group boards that are not niche specific. Keep it 80/20. This way you get the best of both worlds.
Finding Pinterest group boards worth joining and getting accepted into one is a whole another journey. Read How to Find and Join the Best Pinterest Group Boards to know more.
Every new pin image you post, pin it to the group board. Do this everyday. This way people who follow that group board will find your pins in their home feed.
Final Thoughts on Pinterest
Just because you don't 1500 link clicks immediately doesn't mean things won't work. Sometimes, your pin appearing on someone's home feed itself is an indicator that it's working.
Oh I must add that it is totally possible for a 6 month old pin of yours to get massive traction out of nowhere.
And the fact that a majority of traffic most bloggers get is from their old pins should tell you that patience is key.
Here's a little inspiration for you. The below screenshot is my Pinterest stats for the last 90 days. (12/1/2021- 11/4/2021)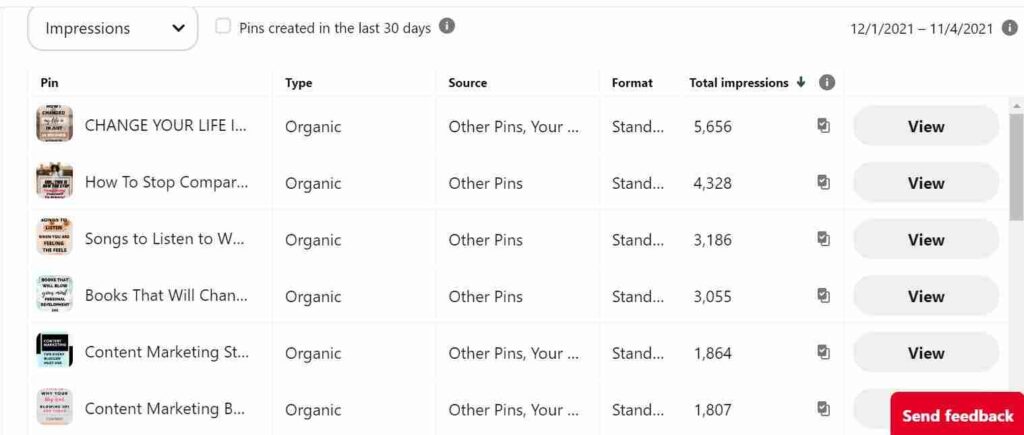 The top 4 pins are 5 months old. My Pinterest account is 10 months old. Next time you dismiss the idea of working on your Pinterest, remind yourself of this image.
Remember that at the end of the day, Pinterest is just another social media through which people can find you.
And when they do, if they don't click, there's no point in coming up with a strategy. So, in conclusion, give them a reason to click.
Liked what you read? Then you might also like my newsletter I send twice a month where I go in depth about blogging and marketing. Subscribe if you'd like to receive one!
This took me quite sometime to put together. The easiest way you can help is by sharing this thread on Twitter. I'd really appreciate it ~
About Divya Hegde
Divya Hegde is a blogger and copywriter who is on a mission to simplify blogging. She writers about blogging, content writing and marketing and helps aspiring bloggers turn their passion into a successful business.