Pinterest group boards are an efficient way to get as many eyeballs to your pins as possible. You'll be amazed by the other benefits of these boards and want to start a Pinterest group board right away. But what does it take to make it a successful Pinterest group board that many would want to join?
Group boards on Pinterest are the best way to collaborate with your fellow bloggers and boost your blog traffic.
By contributing to a board and re-pinning, you not only promote your blog but also help others promote their blogs! This is an opportunity for you to meet new people from the same niche!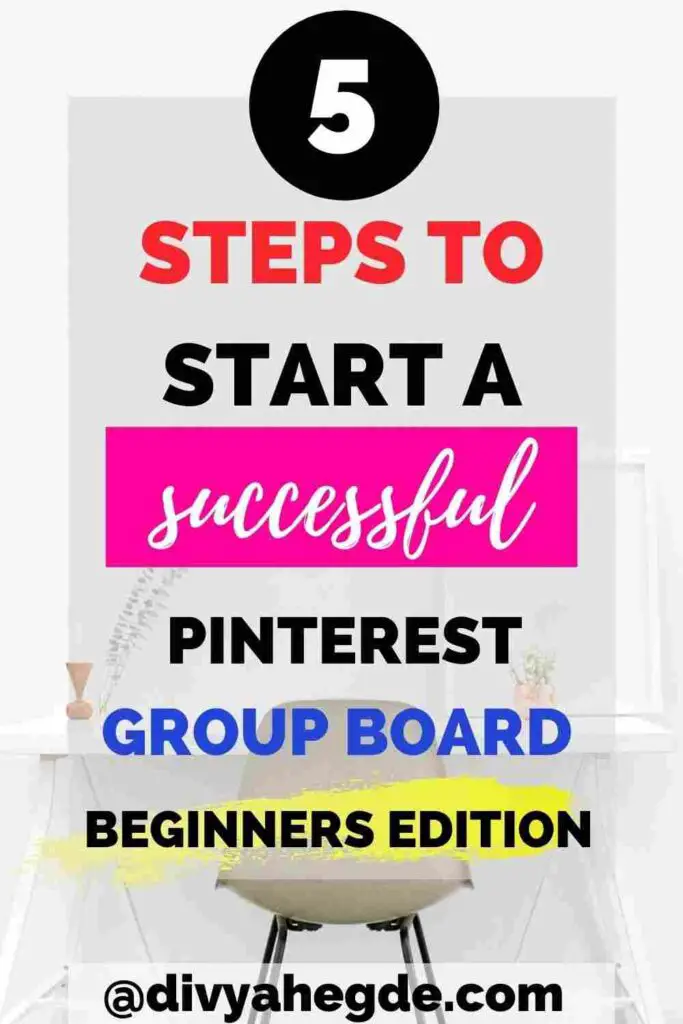 If you have been on Pinterest for a while then you know that to join a Pinterest group board, you will have to follow certain rules and getting accepted into one of them can be really hard. So it is easier to start your own board.
Having said that, the ultimate goal for your group board would be that many people would want to join it. Thus, making a successful Pinterest Group board from scratch needs some strategic planning.
You will learn step by step how to start a successful Pinterest group board of your own in this post.
5 Steps For A Successful Pinterest Group Board
This post may contain affiliate links for products through which we may make a small commission. Clicking on these links will not cost you extra in anyway. For more information, please check out our Disclaimer policy.
1. Setting Up The Board
The first step has to be creating a board. To create a group board, all you have to do is click on create board and give it a name. Keep this board a secret before it is launched for collaborations.
After you are done with this, start pinning your best pins. You could also directly start inviting people you are familiar with to collaborate. Get your blogger friends and peers on board.
It is advised to have a considerable amount of pins before it is open for others. This is because you are probably going to drive people away if there are no pins. Because, more pins= more exposure.
If your board is only for your close friends, then you don't have to bother about any of this.
2. Rules And Regulations
The next step is to set up rules and regulations for your board. Make sure you keep the rules simple clear, and easy to follow. People do not like it if they have to go through a maze to find out how to be a part of your board.
Write your rules in the board description as there is no special place to mention them. Mention the requirements to join your board as well.
For example, I have a group board The Ultimate Bloggers Group Board. This is a blogging related board. So, the requirement to join this board is 'pinning blogging related content only'.
Let people know how they can contact you for any queries and be welcoming. If you are a newbie blogger looking for some group boards to join, you are welcome to join mine. I would love to have you!
With the 'request to join' feature, it becomes easy to manage who can contribute to your board. Enable this option in the board settings. You can accept or decline their request here.
3. Inviting The Right People
This is the most important part of successful Pinterest group boards. Choosing wisely of who can participate. Every group board has a particular niche and having contributors from the same niche makes sense. Unless your's is an all niche board.
At first it is tempting to get a lot of people on board, but always remember that quality > quantity. Giving anybody the access to join your board decreases authority with respect to the niche your board belongs to.
By this I mean if you have two options to choose from for blogging tips, 1: super specific only blogging related or 2: blogging, cooking, parenting, etc. which one would you go for? Obviously option 1?!
4. Active Participation
Your job does not end at starting a board and inviting the right people. You have to participate in your board and pin regularly!
As you are the owner, share as many pins of others as possible. Establish a connection with your collaborators. This environment would motivate others to join your group too!
5. Spam Control
Pinterest is getting strict about spamming and spammers. Gone are those days when people used to pin 50 pins in a row to flood everyone's timeline and get away with it. If you do this now, you are most likely to get your account suspended!
So, spam control is necessary! Keep a note of those who are not following your rules and spamming. You can remove them when it gets overboard. This is because, when they spam your group board, Pinterest is likely to suspend your account.
These were some of my tips on how to start a successful Pinterest group board from scratch! If you want an in-depth explanation on how to use Pinterest to promote your website, click on the link.
If you are looking for a FREE Pinterest Marketing course which gives you all the goods from experts, then feel free to check the above link. This course is by Marina from Blogging for new bloggers.
She is an expert in Pinterest marketing and explains in great detail about Pinterest. I have taken this course too, and it was extremely helpful. The best part is that it is for FREE!!
If you have any tips or suggestions, feel free to comment them down below! If you liked this post and found it useful, please share it and for more content, please be sure to subscribe to join the list!! I would really appreciate your support!
Help me out by sharing this blog post thread on Twitter!