If your "lead magnet" is a subscribe to my weekly newsletter and wonder why you're not getting as many subscribers, then this is for you. Don't worry we've all been there. A weekly newsletter should be last on the list of lead magnet ideas for your blog.
How often have you given your email for free? Never? Me too! The same goes for visitors on your blog. Expecting them to give away their emails without giving them a solid reason to, will not work in your favor.
Lead magnet is something you offer to your blog visitors in exchange for their emails. This can be a checklist, a PDF guide, eBook, etc. With a proper lead magnet strategy, you will be able to increase your email subscribers.
Why collect emails in the first place? Emails are very personal and the easiest way to connect with your audience even after they've left your blog/website.
You might be wondering, there are so many social media platforms where I can grow a following and interact with my followers, why bother starting an email list?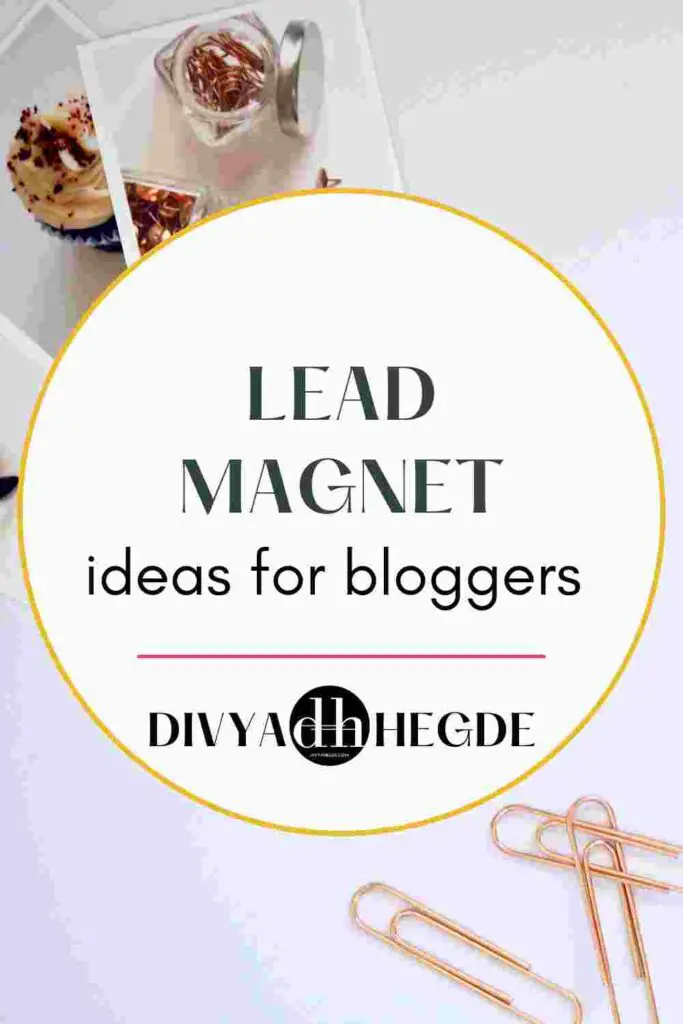 To that I say, you don't own Instagram, Twitter, Facebook or any other social media. Your email list on the other hand? Completely under your control!
Read Here's Why You Need To Start An Email List to understand the benefits of email marketing as a blogger, business owner.
Now imagine creating a lead magnet offer so irresistible that even cold visitors (visitors that find you for the first time) on your blog end up subscribing?
Sounds great! We'll be going through exactly that in this blog post. But before that, let's quickly lay down all the factors that make a lead magnet "good enough"
What Makes a Good Lead Magnet?
This post contains affiliate links through which we may make a commission at no extra cost to you. Read the full affiliate disclosure.
1. Precise
A lead magnet that is super specific in what value it provides will always have a higher conversion rate as opposed to something vague and general.
Being precise to the T is the #1 lead magnet strategy you need to apply.
"7 Marketing Strategies mistakes most bloggers ignore that costs them in the future" is more precise than "Marketing strategies for bloggers".
Also, the first lead magnet is more intriguing and urges people to subscribe because who doesn't want to know what those mistakes are?!
2. Solves a Problem Instantly
This lead magnet strategy is self explanatory. If your lead magnet solves a problem most people have, congratulations, you've gained a lot of email subscribers.
A precise lead magnet which solves a specific problem instantly should take barely any time to come up with.
Emphasis on the word instantly.
A list of "7 Marketing Strategies mistakes most bloggers ignore" will take probably 10 minutes to create. But the value it provides is way more than a 7 day email course.
3. Promises a Quick Win
Like in the lead magnet example mentioned above, when someone subscribes, they will get all the information about what the 7 major marketing mistakes bloggers ignore.
This is a quick win. Likewise, you can setup a sequence of emails which promise a win at the end of the sequence.
This way, you can get your subscribers really invested in what you have to say.
4. Easy To Digest
Treat a lead magnet as a lead magnet. What do I mean by this? Well, because a lead magnet is supposed to lead a visitor to your email list, don't bombard them with a 500 page eBook from the get go.
Give them something that is easy to digest. A 15 page downloadable PDF which summarizes your niche topic would be perfect.
What you can do later on is add a tripwire or send a follow up email letting them know that a comprehensive guide is also available.
This helps a lot when it comes to building trust because they've seen it for themselves as to what you have to offer with the free lead magnet.
Now that they know what to expect from you, they may end up making a purchase. This is a vague description of a sales funnel which is a blog post for another day.
Also, make sure your printable is simple and does not have too much going on design wise. Keep in mind that people have to print them out.
5. Easily Accessible
Don't make people wait for their lead magnet. Or worse, make them search for it frantically. Choose a lead magnet tool that will help you create and setup a lead magnet on WordPress.
With email marketing tools like Mailerlite, you can create amazing landing pages which act as a medium to collect emails and also send the lead magnet to your list.
Try MailerLite for free. You get up to 1000 free subscribers and 12,000 emails/mo!
Lead Magnet Ideas For Bloggers Of All Niches
1. Checklists
Checklists are the easiest lead magnets to make and also the ones that cut straight to the point. Precise, solve a problem instantly and easy to digest. They check all the boxes.
These come handy when you have a how-to/instruction based blog post. Everyone would love a concise checklist that goes through everything written in a 3000 word blog post!
Converting a well performing how-to blog post (Things to keep in mind before publishing a blog post) into a checklist has helped me increase my subscriber rate more than anything else. Check it out!
2. Cheat Sheets
If people have to go back and forth multiple times to get a better understanding of what you have to say, it's time to create a cheat sheet!
This is common with workouts, growth strategies, meal preps, etc. It's nice when people can carry around the simplified version your entire blog post and take a look at it whenever they want.
Cheat sheets are super specific and easy to digest. Creating them in a downloadable form will definitely get you a bunch of subscribers.
3. Templates
Templates can be used to outline a problem and all the users have to do is fill in the blanks. After checklists, these are the most converting lead magnets as they are super precise and easy to digest.
What problems do you face when it comes to marketing vs Write 3 marketing strategies you tried but failed miserably at. Which one are you most likely to give an answer to in a minute? Let me know in the comments!
Me, and several others would go for the latter without batting an eye. People can't answer vague questions. So, make questions more precise.
Take those questions and convert them into templates. This could also be a social media posts template or an email template to win clients.
Social media post templates are most likely to convert because picking colors, coming up with a design, creating posts on a day to day basis is time consuming.
Using intriguing questions and facts as a CTA for your social media templates would help people a lot.
People would love customizable Pinterest pin templates or Facebook posts that they can edit on the go. Check out these fully customizable Pinterest pin templates I created!
I want this!
4. Workbooks
A workbook is best used when you provide services where people can download the lead magnet and complete an exercise. Again, this is precise but takes sometime to finish.
The best part about workbooks is that after completing one, a user will be able to figure out their problems and apply your services to solve them.
The main focus of workbooks is usually to solve a bunch of exercises to come to a conclusion as to why something's not working in their favor.
Workbooks make for a great upsell. Help people figure out their problems and propose your services as a solution!
One important thing to keep in mind is the lead magnet design. Make sure you keep your workbook design simple because people have to download it.
Too many boxes, colors, fonts is unnecessary unless you are selling one. Let your audience have a happy printing experience.
If you'd like to receive detailed blogging case studies and marketing tips, sign up to the newsletter. I send these twice a month.
5. Comprehensive Lists
Lists and/or reports are useful when you want to incorporate a lot of links and resources that may not be yours.
Collecting the best marketing strategies and coming up with a comprehensive list that links to various websites and forums is an example.
Note that these do not promise a quick win. Which is fine. There's absolutely no need to check all the boxes if your lead magnet is high quality. There are definitely some takers for a well rounded report.
The best part about these lists and reports is that you know the people who subscribed to your lead magnet are very much dedicated and take their work seriously. These people are most likely to consider your offers later down the line!
I think you would've noticed that my lead magnet is a Blogging resources list. This comprehensive list contains all the resources a blogger would ever need to skyrocket their blogging journey.
Yes, I did gain quite a few subscribers. The numbers are no way close to that I generated with my Blog Post Checklist lead magnet.
But, I know for a fact that those who opted for the resources list are going to find value as they have an in-depth list with them at all times!
6. eBooks
If your blog is all about informational/educational content, then eBooks could be one of the best products you could create.
eBooks is one of those lead magnet ideas that will help you establish authority in your niche.
But as far as eBooks as a lead magnet are concerned, there are so many high converting, not-so-time-consuming lead magnet ideas we discussed above you can use.
Apart from the fact that they can take days to create, eBooks are also hard to digest. You should give a really strong "why" for people to opt in.
Also, remember that a lead magnet should be a glimpse of what your products/services provide. If you give away the goods as a freebie, people are most likely to ignore your offers.
Was creating an eBook on the top of your lead magnet ideas? Tell me in the comments!
7. Guides
Even though they are time consuming to create and digest, guides will help you attract a specific group of people interested in a specific topic.
Make sure your guide helps people gain expertise over a said topic.
Guides are similar to eBooks where it has to be comprehensive. Make the best use of guides by having a call to action that promotes your service.
If you have written multiple blog posts about a topic, then create a guide which summarizes everything as a one piece content.
This way it becomes a go-to for your subscribers when they have issues!
What lead magnet will you be creating? Let me know in the comments! Read more about content marketing and how this content marketing strategy changed my blogging game!
If you enjoyed reading this blog post, then help me out by sharing this thread on Twitter!
I also send a detailed newsletter twice a month related to blogging case studies and marketing tips. Subscribe if you'd like to receive one!