There's a lot that goes on before you hit publish. Things to keep in mind before publishing a blog post could take anything from two days to a week to prepare. From blog post titles to keywords to images and more. Gone are those days when people wrote anything and everything on their blogs.
If you want to make sure you get consistent and organic traffic for as long as you can imagine, you need to put in that kind of effort. The first and most important step is writing quality content your audience is looking for.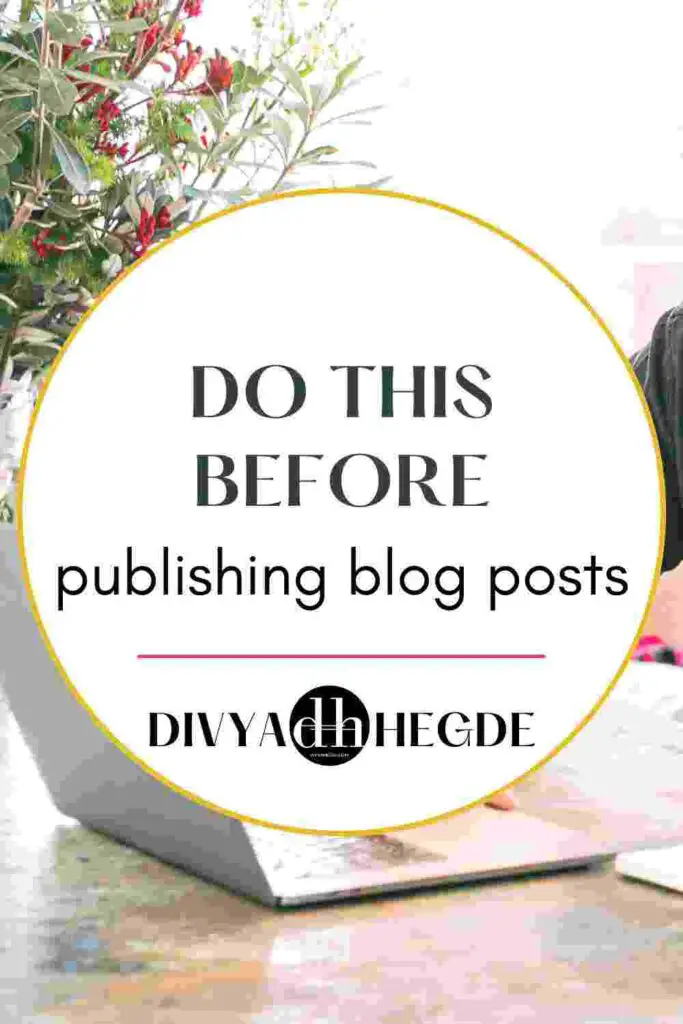 The most common myth about blogging is that more blog posts you write more traffic you get which is better and safer than writing a substantial amount of blog posts.
This is so not true! If you are writing 500 blog posts and getting around 2-5k pageviews, then this is not a good sign! Blogging is a LOT more than just writing text people are looking for.
Wondering what to do before publishing your blog post? Read on.
This post contains affiliate links through which we may make a commission at no extra cost to you. Read the full affiliate disclosure.
Do This Before Publishing Blog Post
1. Check Blog Post Title
This seems like it is not that big of a deal but it is really important. Do yourself a favor and check if the blog post title you choose is already used.
To do this, just copy paste your title into the Google search bar. If the same title appears in the search results, then try tweaking your blog post title.
Remember that you don't have to change the title entirely. You can add numbers or an extra word.
Just make sure your title isn't exactly the same as someone who is already ranking on SERPs.
This is because you want to give yourself all the possibilities for ranking on the SERPs.
By this, I don't mean to say that two same titled blog posts don't stand a chance to rank.
But, since you have already found a title similar to yours on SERP, this means that they are ranking for that title.
So, whenever someone types in your blog post title, chances of the already ranking title appearing is higher (especially if you are new).
For example, if you want to write a blog post titled "Things to do before publishing your blog post" and it's already taken, try "Things To Keep In Mind Before Publishing Your Blog Post" like I did.
2. Keyword Rich Content
The best way to make sure you get organic traffic for free is by doing your keyword research. Knowing the basics of keyword research will open up a lot of potential organic traffic from search engines.
Never write and publish a blog post without doing your keyword research. It can be overwhelming trying to decide how to incorporate all of these keywords in a cohesive way.
But, this shouldn't stop you from adding all the keywords that will help you rank on SERPs.
Google provides a free keyword research tool if you sign up for AdWords. Don't worry, you don't have to setup ads to use this tool.
Keep in mind to always incorporate relevant keywords wherever possible. Quality is always > Quantity. Here's a Comprehensive keyword research guide!
3. Images, Links And Tags
Before publishing your blog post, make sure the images you use are copyright free.
Make sure you include a keyword in the alt text of that image. This helps a lot with SEO! Read: Basics of SEO for Beginners.
Always add links to relevant blog posts of yours. Remember that not everyone reading a particular blog post of yours has already read all of your other posts.
This is why adding links to other blog posts (of yours) will help you improve bounce rate and the total time spent on your website.
Don't put all the links at the end of your blog post. Add some of them in between sub headings because most people don't read till the end.
It is very important to add tags to each of your blog posts. This helps with SEO too. Make sure they're relevant.
4. Social Media Content
Your job doesn't end at publishing a blog post. You will have to prepare relevant social media posts, pins or tweets for every blog post.
If you're a complete beginner, focusing on one or two social media platforms would be ideal. This is because, content marketing and social media marketing takes time.
Build the perfect content marketing strategy where you can create batch content. Making pre-designed templates is a life saver. You don't have to stress about making pins or posts everyday. Choose a template and change the content.
These posts/pins are what people will be seeing before landing up on your website. So, make them as eye catchy and click worthy as possible. Free version of Canva works wonders!
Loving the content so far? Consider subscribing to our email list to receive blogging tips, blog post checklists and weekly newsletters!
5. Content Marketing Strategy
Now that you've created content for social media, it is time to promote them with a solid content marketing strategy.
Start off with Pinterest and Facebook. Want to know why? Read: 11 SEO Tips And Tricks To Promote Your Website.
Keeping up with Facebook threads or Pinterest groups is a lot of work. You will have to actively participate and conform to the rules.
Related to Pinterest: How To Find And Join The Best Pinterest Group Boards.
Related to Facebook: Best Facebook Groups Every Blogger Needs To Be A Part Of.
Don't forget to send emails to your loyal subscribers every time you post! A strong email marketing strategy will help you solidify the relationship with your audience!
Once you have a foot in the door, gradually establish your presence on other social media platforms too.
You get to promote your blog posts every week. From comments to shares to subscribers, these groups will help you grow a lot.
Apart from this, make sure to send out a weekly newsletter to all your email subscribers too.
These were some things to keep in mind before publishing blog post. What tips are you going to incorporate? Let me know in the comments down below. I would love to hear what you have to say!
If you found this useful, then be sure to subscribe as I send a newsletter twice month where I go in-depth about blogging and marketing.
If you liked this blog post, then share this thread on Twitter.
About Divya Hegde
Divya Hegde is a blogger and copywriter who is on a mission to simplify blogging. She writers about blogging, content writing and marketing and helps aspiring bloggers turn their passion into a successful business.