Chances of you reading this post because of the keywords in it are high. Got a little cocky there didn't I? The words you use in your blog posts play a major role in ranking on SERPs. This is the power of keyword research for blog posts!
Keyword research is very important because writing blog posts about topics no one's looking for will not drive you any traffic.
To briefly explain, keyword research helps you tailor your blog post with words people are actually typing in the search bar.
Having said that, you should never write a blog post just because certain keywords are trending and have high CTR when you have nothing to offer.
Search engines crawl through your website and if the quality is not impeccable, you won't rank. Because at the end of the day, websites are ranked based on how precisely they cover someone's search query.
Now, if you have all the knowledge in the world about a certain topic, then nothing should stop you from doing your keyword research to get a higher conversion rate.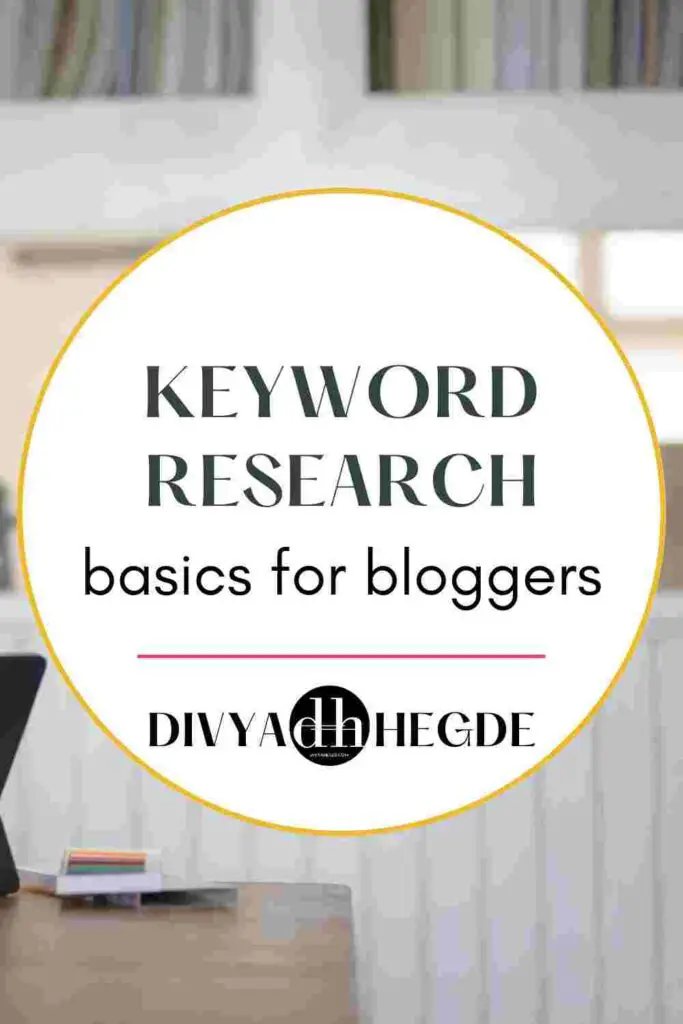 Keyword Research For Blog Posts
This comprehensive blog post on how to do keyword research for blog posts will give you a clear idea of how to get started with keyword research, finding good keywords and free keyword tools you can use to understand the competition.
Here's the table of contents. Click on each of the headings to read about the particular topic. I highly recommend you read up about everything to make the most of it.
This post contains affiliate links through which we may earn a small commission. This will not cost you extra. Read our full affiliate disclaimer to know more.
1. What is Keyword Research?
Every business does a thorough market research before launching their products. Market research is gathering all the information about your target audience or customers, their needs, problems and providing solutions for it.
In a way, Keyword research for blog posts is like market research to find your target audience and readers. It helps you understand the market and how you can reach out to them.
The textbook definition of Keyword research is finding popular search terms people type into search engines like Google, Bing, etc. and incorporating them in your content cohesively so that your content ranks higher on search engine results pages (SERP).
A Keyword is anything one types into the search bar. An example of a keyword would be "blog posts" or "cookies" or "dog food".
Now that you know what keyword research is, the next question is how do you write keywords? This is very important to know because if you add a lot of keywords in your blog post, you can get marked as spam or even worse, banned.
Keyword stuffing is when you mindlessly add the same keyword say "cookies" over and over again all over your blog hoping to rank on Google for that keyword (cookies). Avoid this at any cost!
2. Why Keyword Research?
Like I mentioned above, keyword research helps you understand your customers better. By doing keyword research, you will open up your website to a lot of exposure from search engines which drives a ton of organic traffic. After all, all your ideal customers are looking for solutions on search engines.
Keywords are the best way to come up with topics for blog posts when you run out of ideas. What might seem trivial to you might not be to someone else. Always look for what people are searching for. Google search bar is a gold mine for bloggers!
Keyword research for blog posts help a lot with search engine optimization (SEO). SEO is optimizing your website to make it easier for search engines to find you. Never compromise on SEO as a blogger.
If you're a beginner getting started with search engine optimization, read Basics of SEO for beginners and SEO Tips to Promote Your Website to make the most of this amazing content marketing strategy.
3. Types of Keywords
There are three types of keywords based on their length: Short-tail, mid-tail and long tail keywords.
Short-tail keywords are very broad and generic. They are generally 1-2 words which are highly competitive. Highly competitive means that there are a ton of articles from top websites ranking for that keyword. Example: "marketing"
Mid-tail keywords give a little more context but are not specific. These are 2-4 words which are not as competitive but are difficult to rank for if your website is new. Example: "email marketing beginners"
Long-tail keywords are very specific. These are usually questions and hence have a very low competition. They are usually sentences with 5+ words. Example: "how to get started with email marketing for beginners"
Long-tail keywords are the best to rank for as a new blogger. This is because the competition is low and it also brings in specific audience to your website. These readers are your potential customers.
Loved what you've read so far? Consider subscribing to get instant blogging updates + weekly newsletter!
4. Finding Good Keywords
There's a lot that goes into finding the right keywords for your blog post. Not all keywords are going to favor you just because you find them in the search bar. What is a good keyword then?
A good keyword is one which has a significant search volume, is highly relevant to your niche or topic, promises strong conversion value, and has a reasonable competition.
Search volume indicates how many times a certain keyword was searched on average. So, a keyword with high search volume will guarantee more traffic.
The most important part of keyword research for blog posts is finding a good keyword with high relevance.
By this I mean, if you are writing a post on "how to make chocolate cookies without an oven" and use "cookies recipe eggless" as a keyword just because it appears in the search results, then the relevancy is lost.
Strong conversion rate could be anything you want it to. From high CTR (click through rate), newsletter signups, shares, comments to purchasing your products.
Competition for a certain keyword should be mediocre at best. Because what is the point of writing posts no-one really searches?
5. Keyword Research Tools
Keyword research for blog posts can be made easier with free and premium tools. Finding good keywords on these tools is easier than you think.
What is the best keyword tool? Well, there's no one answer to this. It is recommended you refer at least 2-3 tools to get the best results.
The number one free keyword research tool for blog posts has to be Google Keyword Planner. This is the most reliable source because, you are mostly aiming for ranking on Google. Who would know about the search volumes, CTR and competition better than Google itself?
Also, Google keyword planner is made for those who want to advertise their business. Even though it may seem weird to use a tool meant for advertisers, there's a lot of pros to using it.
This planner tells how much other advertisers are paying for certain keywords. This is very useful when you have ads running on your site! Want to monetize your site? Read Tips to get accepted by Google AdSense.
Ubersuggest is another keyword tool which tells you the search volume, CPC and related keywords. The best part about this tool is that you can type in your competitor's URL and find out what keywords they are ranking for!
They have a free version where you can search 3-5 keywords per day. The premium version allows you to research more.
Although Ahrefs is mostly known for backlinks, they have an option for keywords.
Other paid tools are Keysearch, SEMrush, Moz, etc. More about the exact procedure in my upcoming post.
6. Keyword Research Process
The best way to do keyword research for blog posts is to start off by choosing the topic you want to blog about.
Now, go to Google and type in the primary keyword and look at the auto suggestions that pop up. Pick all those that have high relevance to your blog post.
Make a list of all these keywords in an excel sheet. You know it's serious work when excel comes into picture! And, go to your preferred keyword research tool and type in the all the words and check the search volume, competition, etc. for each of them.
Oh and don't forget to type your competitor's URL and find out all the keywords they rank for. You could use one or two. Actually more! Cool.
Now, rule out all those words which do not have moderate search volume and low relevance. Incorporate these keywords cohesively in your blog post! A comprehensive guide to write a keyword research blog post coming up next week. Come back 🙂
Like I mentioned before, keywords can only help you to a certain extent. A blog post that is filled with all the relevant keywords but lacks quality or does not answer a question will not be ranked on search engines.
These were some tips you can use next time to up your keyword research game! Found anything useful? Let me know in the comments!
I send a newsletter twice a month where I go in-depth about blogging and marketing. Subscribe if you'd like to receive one!
If you liked this post, the easiest way you could help me is by sharing this thread on Twitter. I'd really appreciate it!