The world of search engine optimization could seem confusing or downright terrifying to those who are new to it, but is easy to understand once you get the basics of SEO right.
SEO is a way to build a website that includes optimized code and formatting to make it easier for search engines like Google, Bing and Yandex to find your website.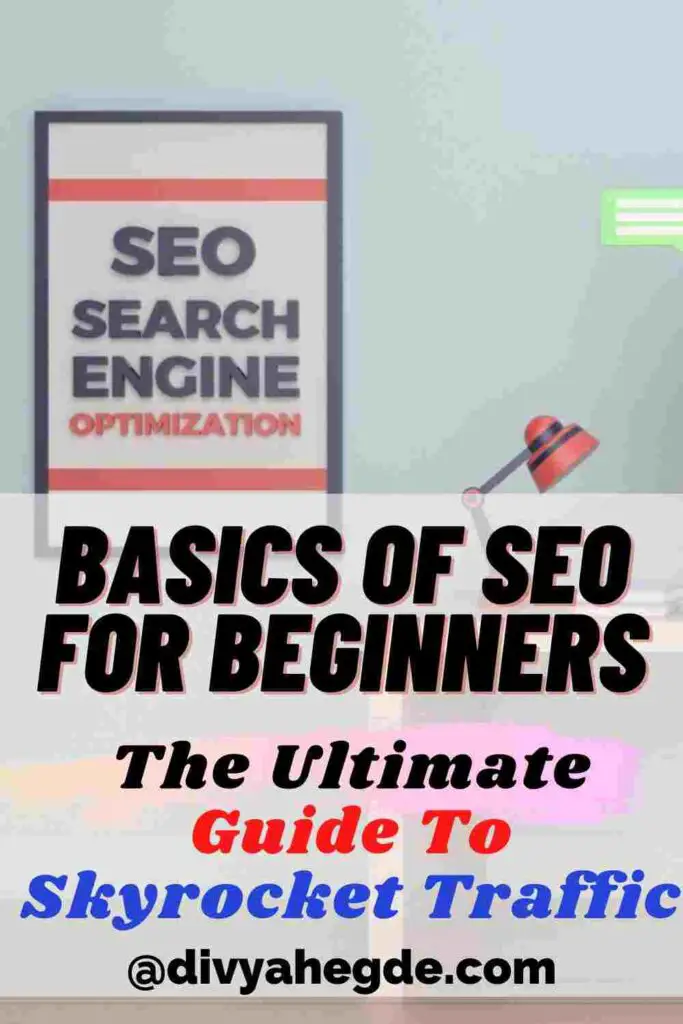 If your website's content isn't search engine optimized, then the search engine won't know how to rank it, which means your website won't get visitors.
It sounds technical, but it really isn't, and we won't get technical here. You'll learn all the basics of SEO for websites here.
In this post, I will be talking about What is SEO and how it works, Why SEO, How Google ranks websites and how you can rank #1 on Google search results.
I will be making a follow up for this post where I talk about the SEO tips and tricks to promote websites so make sure you keep an eye on that post.
What is SEO And How It Works?
SEO Full form: Search Engine Optimization also known as organic search or organic listing is a marketing technique focused on growing visibility organically (non-paid) in SERPs (Search Engine Result Pages).
It is the process of increasing the quality and quantity of website traffic to ensure websites show up in the search results upon users' requests.
Why SEO?
First things first, you've written your blog, prepped it up with the designs, themes and engaging content and you publish.
Now what? You want people to click on your website. But how do they find your website?
Google search engine! Be it any category you write about, your website needs to show up on the search results in order to generate traffic. And by traffic I mean more people engaging with your content.
The more people that view your content the better. So, if your website is search engine optimized, you can generate massive traffic.
Basics Of SEO For Beginners
These are the factors SEO takes into consideration when ranking websites.
1. Competitors
Let's say you write about cake recipes. There are a lot of people on the internet that also write about cake recipes.
They are your competitors. Not only do you have to write amazing cake recipes but also make sure your recipes end up on the search results among your competitors' recipes.
2. Keywords
It is important that you focus on certain keywords when you write a blog.
If you don't have a focus keyword, search engines find it difficult to index your web pages and hence limit the number of visitors.
3. Poor Linking
Poor linking could be a reason why your blogs don't do well. There are 2 types of linking internal and external( I'll be taking about it later on in detail).
Link building is important as it drivers visitors to your site which in turn help search engines index your site.
4. User Experience
All search engines focus on user experience. Google wants to make sure the user's request is completed without any issues.
If your website has a slow load-time or has a lot of spams and ads, this is an inconvenience to the user, hence Google prefers not to rank your site.
5. Indexing
Your website is de-indexed by mistake. You want all the pages on your website to be indexed.
Sometimes you will have to manually index your pages if you just started out (explained later).
These tips will definitely help you generate traffic and rank #1 on Google search engine. If you want some extra SEO knowledge, keep reading.
The next section contains information on basics of SEO in detail from how Google ranks websites and the different types of SEO to the do's and don'ts of SEO.
I also mention an essential keyword research tool which will change your life so check it out!!
How does Google Rank Websites?
There are 3 steps that Google uses to rank websites.
1. Crawling
Google bots crawl through your sites, scan and copy the entire website's content and store it in search engine's index (based on this method, Google finds out which website has relevant content and is related to certain keywords).
2. Indexing
All the content copied from websites are stored and indexed in their website.
So when a user types in a query, a relevant post is suggested to them. Google indexes posts based on relevancy to the question asked by a user.
3. Ranking
After the above steps are done, based on relevancy, readability, load-time, user-experience and language and location, Google ranks all the websites.
Types of SEO
1. On-page SEO
On-page SEO includes optimizing our own website by adding appropriate title tags, header tags, meta description, URL, sitemaps and doing keyword reasearch.
Keyword research is one of the most important activities in SEO. It is a practice where you choose the primary and secondary keywords around which meta tags and content will be based on.
Keyword research includes:
1. Volume
Volume basically means the amount of traffic your site gets. Learn how much traffic you can get on your site. This implies that competition exists and you want to make sure your site shows up in the search results.
Once you understand your keywords, you can change the meta description, title, etc.
2. Keyword Research Tool
Use Google Keyword Planner which shows the competition, intensity of competition, trends, etc. based on the keyword you type.
By analyzing these trends, you can plan your keywords accordingly.
3. Relevancy
Get your volume from Google Keyword Planner and your competition from Google search results.
You want to make sure you use keywords that have volume and are relevant to generate traffic.
2. Off-page SEO
On and Off-page SEO work hand in hand. Off-page SEO is basically promoting your website by advertising it on different platforms with some kind of authority.
This can be done by using internal and external links in your websites. Internal links are links that connect another page from your website to the current page.
This helps in user-interface as the user can directly click on the link to go to a specific page on your website instead of wasting time searching for it. This gets the user to spend more time on your site.
External links are links that connect your website with another website with relevant content.
This helps users to find a variety of content and also makes you a trustworthy website. By this, Google ranks you better!
Benefits of Off-page SEO
Increase in traffic. Need I say more?
High domain authority. This means that when a website links your website with theirs, you gain higher domain authority as some website just recommended you in theirs.
Increase in page rank because many sites recommend you.
Increase in brand awareness. As many websites refer your website be it your own Instagram or twitter, your brand has a presence.
Do's and Don'ts of SEO
Do's
1. Keyword Research
First and foremost, optimize your website with relevant keyword by doing a thorough keyword research. Look into natural language processing.
By this I mean, you want to use keywords similar to your focus keyword. This helps you with the keyword stuffing problem.
2. Backlinks
Get relevant back-links from other high authority websites. Remember this helps with the off-page SEO.
You can guest post with fellow creators to get a relevant backlink. This will help both the website to establish authority.
3. Meta Description
Choose your meta description wisely. This appears on SERPs and can really help your users get a clear picture of what your post is about before they even click on it.
4. Content
Write. Write more. Keep Writing. Choose a niche you know really well so you can keep brewing content.
But this doesn't mean you compromise with the quality of your posts!!
Growth is organic. Don't be disheartened if you don't see the results you expect within the first few months. Many people drop out after 5-6 months of blogging because their expectations were not met.
Organic traffic comes usually a little late. The very basics of SEO is indeed patience!
Don'ts
1. Keyword Stuffing
Don't participate in keyword stuffing! Ensure you use different focus keyphrases for each and every post of yours.
2. Irrelevant Backlinks
Avoid random or irrelevant back-links from shady websites. Disapprove those.
Also, don't link all of your posts to the home page just for the sake of it. Linking should seem natural.
3. Similar Titles
Don't use the same or similar titles or title tags again and again just because it worked really well once.
4. Plagiarism
Don't plagiarize somebody else's content. Stay away from copy-paste content. You're going to go no-where with that.
5. Fake Page Views
Don't buy fake followers or page views. Google will know 😉 Be patient and perseverance is key.
These were some of my tips on SEO. This was a long but informative one. If you gained some insights on the basics of SEO, comment down below.
Check out my How to start a blog post to get a detailed explanation on blogging for beginners.
If you found this useful or have anything to say, please feel free to leave a comment down below. I would love to hear what you have to say!
If you want to read more such posts, be sure to subscribe to join the list!! I would really appreciate your support!!