Wait you need to promote lead magnets now? Yeah… There's no point in creating an amazing lead magnet and not promote it. More people that see your freebie, more the number of subscribers right?
But before promoting your lead magnet, you need to make sure it is amazing or at least have one. Either way, check out some of the highest converting lead magnets every blogger needs to try.
If you're still debating if you should create a lead email magnet or start an email list then, let me tell you the benefits of starting an email list.
Full ownership: Your email list is completely yours unlike Instagram followers which can be lost if something happens to your account
Easy to interact with your readers. You can use your email list to keep your readers updated with your blog content even after they've exited your website.
Easy to monetize your blog. You can make money off of your email list if your readers trust you enough.
Read the full blog post to know other benefits of starting an email list and setup a solid email marketing strategy!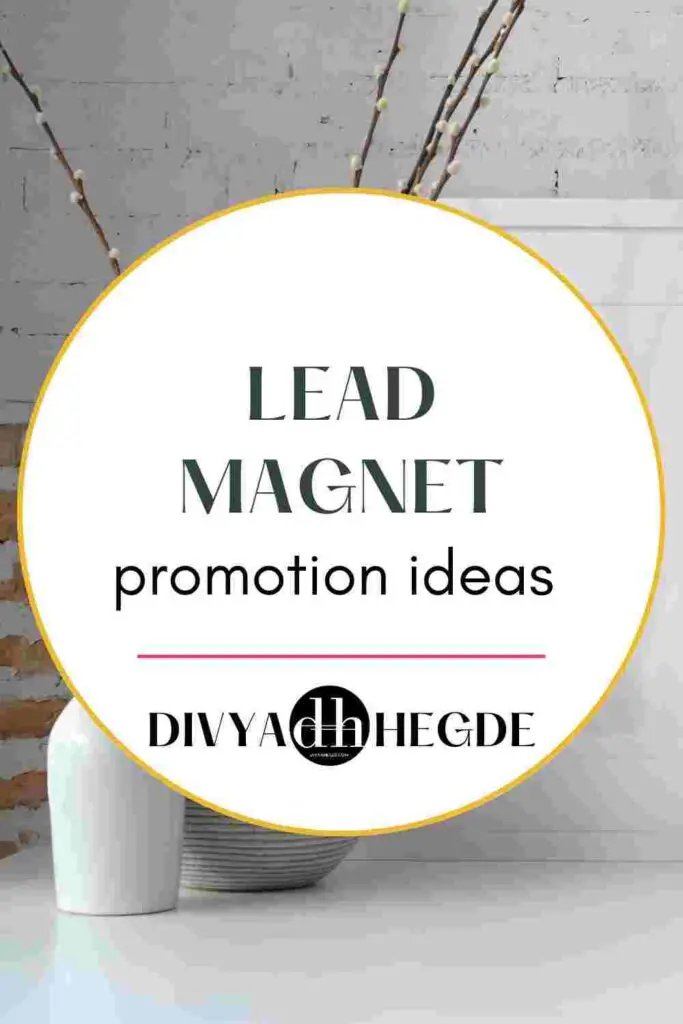 Now what if you already have a lead magnet and a whole welcome series setup and still aren't seeing any results?
So you created a lead magnet that pops up on your website once in a while and wonder why you aren't getting any email subscribers?
Waiting for the magic to happen could probably take years. Instead, make it happen by letting people know you have a free lead magnet.
Don't worry, I've been there too. Here are some tips to promote your lead magnet.
How To Promote Lead Magnets
This post contains affiliate links through which we may make a commission at no extra cost to you. Read the full affiliate disclosure.
1. Create a Lead Magnet Landing Page
If you haven't already, create a landing page for your lead magnet. This could be something as simple as a sign-up box or something a little extra.
Lead magnet landing page is the best way to provide the reader all the stats and data about how it can benefit them.
I'd say go as far as to make it as informative as you would if it were a sales page. In fact, you could make it one.
Instead of bombarding someone with a product/sales page upfront, you can first offer your lead magnet and once they opt-in, instead of thank you page, redirect them to a lead magnet funnel where you upsell your product!
Even if they don't make a purchase, you still got their email. Lead magnet page is where it's at! This is an email marketing funnel in a nutshell.
2. Your Website
Add an opt-in for your lead magnet on your website. There are so many places you could add your lead magnet and promote it.
But some places on your website naturally catch people's attention. It'd be smart of you to add your lead magnet there. Here are some ideas:
2.1 Pop-up forms
This is the most obvious lead magnet generation idea. It's simple. It pops up every time someone lands on your page.
But, there are quite a few people who absolutely dislike pop ups. I did a poll on Twitter asking this. Most people are not happy with pop ups.
But there's no denying that pop ups make up for 50% of the sign ups. So, if you are not aggressive about it and subtly use one, people are likely to opt-in.
You can do this by making your pop ups exit intent. This means that only when a reader is about to leave your page, your lead magnet pops up.
Some people do the half screen popups that are subtle and do not ruin user experience. Another smart way to go about it is by presenting your lead magnet when the reader has scrolled half way through your blog post.
This way you know they care enough to scroll down so they might be interested in your lead magnet.
2.2 Hello Bar
This is a sticky bar that follows the reader throughout their time on a website. It is the top most bar and is non-invasive.
Hello bars are usually used to direct readers to a sales page but, you can always use this feature to promote your lead magnet.
Once someone decides to opt-in, you can add a lead magnet funnel that takes them to your product page.
As lead magnet design is stuck to the header and follows the reader all the time, most of them cannot ignore your offer.
2.3 Home And About Page
Utilize your homepage to direct people to your lead magnet landing page. You can see this on my homepage too.
You can go all out here and use different colors and graphics to make it eye catchy. Make sure it is on top and not somewhere in the middle because most people don't scroll all the way down.
Most people check out your about page if they stumbled upon your blog for the first time. So, make the most of this opportunity by promoting your lead magnet here!
2.4 Embedded Form
You can add embedded forms in between paragraphs or after a relevant paragraph for readers to opt into your email list.
Let's say you have a paragraph about the benefits of your lead magnet in a blog post, (not the dedicated blogpost I mentioned above) you can add an embedded form right after it.
Speaking of embedded forms, if you'd like to receive a newsletter twice a month where I go in-depth about blogging and marketing, then subscribe to receive one!
3. Social Media
Social media is a goldmine when it comes to getting your lead magnet out there. Most email list building techniques include social media as their #1 priority. Here's how you take advantage of it:
3.1 Banner Image
Make the most of social media banners. Instead of adding random images for your banner, you could create an eye catchy graphic that has a solid call to action.
Ensure that people see the value in your lead magnet as soon as they lay their eyes on your banner image.
3.2 Sign Up Button
If you have a Facebook business page, you know that there's an option to add a CTA button. To match your banner image, add a sign up button which will direct your readers to your lead magnet landing page.
This is better than having a follow button that serves no real purpose because your goal is to get as many people to sign up for your lead magnet.
For Twitter and LinkedIn, mention the link to your lead magnet landing page as there is no 'sign up' button available.
3.3 Bio
Get creative with social media bios. Let people know what to expect from you immediately after they stumble upon your account.
Add a short, descriptive call to action in the bio that makes your lead magnet offer irresistible.
Instead of linking to your homepage, provide a link to your lead magnet landing page. This way you promote your lead magnet right off the bat.
4. Write a Blog Post
Content marketing is a no-brainer. Most small and established businesses and bloggers use content marketing to build their personal brand and connect with their possible customers.
But I'm a small blogger. What does content marketing have anything to do with me?
Well, you probably do content marketing to an extent but just didn't know. Blog posts, social media graphics, etc.
Blog posts are a part of content marketing. Writing an in-depth blog post about your free lead magnet will work wonders.
Write about the topic your lead magnet is about and offer your lead magnet as a solution. Provide stats and data that'll convince someone to opt-in.
You must be wondering that's too much effort for a free lead magnet. Yes. It is this free information that'll help people understand your brand and build trust.
This is the easiest way you can promote your lead magnet!
5. Create Content Related To Lead Magnet
If you have a content marketing strategy already, then you have a content calendar or a schedule for all of your social media content.
You may be creating Pinterest pins, Facebook, Twitter and Instagram posts related to your blog posts consistently to increase brand awareness and drive traffic.
How about you throw in some posts dedicated to your lead magnet? And the lead magnet landing page you created?
With Pinterest being a great source of traffic for most bloggers, it's always a good idea to put in that extra effort to promote your lead magnet on there.
Create click worthy Pinterest pins to increase your click through rate and attract new email subscribers.
Save your time picking the right design, font and color for your pins and spend it on growing your blog with these Pinterest pin templates.
This technique to promote your lead magnet won't even bother your readers. Don'y just post once and forget about it.
Set a schedule for lead magnet posts, promote them all year long because there will always be new people visiting your social media.
6. Take Advantage of Forums
Online forums like Quora and reddit are gold mines. I cannot stress enough about it's importance.
Not only can you help others by answering their questions and establish your authority, but also get free quality traffic to your website.
6.1 Quora
Everyday so many people ask questions on there and the chances of those questions being related to your lead magnet are HIGH!
Answering their questions and subtly hinting at your lead magnet will help you convert! And the fact that this traffic is long term is an icing on the cake.
Also, you can join "spaces" which is group where various contributors can post and answer questions. You can create a dedicated post for your lead magnet.
And all of those people who follow that space will be able to view your post. Again, as it is a niche "space", only people who are interested will see your posts.
6.2 Reddit
You've probably heard of subreddits which are communities based on specific niches. And you probably guessed it, there's so many of them related to blogging, marketing, etc.
Contributing in these subreddits by not only answering questions but also writing your posts will help you drive traffic to your website and eventually to your lead magnet.
Keep in mind that all those reddit bloggers (who drive consistent traffic from reddit) took time to understand the platform and build authority.
Online forums are definitely a long term game but worth it.
7. Facebook Groups
Facebook groups are a God sent to most bloggers including me! Experienced bloggers and your potential readers and customers all in one group.
Most groups have daily threads where you can promote anything you want. This could be the perfect opportunity for you to promote your lead magnet.
Especially if you're in a niche group, finding people that could be interested in your lead magnet is easier.
Check out these Facebook groups every blogger must join for self promo!
Now I'd like to hear from you, do you promote your lead magnets? If you didn't previously, how will you? Let me know in the comments!
If you found this useful, then do me a favor and share this thread on Twitter! Also, subscribe to get a newsletter where I go in depth about blogging and marketing. I'd love to have you there.
About Divya Hegde
Divya Hegde is a blogger and copywriter who is on a mission to simplify blogging. She writers about blogging, content writing and marketing and helps aspiring bloggers turn their passion into a successful business.