How about ditching all your old, unrealistic and unachievable blogging goals this year? Seems so difficult when there's so much information about how people made 6 figures and got 100k pageviews their first month blogging right? Newsflash, it's not that hard to set realistic blogging goals!
Most new years resolutions, websites and promises go down the drain because they are unrealistic and people can't meet their own expectations.
When expectations are not met, most people tend to give up on the idea as a whole. This is why defining objectives for your blog that are achievable well in advance is important.
A wise woman (aka me) once said goals that are set without intent are never achieved. Knowing why you set certain goals will motivate you to work for it.
And, every time you feel discouraged, knowing where you could reach if you put in the effort always helps!
Why having blogging goals is important is discussed down below. If you want the list of realistic blogging goals to set, click on the link.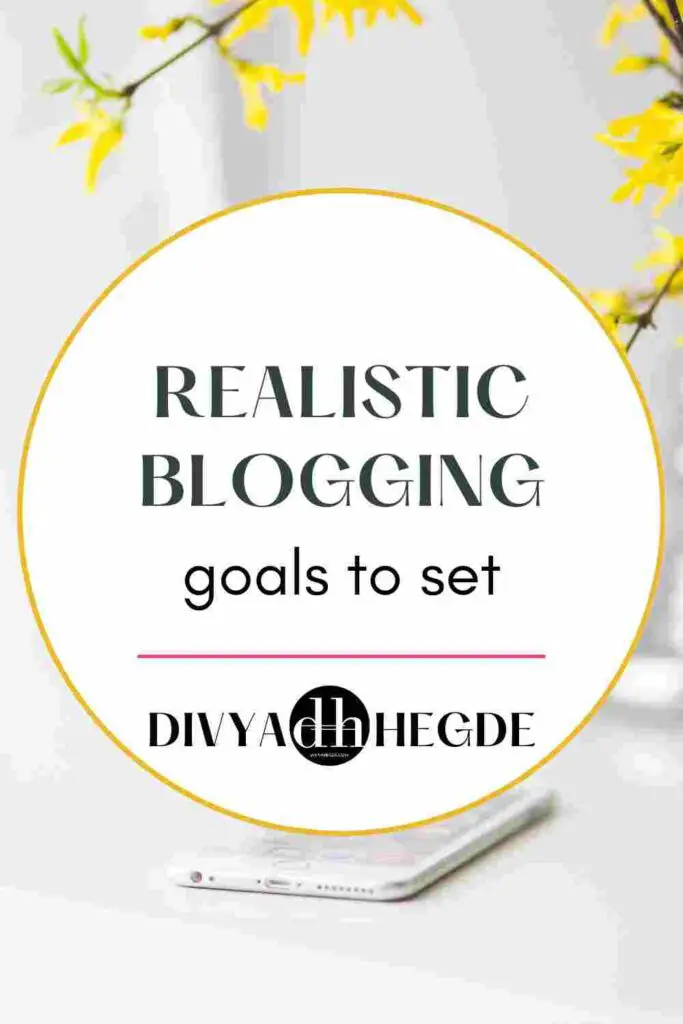 Why Have Blogging Goals?
1. Understand Your Website's Purpose
Start defining your blogging goals for the year by reflecting on why you started blogging in the first place. What drew you to blogging? How consistent were you?
What were your shortcomings? See how your blog performed last year. Did you meet all your blogging goals last year? This will always put things into perspective for you.
Now that you have a clear understanding of why you started and summed up your previous year, set goals to achieve this year and the intent behind it.
Ok, you want 50k pageviews this year. But why? Know your intent behind setting goals. This has to be easier as you already know what went wrong last year.
Getting a bigger picture of your website's purpose is key to defining realistic blogging goals.
Think about where you want your blog to be in a month, six months, a year and how much time you're willing to spend each day/week to achieve this.
Try to end this questionnaire with a concrete idea of what your blog is, who is the target audience, how is it going to help people and where you see it in the following years.
2. Track Your Progress
Having blogging goals will help you track the progress you've made and gives a clear picture of where to improve.
Realistic blogging goals that are clearly defined and attainable will hold you accountable.
In a way, you set deadlines by making blogging goals. Deadlines are important to maintain a structure and ensure you are not all over the place.
Here are 2 ways to set blog goals:
I want more people to read my blog posts this year, I want 50k pageviews and 5000 subscribers.
I have to publish 120 blog posts this year, that is 12 blog posts/ per month. This means, 3 blog posts per week on Monday, Wednesday and Friday.
The first goal is vague and has no deadlines. The problem with this is that it's easy to ignore and move on whereas the second one is precise and holds you accountable.
Chances of you writing and publishing a blog post by Friday afternoon are higher than publishing a blog post this week.
3. No Unrealistic Expectations
Thanks to understanding your website's purpose and tracking your progress, you'll no longer have blog goals that are I want to scale my blog, I want 50k email subscribers this year or I want 1m pageviews.
No vague blogging goals= no unrealistic expectations= no disappointments.
If you are just starting out, here are some realistic first year blog goals to set: How to Make the Most of First Year Blogging.
Loving the content so far? Consider subscribing to join the list and get amazing blogging tips and updates! I would love to have you there.
Form Realistic Blogging Goals For This Year
Don't forget that these goals implemented all at once can be unrealistic too. The key here is to find what works for you and slowly leverage that.
It is always better to focus on one blogging goal and achieve it. This is as realistic as it can get.
This post contains affiliate links through which we may earn a small commission at no extra cost to you. Read the full affiliate disclaimer.
1. Content Writing Goals For Blog Posts
Content writing is planning, writing and editing content for your website. Getting better at writing content for the web should be the first and most important goal you set.
Because content is king, am I right? Learn How to Write Irresistible Blog Posts to get Returning get Visitors!
In-depth, long form content is not only appreciated by your readers but also by search engines. By doing so, you not only help your readers, but also SEO optimize your website.
If you are someone who writes short form blog posts, set a goal to write blog posts that are at least 1000 words long.
Regrading posting schedules and being consistent, if 4 blog posts a month is doable, then stick to it. If you can only publish 2 blog posts a month then do that.
There's no point in writing 10 mediocre blog posts when you could write 4 amazing ones. Realistic blogging goals, remember?
Every piece of content you publish on your website counts so, write only about topics that matter. Don't publish a blog post just because it's Tuesday and you have a deadline.
The best part about blogging is that you are your own boss. So, take that extra time and perfect it. Related: How to Write a Blog Post When You're Not Feeling it.
The more you invest in sharpening your writing skills the better! Stephen King has an amazing book, On Writing where he gives writing and editing advice.
Strategically planning out a year's worth of blog content will save you so much time. You can use this time to focus on marketing your website to the right audience!
Here's how you can plan one year's worth of blog content in one month! This challenge by The She Approach is worth giving a shot.
2. Domain Authority Goals
Domain authority (DA) is a score that determines your website's authority over specific subject. Say I have a lawn mowing blog.
How will search engines come to the conclusion that my blog is worth showing up in the search results when someone googles lawn mowing tips? Domain authority.
There are a lot of factors that determine a website's DA. Backlinks are an important one. Backlink is a link from a website to your website.
If there's another lawn mowing blog linking to mine, this tells search engines that my blog has some authority over this subject.
The best white hat technique to get backlinks to your website is by writing quality content that is worth linking back to. High quality blog posts= high quality backlinks= domain authority= more traffic.
Set DA goals for your website. Write better blog posts, guest post on blogs of similar niches, do round up posts, collaborate with bloggers to get quality backlinks to your website. You can check your DA here.
3. Marketing Goals
Now that you've written well researched long form blog posts that are worth linking back to, focus on how you'll market it to your target audience.
You don't want to promote your website everywhere and hope it reaches your target audience. This means you'll have to study social media platforms and find out where your target audience spends most of their time.
Set realistic goals of how frequently you'll post, pin, tweet or stream and what the call to action is. Set a schedule and stick to it because social media marketing is a lot of work. But, posting every other day is not enough. What do you expect each post to bring you in return? New followers? Potential customers? Traffic? Some realistic goals are:
1st Month: 50-100 followers
2nd Month: 150-500 followers, 30-50 shares
3rd Month: 1k-5k followers
4th Month: 5k-10k aka build a strong community
5th Month: At least 200 potential customers (i.e., 2% of your audience)
6th Month: Sell at least 4 products (i.e., 2% ROI)
Want to know what makes people buy? Read Cashvertising by Drew Whitman. He is an advertising and marketing specialist.
In this book, he talks about consumer behavior and the psychology behind it.
4. SEO And Traffic Goals
You've built DA and a following on social media which should drive traffic to your website. There's no doubt that social media is an amazing way to get traffic but, it's shelf life is uncertain. A more sustainable option to driving traffic is SEO which is a long-term game.
Getting the Basics of SEO, implementing keyword research and learning How to Promote Your Website With SEO will get the ball rolling.
Another key factor for incoming traffic is your content. The more blog posts you have the better.
But, if you get 1k pageviews after publishing 500 articles, then something's wrong with your content.
This ties back to my first point, everything you publish matters. Don't publish low quality blog posts. Some traffic goals to have:
1st Month: 1k-2k pageviews
2nd Month: 3k-5k pageviews
3rd Month: 15k pageviews
4th Month: 25k pageviews
Increase organic and referral traffic by 1%
5. Email Marketing Goals
Social media is not only uncertain, but also not yours. This means that you don't own any of the follows, likes, shares, posts, etc. Once that social media is gone, then so is your following. This is why it is important to build an email list.
Create irresistible opt-ins or freebies that will make people want to sign up to your list. You can only go up from there.
Other goals to consider are: increase open rate, link click rate and purchase rate. Is it ideal to have 5k-10k email subscribers? On paper, yes! But, email marketing is more than the number of subscribers on your list.
There's no point in having a lot of subscribers when people are not clicking on links, making purchases, etc.
Always focus on the response rate. Never obsess over or get carried away by numbers. Read: Use this email marketing strategy to build an email list from scratch!
6. Affiliate Marketing Goals
With large following and traffic comes a lot of opportunities. One such opportunity is affiliate marketing. The results you see with a bigger audience is insane!
Affiliate marketing is more than adding links to your blog posts and hoping someone makes a purchase. Read Cashvertising by Drew Whitman to know what makes people purchase products!
Are you a video person? Don't worry, I have a video option too. This FREE affiliate marketing video course by the she approach is the best choice for you.
She has a lot of experience in the affiliate marketing world and gives you a complete breakdown of how she made big bucks with affiliate marketing! Click on the link to know how she does it!
The content, keyword research and marketing of your blog post matter a lot too. Using these links in your email lists and social media posts can be helpful.
At then end of the day, don't promote products that you don't believe in.
7. Website Monetization Goals
Apart from affiliate marketing, websites make money online through ads, sponsored posts, selling products, providing services, etc.
Ad Networks And Sponsorships
Most ad networks require you to have a certain number of pageviews to get accepted. Running ads can help you make 1k-2k a month easily.
You can sell your content through sponsored posts. Companies that pay you to write have certain requirements too.
Plan how many sponsored posts you want for the year and work for it. If you've implemented the above goals, monetization wouldn't be as hard. More traffic and trust you build, more income.
Remember that income varies from month to month and also depends on what time of the year it is. Try and set income goals that won't disappoint you.
Products And Services
Another way to make money is by selling your own products and services. Products could be physical or digital. The pros of selling digital products is it's longevity. Oh, it's also easier to make. The best part? If you have an updated version, you can easily integrate it to your current version. This is quite not possible with physical products. An ebook or a video course is what most bloggers sell.
Want tips on how to write, format, publish and eBook and get listed on amazon? Here's an amazing Ebook Bestseller Bootcamp course by The She Approach, a blogger. She walks you through all the steps you need to take to publish that first eBook of yours! Learn more about this by clicking on the link.
These were some realistic blogging goals to set for yourself as a beginner blogger! Remember that slow growth is 100 times better than no growth!
Keep setting realistic blogging goals that are achievable and rewarding because at the end of the day there is no point in achieving something that doesn't make you feel content!
What are your blogging goals for this year? Write them in the comments down below. I'd love to hear from you!
Share this thread on Twitter! It would help me and also anyone who is planning to set goals for their blog and be sure to subscribe to receive emails twice a month where I go in-depth about blogging and marketing. I really appreciate your support!