There's a lot that goes into blogging if you want to make it a side hustle or a full-time career. This is why you need to make the most of your first month blogging. With so many people bombarding you (a new blogger) with a lot of courses and tips, it can feel a little overwhelming.
Also, when starting out, most of us are broke and definitely don't want to spend hundreds of dollars on courses.
If you are just starting out or are considering blogging, don't feel overwhelmed or out of place if you can't buy these courses.
Before getting into courses, while just starting out, you can take certain steps to ensure you are in the right direction of blogging professionally.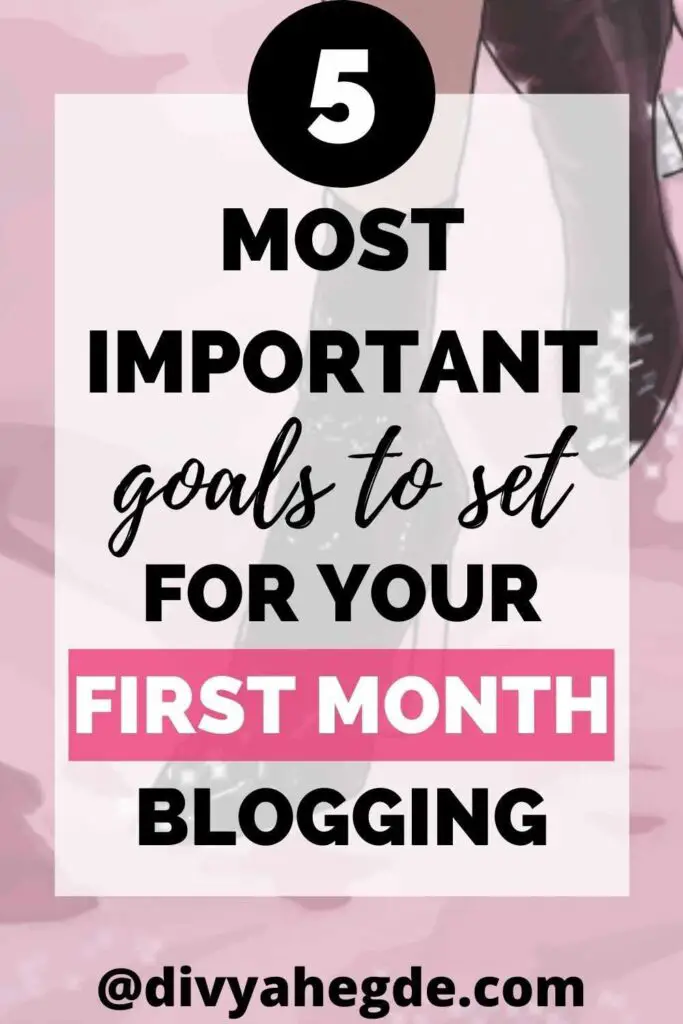 There are many free and really good blogging tools you can use to kick start your blogging journey. Check out this Best Blogging Tools and Resources for Bloggers to know more.
But there's a lot more that goes on behind the scenes other than just writing a post and publishing it.
And the most important part is tracking your first month blogging and the analysis of what path you are on, right or wrong.
The best part about planning your first month blogging is that with all the free resources, you can take certain steps to ensure you are in the right trajectory.
This post contains affiliate links through which we may make a commission at no extra cost to you. Read the full affiliate disclosure.
Should You Spend Money Your First Month Blogging?
1. Domain and Hosting
The first and only investment (technically) you NEED to make to even get started with blogging (self-hosted route) is on domain and hosting.
If you want to blog for money, please do yourself a favor and go self hosted. Learn more about Why Going Self-hosted is Important!
If you are not sure if blogging is for you but still want to give it a shot, get this affordable hosting plan by Hostinger (I use them too)
They provide domain names and SSL certificates too! Check out their affordable hosting services! Read How to Install and Setup WordPress website on Hostinger easily!
2. Legal Pages for Blog
If you want people and brands to take you seriously, you need to get legal pages for your blog. Let me elaborate.
Say you track your users' behavior every time they visit your website to get a better understanding of how they respond to your content.
You also collect emails to send them tips and offers. To do this legally, you need to have legitimate legal pages done for you and drafted by a lawyer.
To ensure your users feel safe visiting your website and letting brands and ad networks know that you are a law abiding citizen and care for your user's privacy is.. necessary?!
Then there's affiliate products, copyright issues, etc. Read How to Legally Protect your Blog to know more.
3. Blogging Courses
If you are feeling left out because you can't spend money on these expensive courses from successful bloggers, then you don't have to. Buying courses won't guarantee you the same success.
In no way am I saying their courses don't work. The point I'm trying to make here is, it's just your first month blogging.
The goal is to carefully make the most out of what you have. If you browse the internet, you will surely find what you are looking for in pieces. The only work you have, is to put the pieces together.
If you have the money, then spend it on courses by all means. But if you don't then this shouldn't discourage you from pursuing blogging professionally.
Also, note that there are a lot of free courses that are really good. I would recommend the Blogging For New Bloggers Fast Track FREE course.
This course by Lucrezia (from Blogging for New Bloggers)is an amazing way to get started with your first month blogging.
She explains in detail on how to go about with your blogging journey. I have taken this course too and it has definitely helped me. She is experienced and is a professional lawyer too.
First Month Blogging: Key Metrics to Focus On
1. Aims and Objectives of Blogging
Why do you want to start a blog? What purpose will your blog serve? It is important to have a clear picture about this because you could get lost easily in this sea of millions of blogs being created everyday.
Are you planning to rope in new customers to your brand/business through your blog? Brand awareness is your goal? Do you want to start a side hustle?
Do you want to share your thoughts on a topic you are passionate about? Is it an educational blog to help people out?
Want to build an audience and then launch your business? Or are you in it for the money? (trust me, everyone is!)
Answer this question and you will be able to set up a roadmap for your blogging journey and kick start it!
Some aims and objectives you could set for your blog are:
Find potential customers and build trust.
Provide high quality content that solves problems.
Increase brand awareness by creating content geared towards your products.
Build a tight knit community of people exactly like you.
2. Set First Month Blog Goals
Now that you've set aims and objectives for your blog, get started with setting some goals for your first month blogging. The purpose of your blog and the goals you set should align.
Don't go all out and write make $100. That's very rare. Unless you've been working on your blog for a long time before launching it, making any kind of money in your first month is an exception.
If you think blogging is easy money, think again. You need to put in tremendous effort to make pennies your first year. Set realistic blogging goals instead.
Set traffic goals, email subscribers goals and content writing goals. To produce quality content, is the best goal you can set as a new blogger!
Goals for beginner bloggers in the first month blogging, example:
Publish 10-15 high quality blog posts.
Get 300-600 pageviews.
Sign up for affiliate marketing programs and setup email subscription form.
Make 2-3 sales (don't think about the money you made)
Get 10-15 loyal email subscribers.
Connect with at least 2-3 bloggers in your niche.
Read Realistic Blogging Goals to Set and Achieve to know what are the ideal blog goals to set as a new blogger.
Get all the blogging and marketing tips delivered straight to your inbox. Subscribe!
3. Find your Niche + Target Audience
If you've figured out your blog's purpose and set realistic blog goals, you'll easily decide your niche. The target audience you attract is solely dependent on your niche.
Things to keep in mind before choosing a blog niche:
Passion for the niche. Will you churn out 150+ high quality blog posts about this said niche?
Expertise in this niche. Do you have a significant amount of knowledge about this niche? Are you an expert? Are you willing to learn about it?
Profitability. Do people care about your niche? Do they have problems related to this niche? Will they be willing to pay for your services?
Once you've answered these questions, you'll be able to decide on your niche. As far as defining a target audience goes, you can ease out a little in your first month blogging.
There's only so much data you'll gather your first month to clearly define your target audience.
However, since you know your niche, you'll have a rough idea of what kind of people are reading your blog posts.
4. SEO and Keyword Research
I've been talking about "high quality content" from the beginning. So, how exactly do you define high quality content?
The main aim of writing blog posts is for people to read it. So, how do you ensure it reaches the right audience? Through SEO and keyword research.
To vaguely describe this, SEO (Search Engine Optimization) is optimizing your website to increase it's visibility to search engines.
Keyword research is finding and using keywords users would type in the search box of search engines. These are vague. Learn more about the Basics of SEO and Why Keyword Research is Important to get the full picture.
This means, a high quality blog post is one which is SEO optimized, rich in keywords that caters to search intent and solves a reader's problems.
5. Setup Social Media
This is the first step towards marketing your blog. Get on Pinterest right now! and setup a business account.
Trust me when I say Pinterest does wonders! I had never used Pinterest before (seriously), with zero following when I started out, I was able to slowly build an audience and get a lot of traffic.
The next thing you want to get started with is Tailwind for scheduling your pins. You can get an Instagram, Facebook and a Twitter handle.
But your first month blogging, its best to focus on any two platforms. This way you can build the perfect content marketing strategy and deliver quality.
6. Managing Technicalities
If you ask me, managing your website/blog takes way more time than actually spewing out content.
The first thing you want to do behind the scenes is installing all the important plugins.
I have written a very detailed post about the best plugins and why you should install them (for free). Read Free WordPress Plugins Every Blogger Must Install.
Make sure you set up your Google Search Console which ensures your site is indexed on Google and the Google bots can crawl your pages to rank them!
Feel free to check out the Blogging section in my categories down below to get detailed explanations on any queries you may have!
7. Consistent Upload Schedule
After you're done with the above steps, the next thing you want to look into is your upload schedule. Google or any other search engines love it when you are consistent.
This doesn't mean you post everyday. You can tweak things here and there in your old posts to show consistency.
Learn How to Use Google Analytics to Grow your Blog. This will be your best friend when it comes to understanding your audience.
8. Blog Marketing Strategies
You set up all your social media accounts to market your blog posts. It can be through pins, tweets, Facebook posts, Instagram links/posts or anything else.
Go heavy on marketing your first month. This doesn't mean you won't have to market your blog posts later on.
Getting that base audience is very important your first month blogging. Get them to stay even after they've left your website by setting up an email subscription form.
I use MailerLite for all my email automations and landing pages and absolutely love it! Learn why email marketing is still ruling when it comes to engagement.
I mean, who wouldn't love a personalized email catered to solving their problems? Check out MailerLite. They offer 1000 FREE subscribers and 12,000 emails/mo. That's a LOT. Trust me.
9. Blog Monetization Strategies
Let's be honest, we all want to make money and if there are ways to make money doing what we love, then absolutely!
Most advertising networks require you to have a certain number of monthly page views to apply.
This doesn't mean you cannot monetize your blog. There are free affiliate marketing programs like Amazon. You can apply to Amazon because you can find almost any product for a reasonable price.
Another way to monetize your site is by applying to Google AdSense. They do not require you to have a certain number of pageviews.
Read How to Get Google AdSense Approval Fast as a New Blogger!
These were some of my tips to nail your first month blogging. Remember that this is a process and takes time. Don't lose hope and keep going!
I heard you wouldn't mind receiving emails related to blogging and marketing? If so, then be sure to subscribe and join the list! See you there.