There's a lot that goes into blogging if you want to make it a side hustle or a full-time career. This is why you need to make the most of your first month blogging. With so many people bombarding you ( new blogger) with a lot of courses and tips, it can feel a little overwhelming. Also, when starting out, most of us are broke and definitely don't want to spend hundreds of dollars on courses.
If you are just starting out or are considering blogging, don't feel overwhelmed or out of place if you can't buy these courses. Before getting into courses, while just starting out, you can take certain steps to ensure you are in the right direction of blogging professionally.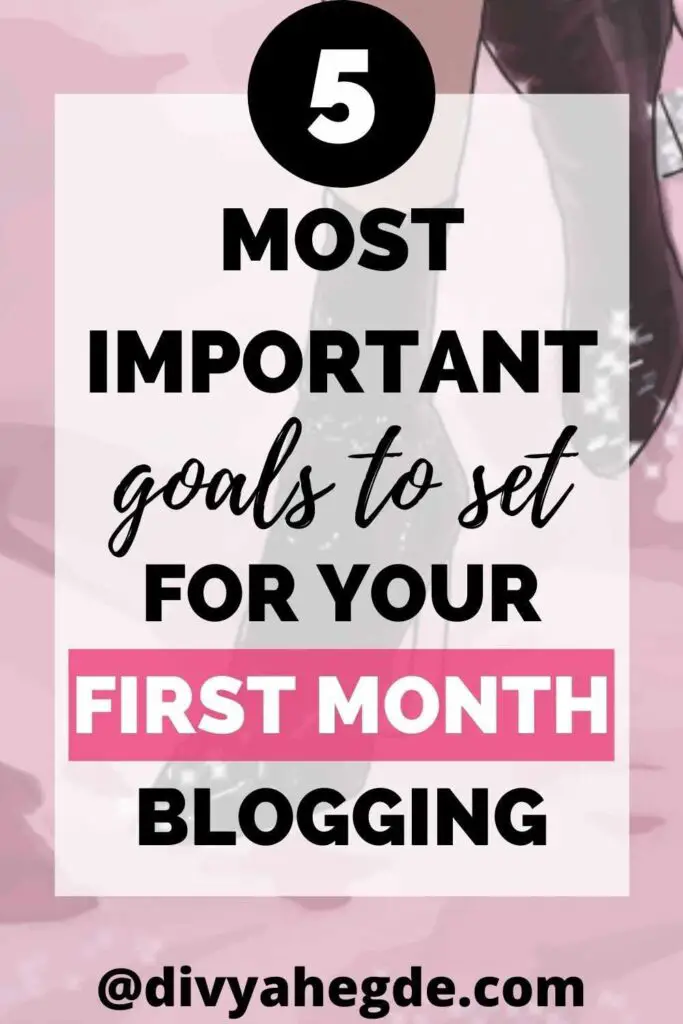 There are many free and really good tools you can use to kick start your blogging journey. You can find the list here! But there's a lot more that goes on behind the scenes other than just writing a post and publishing it. And the most important part is tracking your first month blogging and the analysis of what path you are in, right or wrong.
The best part about planning your first month blogging is that with all the free resources, you can take certain steps to ensure you are in the right trajectory. These steps if followed correctly, will definitely set you up for success over time!
Should You Spend Money On Courses Your First Month Blogging?
This site contains affiliate links to products. We may receive a small commission for purchases made through these links. This will not cost you extra money. For more, check out our Disclaimer.
If you are feeling left out because you can't buy these expensive courses from successful bloggers, then you don't have to. Buying courses won't guarantee you the same success.
In no way am I saying their courses don't work. The point I'm trying to make here is, it's just your first month blogging. The goal is to carefully make the most out of what you have. If you browse the internet, you will surely find what you are looking for in pieces. The only work you have, is to put the pieces together.
If you have the money, then spend it on courses by all means. But if you don't then this shouldn't discourage you from pursuing blogging professionally. You don't have to go all in. But you need to get on with the basics. Eventually, you can take courses to up your game. Also, note that there are a lot of free courses that are really good.
I would recommend the Blogging For New Bloggers Fast Track FREE course (affiliate link). This course by Lucrezia is an amazing way to get started with your first month blogging. She explains in detail on how to go about with your blogging journey! I have taken this course too and it has definitely helped me!! She is experienced and is a professional lawyer too.
5 Steps To Take In Your First Month Blogging
1. Setting Up Social Media Accounts
This is the first step towards marketing your blog.
Get on Pinterest right now!! and setup a business account.
Trust me when I say Pinterest does wonders! I had never used Pinterest before (seriously), with zero following when I started out, I was able to slowly build an audience and get a lot of traffic.
The next thing you want to get started with is Tailwind for scheduling your pins.
You can get an Instagram, Facebook and a Twitter handle. But your first month blogging, its best to focus on any two platforms.
This is because you can give undivided attention and deliver quality.
2. Managing Technicalities
If you ask me, managing your website/blog takes way more time than actually spewing content out.
The first thing you want to do behind the scenes is installing all the important plugins.
I have written a very detailed post about the best plugins and why you should install them (for free). Click here to read it!
Make sure you set up your Google Search Console which ensures your site is indexed on Google and the Google bots can crawl your pages to rank them!
Feel free to check out the Blogging section in my categories down below to get detailed explanations on any queries you may have!
3. Consistent Upload Schedule
After you're done with the above steps, the next thing you want to look into is your upload schedule.
Google or any other search engines love it when you are consistent.
This doesn't mean you post everyday. You can tweak things here and there in your old posts to show consistency.
Apart from that, you need to decide when you will upload/publish a post and also plan all the topics in advance and research well so that you don't panic!
4. Marketing Your Posts
You set up all your social media accounts to market your blog posts.
It can be through pins, tweets, Facebook posts, Instagram links/posts or anything else.
If you are using Pinterest as your main marketing platform, you can see how well your pins performed and how many people clicked on your link.
Don't worry if you don't see results immediately, this takes a lot of time.
Go heavy on marketing your first month. This doesn't mean you won't have to market your blog posts later on.
Getting that base audience is very important in your first month blogging.
5. Finding Monetary Programs
Let's be honest, we all want to make money and if there are ways to make money doing what we love, then absolutely!
Most advertising networks require you to have a certain number of monthly page views to apply.
This doesn't mean you cannot monetize your blog. There are free affiliate marketing programs like Amazon. You can apply to Amazon because you can find almost any product for a reasonable price.
Another way to monetize your site is by applying to Google AdSense. They do not require you to have a certain number of page views.
Note that you may make pennies in the beginning with adsense because you're new.
But this is the best way to get started and motivate you to continue blogging.
These were some of my tips to nail your first month blogging. Remember that this is a process and takes time. Don't lose hope and keep going 🙂
If you found these tips useful, then leave a comment down below on what tip helped you and if you would like to see more such content, then be sure to subscribe to join the list!! I would really appreciate your support!!