If you are planning on starting a blog, then you are at the right place. This post contains a list of all the blogging resources you will need to get started with setting up your website and promote your site on certain social media.
These are basic resources every blogger must have to get started with blogging. There are countless other resources out there to help you curate and craft your blog to make it look professional.
Save your the time spent Googling for all the resources by downloading this FREE blogging resources list with 25+ resources that will help you accelerate your blogging journey!
The best part is that you have this list with you at all times and can go back to it anytime! I'd like to add that I have found these resources extremely helpful in skyrocketing my blog in less than a year!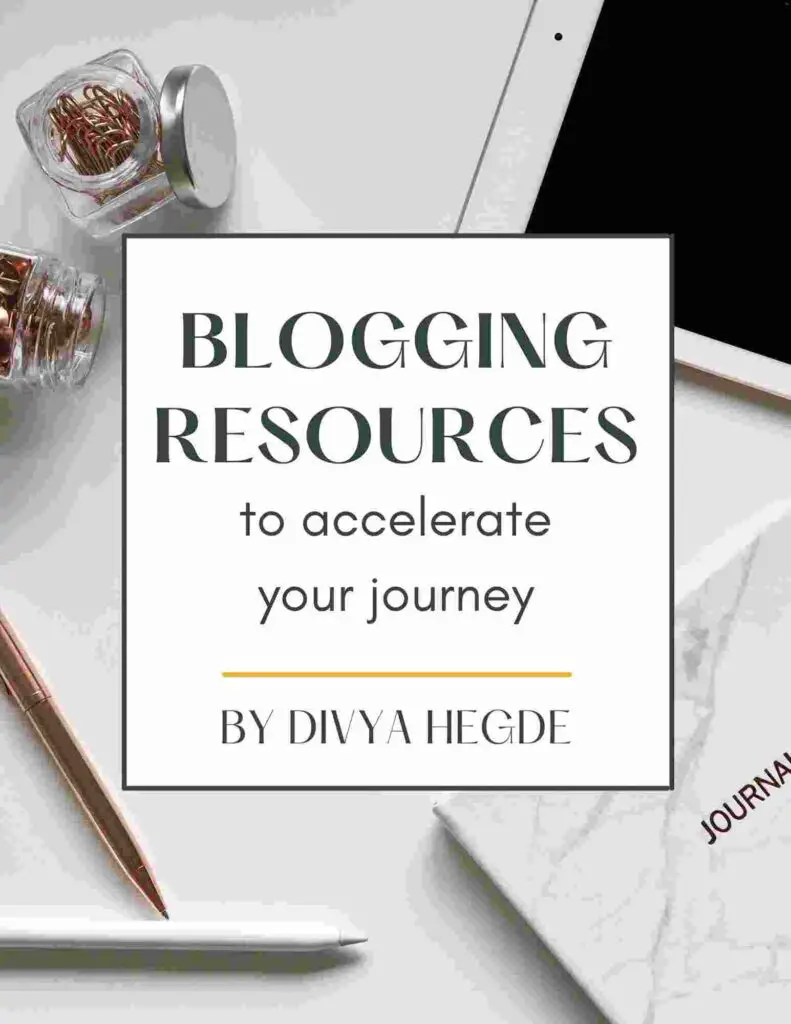 Best Blogging Resources
This post contains affiliate links through which we may receive a small commission. This will not cost you any extra money! For further details on our Affiliate Disclaimer, click on the link.
1. Domain Provider/Hosting Services
Purchasing a domain is the first among other blogging resources that is very important. Without this, you cannot start a blog.
The number one question anyone asks when they want to start a blog is should I get a self-hosted domain or the hosted domain? It is recommended you opt for a self-hosted website if you see it as source of income.
More on self-hosted vs hosted domain: Step-by-step Guide on How to Start a Blog
I chose Hostinger for my domain as it is value for money (0.99$ per month). This is a great price if you want to blog part time. Hostinger has WordPress integrations with which you can easily start a WordPress blog.
They have a 30 day money back guarantee if you are not satisfied. They have a great customer support. You can get help using their chatbox or emails.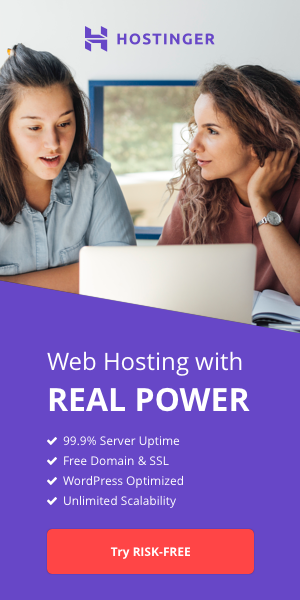 If you have a domain name in mind, just click here to find out if it's taken or not! They have web hosting with a lot of offers like free SSL certificate and domain name.
Take a look at their various plans in the screenshot below. If you are planning on an individual/personal blog, single shared hosting would be optimum.
I use single shared hosting and it works amazing. I recommend you visit Hostinger.com for more information.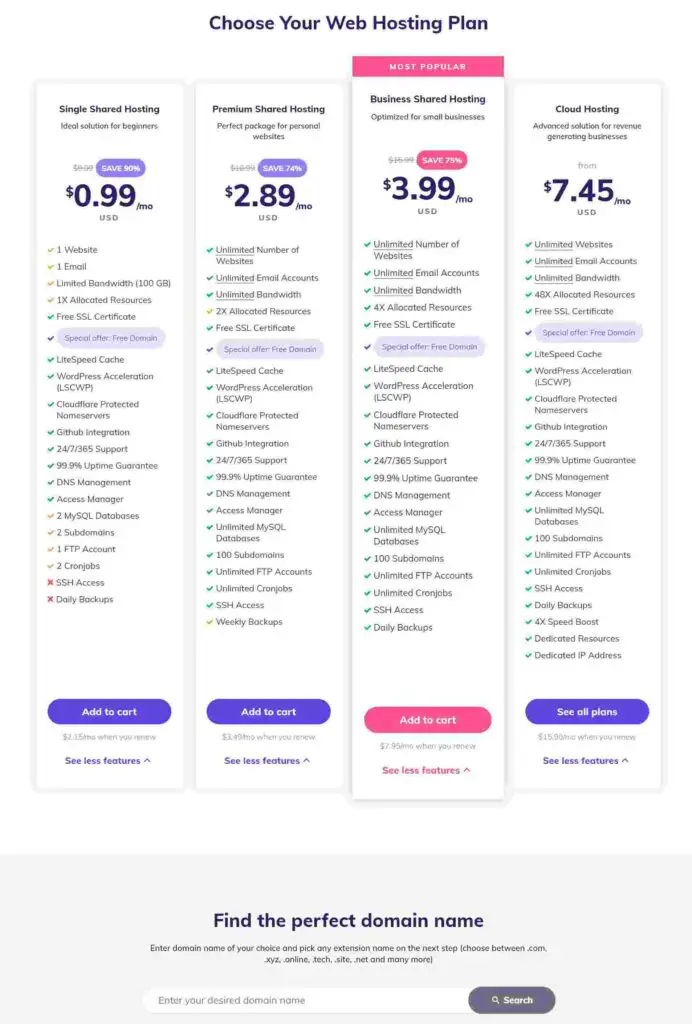 2. Blogging Platform
Now that you have a domain name, you need a software tool where you can get started with the fun stuff, blogging!!! There are a lot of options when it comes to this WordPress, Wix or Blogger.
I'd suggest you go with WordPress as it is user-friendly and a lot easier than the other two. Their user-interface is way more comforting that the others.
There are a lot of options to choose from when it comes to WordPress. Also, there are quite a few impressive themes available for free!!
3. Email Marketing Tool
After all the hassle of getting a domain and setting up your blog, you need to convert the visitors to your website into loyal subscribers.
This helps to keep your audience up-to-date with your content and also market your products. This can be done by building your email list.
I'd suggest you use MailerLite for creating landing pages, pop ups and email automations. From setting up a welcome series to audience segmentation, MailerLite provides it all!
This email marketing tool provides up to 1000 free subscribers. The best part? You can send up to 12,000 emails per month!
4. SEO (Search Engine Optimization)
After reading the title you might think I'm going to talk about Google but surprisingly, no! It's Pinterest!!
For those of you who don't know, Pinterest is a visual search engine where people basically search for anything and everything and search results show up as pictures.
You might be wondering that why not Google? It is because it takes a lot of time to get on Google search results unless someone specifically mentions your blog.
On the other hand It's easier in Pinterest as you can create pins which can bring you traffic faster (this doesn't mean Pinterest does not require any effort).
Related: Beginner Friendly Pinterest Strategies For Bloggers
5. Canva
Now that you know why Pinterest is so important in generating that traffic, the next obvious step would be to get started with Pinterest.
If you have any idea of how pinterest works, then you'll know that you need to make pins. Now that you're marketing your website, your pins should meet certain standards.
The pins you create are very important as they give the first impression of your website.
Your pins should be in 1:2 or 2:3 (recommended) ratio and of high quality (.png over .jpg)
You might be wondering how to make these pins with the ratio and the quality. Well, there's a free app called Canva.
All you have to do is select the type of content you want to create, be it Pinterest pin, YouTube thumbnail or Instagram story, they've got you covered! from the size ratio to the quality, everything is pre-designed.
Canva has a premium membership too, but the free version is more than enough! They have a lot of designs, backgrounds, elements, fonts, etc. to choose from. Just click on this link to sign up for free!
6. Tailwind
Like any platform on the internet, Pinterest requires you to be active for your pins to get a high number of impressions and link clicks.
For that, you need to keep creating pins and posting them on your boards at all times. You should make sure you are pinning at an ideal time when your audience is most active.
You might be wondering how will this be possible if your audience is in another timezone. Well, this is why I use tailwind which helps you schedule your pins and also suggests the best time to pin your pins!!
I suggest this because it is officially recommended by Pinterest itself. It comes with first 100 pins for free. So make sure you get on with it!
7. Content Planner
It is true that you only start seeing great results from blogging once you have enough blog content on your website.
With this challenge by The She Approach, you can easily create one year's worth of blog post content within a month.
You definitely need to check it out if you're serious about posting quality blog posts but don't want to give up on quantity either!
These were some beginner friendly blogging resources. If you found this useful and would like to see more such content, subscribe ! I would appreciate your support!