You might have heard all the bloggers raving about how some "plugins" saved their lives and that if it wasn't for those plugins, maintaining their site would've been such a hassle. Unlike the popular opinion that anything that comes for free has little to no value, you will be damned if you don't have these free WordPress plugins installed!
Plugins allow browsers to display additional content that was not designed to be displayed originally. They basically provide certain specific services which would not be available otherwise.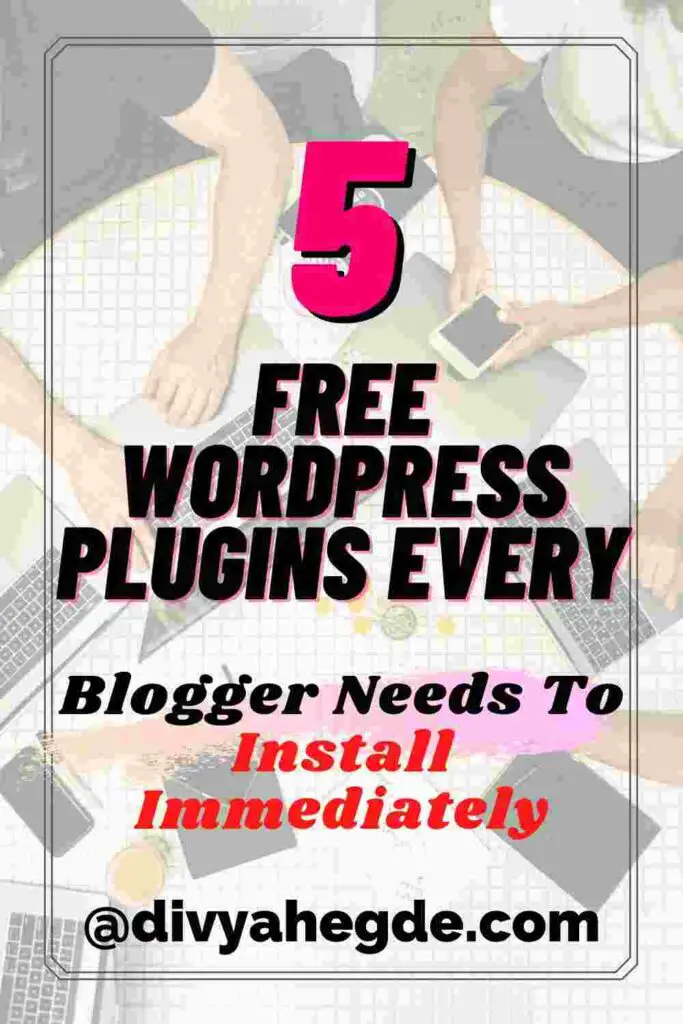 By free WordPress plugins I mean FREE WordPress plugins! These do not have any shady requirements or sign-ups. Though some might have upgrade options, the free version is more than enough and fulfils all the basic requirements.
This is going to be a long post as there is a lot to explain here. Make sure you go through all the points explained. I will be specifically talking about 3 free WordPress plugins, why use them and how they work.
Free WordPress Plugins For Beginners
To install these plugins, go to your WordPress dashboard and click on the Plugins section and then click on Add new. Then type in the following plugin names and click install and then activate them.
Fill in the required details for the best performance of your site! Always update the plugins when a new version is available. You will be notified about the same in your Updates section on your WordPress dashboard.
1. Site Kit by Google
Why Choose Google Site Kit?
This is by far the best plugin and I think everyone that has a blog should install it. For a free WordPress plugin, it has a LOT to offer!
This is Google's official WordPress plugin where you can monitor your site's performance, check your page speed and view analytics and do a lot more!
It is a one stop destination for integrating Google Search Console, Google Analytics, Google Page speed Insights and Google AdSense!
All you have to do is install Site Kit plugin and fill in your details about your website and you're good to go! Make sure you have a Gmail account!
How Does Google Site Kit Work?
After installing the Site Kit plugin, you have access to all other Google products and insights on how to succeed the web!
All these products will be available in a single dashboard and you don't need to know how to code!
Google products available with Site Kit:
Search Console gives reports on your site's traffic- how people found your site and the CTR (click through rate).
Google AdSense is way to monetize your site when you have some traffic on your site! It has very easy setup.
Google Analytics is a tool to understand your audience and customers. It gives business insights which will help you optimize your website better!
Page Speed Insights gives real time speed of your site. If you have a slow loading site, you have to make sure you don't as it is a turn off for both Google and your audience.
Imagine getting all these amazing services without having to sell an arm and a leg! You actually get it for free!
Liking what you've read so far? How about subscribing to our weekly newsletter to get instant updates on latest blogging tips+ trends?
2. Yoast SEO
SEO (Search Engine Optimization) is optimizing your website in a way that makes it easier for search engines to rank your website. I won't get into SEO in detail here. If you want a detailed explanation read: Basics of SEO For Beginners.
Why Use Yoast SEO?
Most of the time, figuring out what formatting is required in your webpage/post to best suit the SEO can be really hard and time consuming. This is why it is highly recommended that you install this free WordPress plugin, Yoast SEO.
This plugin has a lot to offer in its FREE version itself! There is an upgrade option if you want some extra features.
How Does Yoast SEO Work?
Yoast SEO has a lot of features where you can setup your website type ( for example, if it is a business or personal, number of employees, type of content, etc.) and they will help you format your posts accordingly.
A Google preview option is available where you can check how your post will look on the Google search results. The title, meta description and images can be viewed even before getting your post live!
Their readability analysis helps you with your writing, passive voice usage and they suggest changes where required. To be honest, I didn't even know having a certain amount of passive voice helps with your SEO? Thanks to Yoast! as they've got you covered!
Generating Traffic For Beginners
I think it is pretty obvious that getting traffic from Google is really difficult especially if you're new. This is due to the cut-throat competition from the millions of sites and billions of articles on the same topic. But this shouldn't discourage you from pursuing a blog!
As far as traffic is concerned, the best way to generate traffic is by kick-starting you Pinterest marketing. To know more about Pinterest marketing and how to go about it, read: Pinterest Strategies For Bloggers.
3. UpdraftPlus- Backup/Restore
Why To Backup Your Site Regularly?
Most people make the mistake of not taking backups of their websites and when due to some unknown reason their site crashes, they lose all their work! Don't be like them and lose all the hard work due to some unknown error. The best part about UpdraftPlus- Backup/Restore is that it is a free WordPress plugin.
It does all the work for you from backing up your site to restoring it. Now imagine you updated your site on 6th and your website crashes on 13th. If you didn't have a backup, all the work done up until now is down the drain.
But had you taken a backup of your website on 6th, then you could restore that version and your site would be magically up and running as it used to!
How Does UpdraftPlus- Backup/Restore Work?
What UpdraftPlus does is that, it takes a copy of your website on specific dates and stores them in a desired location. If you ever have issues with your site, all you have to do is go to that particular location where the backups are stored and restore it with a click!
Now the question that arises is "how often do we have to take a backup of our site?" If you are lazy or forgetful like I am, UpdraftPlus has you covered with their automated version. All you have to do is choose when you want them to take a backup of your site and you are done!
You can choose weekly or monthly and for every week/month how many times you want a backup. The recommended choice is "weekly", "4 times". This means, every week UpdraftPlus takes a copy of your site and stores it in a location you prefer. I recommend choosing Google drive.
On the fourth week, it replaces the previous copies with the recent version of your site! There are a million other plugins you can install to improve your site's performance. However, it is necessary you know that plugins are double-edge swords.
This is because on one hand plugins increase your site performance but on the other hand, they are known to decrease your site speed. If you anything about SEO, Google rankings and user experience, you know that a slow-loading site is a no no. Check this out for more on how to increase your site speed!
4. Wordfence
Security of your website is obviously going to be the number one priority for you. The best way to ensure your website is safe from attackers is by installing WordFence security plugin. This plugin protects your blog or website from brute force attacks. Brute force attacks amount to about 5% of online security breaches. In simpler words, this attack guesses usernames and passwords to get unauthorized access. Even though it sounds simple, it has a very high success rate!
Firewall
Firewall option in Wordfence gives a list of all the IPs blocked and the country. There's a blocking feature that allows you to manually block IP addresses by hostnames, country. All the successful and failed login attempts is displayed with time. This helps you check if there was any successful unauthorized login.
Login Security
With WordFence, you can not only block certain usernames and IPs but also change the login page of your website! Read their documentation to get a better idea. Apart from this, you can add 2FA (Two Factor Authentication) for double security. This means, every time you want to login to your WordPress dashboard, you'll have to type in a 2FA code.
Scan
The feature has 4 options Limited, Standard, High Alert and Custom scan. These plans will scan all the files, themes, plugins and more to ensure the core WordPress files are not altered. Enable Standard scan which is highly recommended by them. You can get a site audit or clean your hacked site with help of WordPress security experts.
5. Grow by Mediavine
Having a social media share plugin is essential to grow your website. There's no point in writing amazing, share worthy content when you don't have a plugin that let's readers to share your blog post. Also, the displaying the share counts validates your blog post.
Grow by Mediavine is by far the best social share plugin I've used! I've tried Social Warfare and Sassy Social share before. Nothing beats Grow. It is easy to integrate and lightweight which is the best for website speed. Social share buttons can slow your site down too. So, make sure you install the best ones.
If you are afraid you'll loose all your share counts after changing permalinks, Grow has an option to recover the share count in their pro version. But, if you are switching from another social share plugin to Grow (like I did), all your share counts will appear without having to do any work in the FREE version.
You can customize the appearance of the share buttons, position, color and more in the FREE version itself. Read their documentation to know more.
That's all for this post. If you made it this far and liked this post or found it helpful in anyway then leave a comment down below and share it with friend and help them out!
If you want to read more such content, then be sure to subscribe and join the list! I would really appreciate your support!