PJs and bed. Laptop in one hand and a chocolate in the other. Working from home can go from comfortable to unproductive real quick. Having a solid work from home office setup will help you get things done.
The key to maximize productivity while working from home is creating a home office space you enjoy working in. An organized desk with essential office supplies in a well-lit spot is guaranteed to motivate you to work more efficiently. Set regular hours to work and use a planner to check your tasks.
Going back and forth between "work mode" and "home mode" can get difficult if you are at home and make yourself feel like it too. So, create a healthy routine where you have room to take the rest you need!
The place you work in definitely affects your work and the end result. That is why it is so important to have a clutter free area which looks and smells good.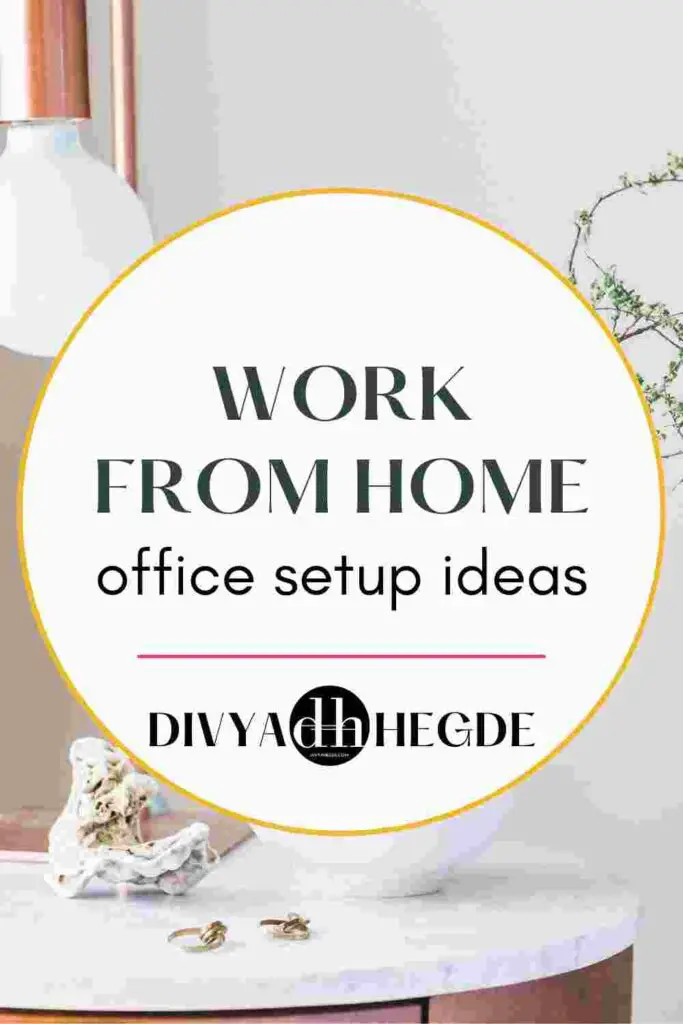 Get creative with your home office and make it your own. Adding elements that reflect your personality is always a good idea. Hang a painting or throw a bohemian rug to make your home office more cozy.
Spray paint your existing furniture gold or rose gold and add some candles to instantly make your home office look more classy and expensive.
Let's see how to plan out your workspace, buy essential work from home office setup supplies and create a productive wfh routine!
Plan Out Your Workspace
To create a workspace of your own at home, you need to plan it out first. Look for a spot in your home that has least distractions and enough sunlight. Pick furniture that is comfortable. Make a list of office equipment you already have at home and what you need to buy.
Because you planned out your workspace before getting straight to buying office essentials for working from a home, you know exactly what you want and won't have to waste time or money on unnecessary supplies.
Having a workspace designed to resemble your normal office will help you fully focus on your work. Here are some ways you can plan out your workspace to maximize productivity.
1. Choose a Spot For Your Home Office
Choose a spot where you'd want to sit and work without disturbances. Avoid noisy/busy areas of your home. Choosing a spot that is separated from your bed or sofa will help you switch to work mode easily.
To minimize distractions, ensure that your office desk faces a wall instead of the door. Make sure your background isn't too distracting if you'll be doing a lot of video calls.
The deciding factor of your home office spot has to be WiFi or internet connection. Make sure you get a quality WiFi router so that you can conduct online meetings without interruptions.
2. Ensure There's Proper Lighting
Easiest way to convert your home into a workspace is by choosing a spot in your home that is well lit and has ample sunlight.
Always face the light source to avoid harsh shadows, reflections and glares. This way your face is lit up and clearly visible during video calls, zoom meetings, etc.
3. Choose The Right Desk
The most important part of your home office has to be the desk and chair you work on. As you'll be spending most of your time sitting, make sure you choose the right ergonomic chair and desk.
Ergonomic chairs are designed keeping comfort in mind. While working from home for long hours, you'll be putting a lot of stress on your lower back. Ergonomic chairs that properly fit your lower back help with that!
As far as your desk goes, opt for something practical. A spacious desk or one with built in drawers and cabinets will keep clutter away. Put your desk in front of a window!
4. Bring Your Space To Life
A pop of green and calming scents always help elevate your mood and boost productivity. Create an environment which motivates you to work everyday!
I have included a list of scented candles and diffusers that'll help with alertness and concentration down below.
Work From Home Office Setup To Maximize Productivity
These home office essentials will help you transition from home to work seamlessly. Also, a reminder that you don't have to go all out and purchase everything.
Setting up a basic home office and then slowly adding things to give you the full experience is the way to go!
This post contains affiliate links through which we may make a commission at no extra cost to you. Read the full affiliate disclosure.
1. Desk And Monitor
Like I mentioned earlier, a desk that covers your needs is THE essential for a work from home office. If you have an unused table lying around, grab some gold spray paint and transform it!
If you have a smaller space, a sofa table would work wonders for you! It is compact and fits perfectly without having to do any renovations!
Another option is a desk with wheels. This desk is amazing as you can adjust it's height and fit in almost everything!
Working on a laptop for long hours can strain your eyes as the screen is small. Do yourself a favor and get a monitor. Multitasking gets easier.
This LG Ultrafine monitor is an Amazon best-seller and a life saver for a blogger like me who also has online classes! It works perfectly with both MacOS and Windows!
Another option is the HP monitor that is a little wider than the previous monitor.
2. Ergonomic Chair
The next must have for a work from home office setup is obviously sturdy yet comfy chair. Something that is good for your back! I love this rustic farmhouse chair.
It is sturdy and doesn't move. A DIY spray painted table would go really well with this chair!
This ergonomic chair with wheels is my favorite. I did not know what the difference was between a normal chair and an ergonomic chair until I got one! It has wheels too lol.
I sit in front of my computer for nearly 10 hours everyday. So, this was the best investment I made. Ergonomic chairs are designed for longer working hours. If you're on the same boat, I highly recommend you get this!
3. Work From Home Gadgets
Now that you have a office desk and chair setup, it's time to get all the essential gadgets you need while working from home.
Wifi Router
This is basically the only investment you need to make and you automatically have the best work home office setup. You could skip the desk and chairs. Sit on your sofa or on the ground.
But, if you don't have a reliable internet connection, then how are you going to do remote work?
This Google nest wifi router has so many amazing reviews on Amazon. Highly recommend this for stable and fast internet connection!
Setting up a home office for remote work is not that time consuming after all!
Webcam Cover
Need I explain this? This is a must have to save yourself from mishaps! A webcam cover is the best $5 investment you'll ever make, trust me!
I've watched way too many movies to trust my webcam without a cover!
Wireless Keyboard And Mouse
Laptop keyboards are not always the best when it comes to comfort. Some of them require you to slam the keyboard for it work whereas some are too sensitive to touch.
Getting a wireless keyboard and mouse set could help you avoid this inconvenience.
This cute rose gold keyboard and mouse pad has to be my favorite!
Bluetooth Keyboard
I recently came across this bluetooth keyboard and I'm in awe. This works so well for cellphones too! All you have to do is place your tablet or phone in the front section and start typing!
They come in 3 other colors, mint green, purple and black. Mint green has my heart! You need to check this out. Go to amazon and do a little window shopping!
USB Desktop Charging Station
A 6 ft Charging cable so you don't have to struggle with finding a charging port and getting one installed!
USB Desktop Charging Station
6 port USB charging station has to be my favorite purchase of all time! Your iPhone and every other device can be connected!
4. Office Desk Decor
Desk Lamps
A desk lamp will light up your workspace if you sit in an otherwise dim area. These come handy at night!
Organizers
If you have books or too many cables lying around, getting one of these storage bins will help you a lot!
This 3 tier organizer is my favorite!
File Organizers
These rose gold file organizers are the absolute cutest! Working from home doesn't always mean 100% paperless. These organizers will help you declutter your desk!
5. Maximize Productivity
Dry Erase Calendar
This dry erase calendar will help you get a clear picture of what's on your agenda for the whole week! Writing down all your tasks is so much more easier with this.
Planner
Planners are a must have in any productive work from home office setup. If you've read Atomic Habits, a book on productivity, you probably recognized the habit tracker on the left!
A science based habit tracker that'll help you track your activities should definitely be on your desk! If you haven't already, I highly recommend you read Atomic Habits!
The planner on the right is another Amazon find I'm happy about. It is an undated planner designed to prioritize your weekly goals and to-do lists.
6. Comfort Driven
Cushion Seat
A cushion seat can instantly bring comfort. This cushion is one of the best reviewed on Amazon.
Candles
Candles are the best way to elevate your mood instantly. These candles with coffee and cinnamon scents help with alertness and productivity! You need to try them!
I'm sure you've heard of Diptyque. These candles are unmatched! They are on the pricier side but so worth it! If you have the budget, you should give this a try!
Bais is a Diptyque classic. It smells fruity but is subtle. The cool part about these candles is that you can reuse the cups!
Diffusers
The first fragrance diffuser is citrusy and leaves a pleasantly refreshing mood. The lavender vanilla one on the right makes an amazing aromatherapy scent!
Humidifiers
These humidifiers an alternative to the scented candles and diffusers. The best part about this is that not only do you get a cooling effect by adding cold water, but also use it for aromatherapy!
Productive Working From Home Routine For Bloggers
Working from home can get really hard as there are no set boundaries between home and work. You could sit in bed for hours and not a single thing or skip your lunch because you were busy and lost track of time.
Create a healthy routine and set regular work hours. Try to mimic your normal work hours and avoid doing your work after the deadline. This way you create a healthy balance between work and life.
Another important step to have a productive work from home session is by taking regular breaks. Go outside or do something to rest your eyes and take your mind off work.
If you have a hard time concentrating, pretend like you're at work. Don't get too comfy. Wear something other than PJs and get to work. Small rewards after chunks of work will motivate you too!
These were some ways you can have the best work from home office setup for maximum productivity. Anything you'd like to add? Leave them in the comments!
If you liked this post, then the easiest way you can help me out is by sharing this thread on Twitter or with someone who could benefit from this blogpost!
Subscribe to my newsletter I send out twice a month where I go in depth about blogging and marketing! I'm sure you'll find value there!
About Divya Hegde
Divya Hegde is a blogger and copywriter who is on a mission to simplify blogging. She writers about blogging, content writing and marketing and helps aspiring bloggers turn their passion into a successful business.