Get in loser we're going to list all the amazing tv shows you NEED to binge-watch! Sometimes it is easy to get lost in the Netflix search page trying to find the perfect tv shows for you to watch. But don't worry, I have all the mind boggling tv shows you need to know about!
This is a one stop destination for all kinds of tv shows from teen-drama to crime-drama to psychological thrillers to anime!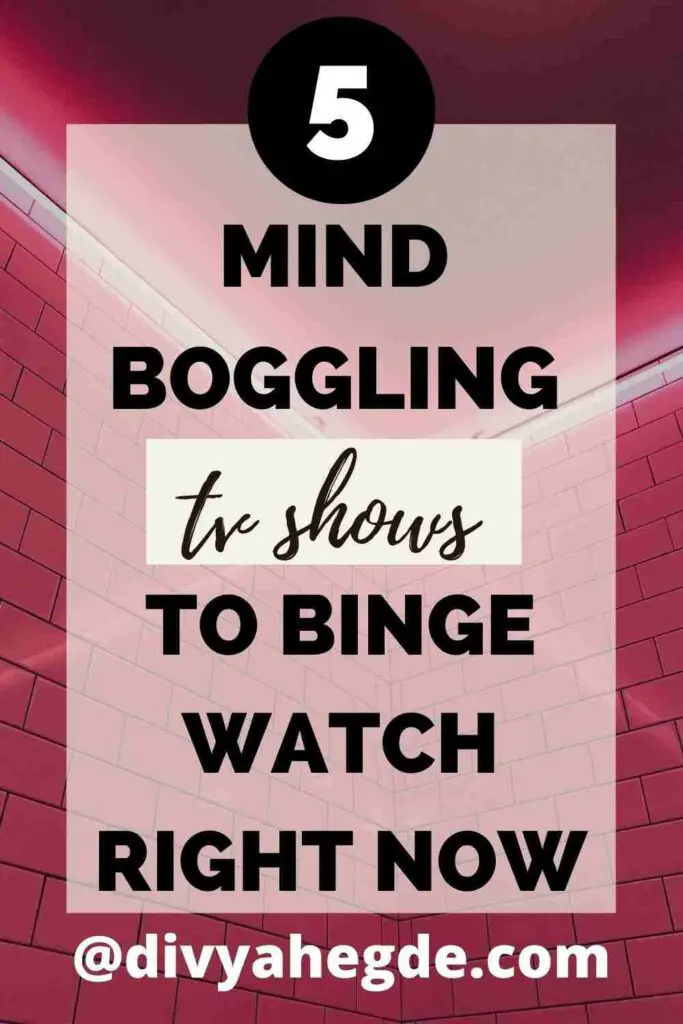 Sooner or later you will be amazed by the unique tv shows I've listed here. Don't worry, I have mentioned on what platforms these tv shows are available!!
I've listed all the shows based on the number of seasons from least to the most. If you want some movie recommendations, read mind boggling movies to watch. If you're into books and need recommendations, read books that will change the way you think!
5 TV Shows To Watch
Disclaimer: This post contains affiliate links through which we may earn a small commission. This will not cost you extra. Read more in our affiliate disclaimer.
Viewer discretion: These are for 18+ adults only! This post is not responsible for children watching these shows without permission/supervision of guardians/adults.
1. Euphoria
Available on HBO
Euphoria is a teen drama which is based around the lives of a group of highschoolers as they try to figure out love, friendships and relationships, social media, substance abuse and mental heath issues.
This show is graphic and contains mental health issues and substance abuse scenes. Hence, viewer discretion advised!
2. Normal People
Available on Hulu
It is a story about two people who fall in love even though they have class differences and are fighting their own demons. This show explores their journey from highschool through college.
It is a pleasant but sad show. Well directed and all that good stuff! They have one season with 8-9 episodes. So, if you want to binge-watch something quick, this is for you!
3. End of the F****ing World
Available on Netflix
This is a dark-comedy teen drama show based on two teenagers James and Alyssa. The show dives deep into the confusing lives of these two teens and how they come out of it.
If you love teen comedy-drama, then this is for you!! It is definitely more those petty, silly teenage tv shows. Give it a watch as is has only 2 seasons!
4. Fleabag
Available on Amazon Prime
Fleabag is a story about a dry-witted woman who is exploring her life while trying to cope with the tragedy of losing her friend.
If you love awkward, dry humor, this is for you!! I highly recommend you watch it for a good laugh. Don't have an amazon prime video account? Click on the image below to start your free trial!
5. Mr. Robot
Available on Amazon Prime
Mr. Robot (the name might sound a little tacky but you'll get over it!)is a psychological thriller (my personal favorite genre!) starring Rami Malek!
This is basically a hacker named Elliot trying to take down E-corp (evil-corp) where he works. This show explores a lot of mental health related issues in depth in a realistic way!
There are four seasons. If you don't have the patience, I highly recommend you watch the first season only. It is the best! filled with a lot of surprises!!
6. Peaky Blinders
Available on Netflix
Peaky Blinders is a crime-drama set in the 1920s in Birmingham. Honestly, just watch it!
Peaky Blinders are an urban street gang coming from the working class in England. This show revolves around how they make their way up in the class hierarchy.
There are five seasons with only 6 episodes each! Not that long if you ask me!!
7. The Office
Available on Amazon Prime
Need I say anything more than, Go watch it!? The Office is a sitcom. If you're bored and want to watch something light-hearted, this is for you!
There are nine seasons! But trust me when I say you can literally watch any episode and still love it!
TV Shows with English Subtitles
"Once you overcome the 1-inch-tall barrier of subtitles, you will be introduced to so many more amazing films and tv shows" – Bong Joon Ho, director of the Oscar winning movie, Parasite!
1. Sacred Games
Available on Netflix
Sacred Games is a Drama with 2 seasons. A police officer gets an anonymous tip from an underground criminal which leads him to discover a lot of secrets of the crime-world and wants to save Mumbai from a possible bomb blast.
This show focuses on how people's childhood and past leads them to become who they are today.
2. Made in Heaven
Available on Amazon Prime
Made in Heaven is a "Romance" (emphasis on the double quotes ) . Two wedding planners trying to mask their vulnerabilities and insecurities discover and fight back at some questionable behind-the-scenes of big fat Indian weddings.
Trust me when I say you HAVE to watch this one! This tv show has 1 season with 8 episodes. Perfect reason to binge-watch it in one go!
3. Paatal Lok
Available on Amazon Prime
It is a must watch! Don't let subtitles stop you from discovering some amazing shows!
Paatal Lok is a thriller and has 1 season. A cop lands a case of his life where four suspects are charged guilty for attempting to assassinate a top journalist.
As days go by, the cop discovers that this case is definitely not what it looks like from the outside and reaches a deep, dark world- Paatal Lok
4. Death Note
Available on Netflix
If you always wanted to start watching anime and didn't what to get started with, this is the best anime!
Death Note is an anime series with 1 season! It is a thriller where a highschool student comes across a notebook and realizes it grants its user some supernatural powers to kill anybody.
This is planned by a shinigami (God of death) who was bored and wanted to see how humans would use the book.
5. Promised Neverland
This is a Japanese manga series. I'm not sure if it is available on Netflix or Prime. You can find it on any online manga or anime websites!
Promise Neverland is a thriller where a bunch of smart kids in an orphanage discover the deepest, darkest truths about their lives and the orphanage they live in.
These were some of my recommendations! Have you watched all of these or any at all??? Do you have any suggestions? Let me know in the comment section down below!
If you like this and would want to read more of such posts, don't forget to subscribe to join the list!! I would really appreciate your support!!