Blogging tools always come handy. What better time to purchase equipment for blogging than Amazon prime day deals as a blogger?!
Amazon prime day deals starting from June 21st to 22nd is when Amazon has most of it's top notch products for sale. If you've been blogging for a while, you'd know how expensive some equipment for blogging are.
This is the best time to get your dream blogging tools and resources for as affordable a price as possible!
I've listed quite a few tools that'll most definitely help you with your blog directly or indirectly. Make sure to check them all out!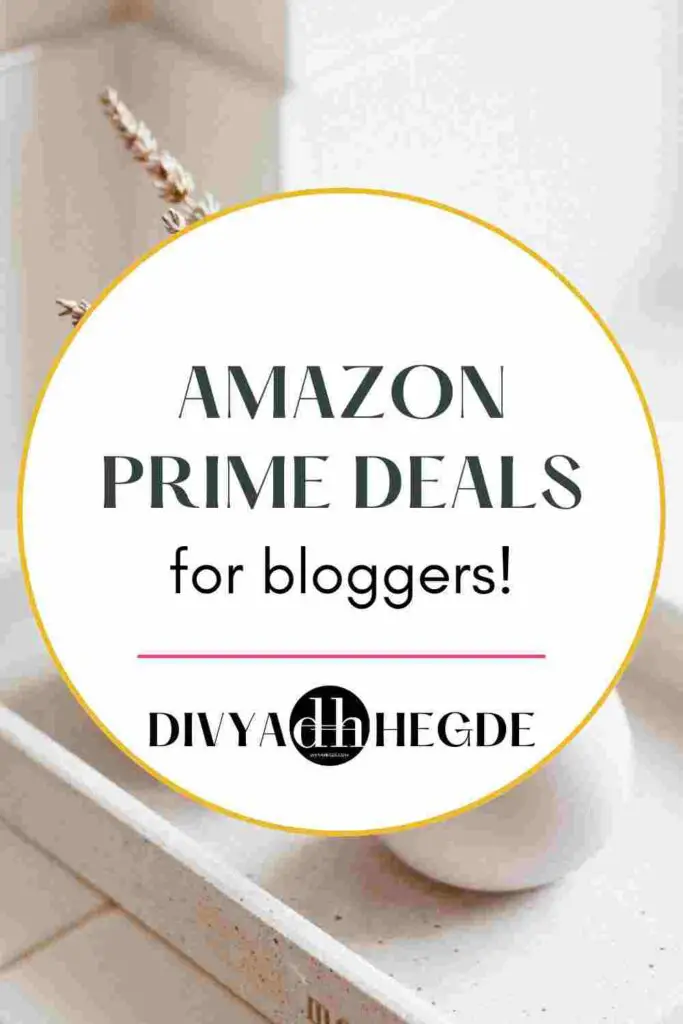 Before getting started, make sure you have an Amazon prime membership because without the prime membership you cannot take full advantage of the prime deals!
It is super easy to get started. All you have to do is click on this link to sign up for the 30 day free trial!
The best is that you can cancel anytime and also get to experience the prime deals!
Amazon Prime Deals To Not Miss Out On As A Blogger!
This post contains affiliate links through which we may make a commission at no extra cost to you. Read the full affiliate disclosure.
1. Ring Light
If you're a blogger or a content creator then having a ring light is a must. Better photos, reels, tiktoks and lives. Who doesn't love a well produced piece of content?
If you've read my previous blog post on all the equipment for blogging used by most bloggers, then you'd recall that ring light was among the top 5!
But buying ring lights can go wrong when they donot serve the purpose or are of low quality.
So, I picked this ring light that can be tightly clipped to many places on a monitor, laptop, desk, etc. Did you always want to get a ring light but kept putting it off?
Now is the right time to get this amazon prime day blogger offer! Some features worth noting:
Tightly Clip On Many Places And Multi Purpose: you can easily clip the ring light where you need it, such as computer/laptop monitor/table corner/desk edge. Great for night work, zoom meetings, etc.
Adjustable Color Temperature And Brightness: This ring light has 3 color temperatures: white light/natural light/warm light. With these functions, your video will be more bright! You can also easily improve your home lighting!
Flexible And Easy To Use: Easy to install and easy to use!
2. Simple Elephant Productivity Planner
Content planning and calendar blocking not only keeps you motivated but also helps you get things done. If you're looking for an undated planner, consider this:
This planner helps to organize thoughts and goals successfully.
Visualize: Their mind map and vision board encourages you to pursue a 90 day or monthly gratitude plan to manifest the best year ahead with its useful layout.
Perks: With this simple planner, you'll get an inner pocket, pen loop, and 3 ribbon bookmarks.
Stickers, Colors, Pockets: You get to pick from to 3 color options they have. I love the purple one and have ordered mine :))
3. Cellphone And Camera Tripod
Tripods are great for getting b-rolls and product shots. These come handy especially when you don't have steady hands. Best part about this tripod is that it is:
Easy to use: Is compatible with most high-end and heavy devices: Canon, Nikon, Sony, etc.,
Is it perfect for photographers, videographers, traveler etc.
Multi angle photography: This camera tripod will help you find accurate angles and it can quickly achieve panorama shooting, macro shooting or low angle shooting, so you get perfect videos and stunning panoramas every time.
Multiplex adjustments: The adjustable tripod has 3 adjustments gears and 3 sections legs, it can quickly adjust the high, medium and low angle!
The fluid head tripod center column can be inverted to provide a low angle shooting and macro shooting, of course you can also taking it out for hand-held photography, it allows your camera to shooting objects more closely and enlarge its texture and quality.
4. LED Desk Lamp
Desk lamps are perfect for late night blog post writing sessions or brainstorming your next venture. I found this amazing LED light lamp that has an in built pen holder??!
This multi-function LED Desk Lamp has built-in battery, so you need not plug in when using!
It could be a great choice as it acts as an emergency backup power when there's a sudden power outage.
Storage options: The built-in pen holder is convenient for storing your most used supplies.
Dimmable desk lamp: You can adjust the light by pressing your finger lightly and feel the light change. Soft LED brightness for eye protection and prevents radiation.
3 Color Modes & Touch Control: This eye protection LED lamp with USB charging interface has three color modes: natural light, soft light, daylight.
Rechargeable Large Capacity Battery: This desk lamp has built-in battery which can be used after being fully charged or plugged in. It can be connected to a computer or charged power bank.
360° Flexible Metal gooseneck: The flexible metal hose of this portable LED desk lamp can be bent at any angle. Adjust it as per your needs.
Lightweight and portable: As it is foldable, you can carry it along with you!
5. Acrylic/Clear Monitor Laptop Stand
If you work from home and have a blogging routine that's basically sitting in front of your laptop 24/7 like me, you might want to consider getting a laptop stand.
Why you may ask? The stand brings raises the laptop to your eye level which is super convenient to look at and causes less strain to your eyes.
Did I talk about posture? After getting one of these my posture has improved a lot and no more stiff necks.
Trust me, this is coming from a computer science student whose entire life is spent on a computer!
Also, this acrylic/ clear stand is great because:
It has the weight capacity of a computer: It can be hold 100 pounds items! Quite sturdy if you ask me.
More space: Once you place your laptop/computer on the stand, you can use the extra space to store other essentials like candy or something.
Cleaner workspace: This cute design stand does not require installations. As it is see through, it opens up your desk and makes it look more beautiful and cleaner.
Keyboard holder & Adjustable Height: The space at the bottom of the monitor stand to accommodate a keyboard. This is great if you have a cat or any other pet that loves to jump on your desk unhinged!
6. iOttie iON Wireless Fast Charging
Wireless fast charging is like music to ears for anyone living their life out from a computer. Check out these features:
Dual charger: You can charge both smartphone and wireless ear buds simultaneously.
Fast charging: Qi-certified stand enables you to wirelessly fast-charge your phone up to 15W
Ideal viewing: View your phone in landscape or portrait mode at a 65-degree tilt while charging on the stand.
Light Indicators: White light indicates that the device is charging.
Sleek and Non intrusive: Modern design complements any office or living space. You get 3 color choices: white, grey and black.
7. TineeOwl iPad Pro 12.9′ Case
Finding an iPad case that not only provides protection but also looks good and doesn't weigh a 100 pounds is hard.
But with this TineeOwl iPad Pro case, you get all that with a dedicated pencil holder for much cheaper due to the amazon prime deals blogger (or anyone) can avail!
Make sure you have an amazon prime account or sign up for the 30 day free trial through this link!
Great protection: Keeps your tablet unscratched from day one.
Minimalist design: No distance in-between button means less effort to press on the buttons and better feedback!
Lightweight: Most cases on the market are way too bulky and heavy. Our cases are specially designed with passion for minimalism and quality. Makes carrying your iPad Pro around less tiring!!
Dedicated pencil holder: Securely holds your pencil, once it's inside, it will never fall off! This is such a plus for anyone who does illustrations or note taking!
Please note that this is only for iPad Pro 12.9-inch (2020/2018 Version, 4th/3rd Generation). It is not compatible with older iPad Pros with home button.
8. Cable Management Box 
Too many wires on your desk? This minimalist wooden cable management box is your go to!
Multi-purpose: You can use this cable management box at home, office, kitchen or bedroom. Store it, tie it, clip it or roll it. The ugly dangerous cords would be out of your sight!
Sleek and minimalist: Along with hiding away cables or cords, this box could keep your toddlers and pets away from reaching power strips and other electrical equipment.
Large storage: This cable management box is big enough for hiding away your power strips, USB cables, surge protectors. large enough to place two mini power strip.
Amazing quality: Cable organizer box is strong and impact resistant. It is enough sturdy to hold weight.
9. Pink Desk Mat
Desk mats are a live saver if you eat at your table like me! This desk mat has so many color options and a lot of functionality:
Protect your table: Protect your glass/wood table from scratches, stains and spills. This mat does not absorb water or oil.
Multi-functions: This large desk mat is (36″ x 17″) is large enough to hold a laptop, keyboard, wireless mouse, kindle, coffee cup.
Comfortable and smooth surface: Can be used as a desk mat, writing board and drawing mat, desk mat, bar mat or any place you think is suitable, even you can cut it to the size you need!
Soft touch: Cork and pu leather bring in two different touches. They are soft and elastic, cushion the pressure on the wrist and provide a comfortable desk experience.
Warm colors: Very inviting and makes for a cozy desk experience.
Flat and easy to move the mouse!
10. Multi-Port Hub
Macs are notorious for not giving enough ports. This multi-port hub is your best bet!
Four USB ports: Access to four USB accessories at the same time, feel free to connect wire keyboard, mouse, USB flash drive, hard disk, etc., with data transfer speed up to 5Gbps
Video & Audio Output: You can mirror or extend your screen with the HDMI port to HDTV, monitor or projector.
Integrated Charging: You get a type-c charging port which provides extra power to hard disk, DVD driver and accessories that are connected to the USB ports simultaneously.
Universal Compatibility: This works with MacBook Pro 2016-2020, New MacBook Air 2018-2020, MacBook 12, Surface Pro 7/Book 2/Go, Chromebook, and more full-functional type-c devices
Sleek Design: This adapter can save your desk space and expand your devices connectivity!
11. Stylus Touch Screens Pens
This stylus touch screen pen is one of the great amazon prime deals you need to take advantage of as a blogger.
If you design templates, make custom design or draw, journal, this stylus can give you a better experience.
Thin and High Sensitivity: This stylus adopts the 3rd generation disc tip, which is thinner and has higher sensitivity.
Flexible: The ball joint on the disc tip ensures more flexibility, larger writing angle and longer service life. It's easier to change a tip by hands, and they never fall out when writing.
Unique Stylus: The pen body and cap are integrated, and the pen tip can be hidden or exposed by sliding the pen cap, so you never have to worry about losing the pen cap.
High Precision: Perfect for handwriting and detail drawing and has durable fiber tip for more accuracy. Overall perfect for normal use such as scroll webpage, gaming, etc.
Wide compatibility: Compatible with iPad, iPhone, android tablet and phone and all other capacitive touch screen devices.
What will you be getting on prime day? Let me know! Also, subscribe to receive blogging and marketing tips 2-4 times a month!
Share this post with your blogger friend or someone who could take advantage of the prime deals!