Stuck in a blogging rut? All the blogging tasks piling up don't help either. If you're looking for low energy tasks to do but still feel like you had a productive blogging routine, then there's so much you can do to improve your blog right now!
From changing your homepage aesthetic to designing social media templates, updating popular blog posts, writing emails to taking a day off, there are so many blogging tasks you can do right now to improve your blog!
There are so many things we're laser focused on when blogging that we tend to lose the bigger picture sometimes. At the end of the day, if your blog helped someone solve their problem, you're doing good!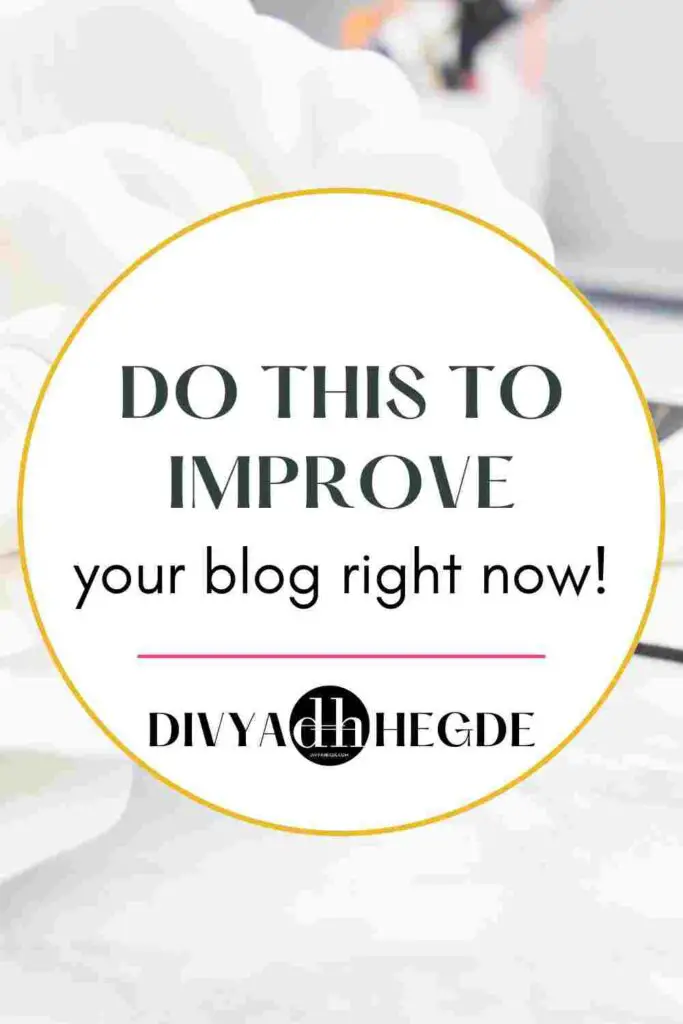 Save this post or bookmark for later when you feel like you're not being productive enough or run out of blogging tasks to accomplish!
Down below are quite a few blog improvement tips that you can start implementing right now! Most of them are low energy tasks that you can get started with right away!
Table of Contents
13 Things you can do right now to improve your blog:
How To Improve Your Blog Right Now
This post contains affiliate links through which we may make a commission at no extra cost to you. Read the full affiliate disclosure.
1. Improve Your Blog Homepage
Make your blog attractive by creating the best user experience on your homepage because that's where most people head to once they finish reading your blog post.
One way to make your homepage more attractive is to ensure there's a balance between the images and other text blocks. Too many images distract people as much as no images!
If it's been a while since you've messed with your homepage, now is the time for a mini re-design.
Add more blocks that help readers better understand what your blog is about. Proper navigation to your best work, products, offers and services is key!
Go on a massive blog cleanup spree. Remove those unwanted plugins, images and broken links on your blog.
It's always a good idea to keep your site clean not only on the outside but also on the inside!
2. Update Popular Blog Posts
Best of best blog improvement tips has to be updating your high performing blog posts.
Go to your Google analytics dashboard and filter blog posts by most viewed. Now, go back to each of those blog posts and start tweaking them.
A better lead magnet, more affiliate links, extra sub headings, spicier (lol) call to action are a few things you could incorporate!
3. Content Planning
Creating a content marketing strategy for your blog and social media is one of the best things you can do right now to improve your blog.
Planning out your social media and blog content well in advance will help save so much time.
Use content calendar blocking method to reserve specific time of your day for specific blogging tasks. Please set realistic blog tasks and goals!
Identify your blogging tasks for the week and schedule them for when you are most active. Get a digital marketing calendar or any calendar to mark your tasks with different colors.
By creating a content calendar, you have a tool not only motivating you to get things done but also holding you accountable.
Or, use a blog planner made specifically to help you outline content goals, business milestones, etc. Here's a list of some of the best planners for bloggers by bloggers!
This 12 Month blog planner by Lilly Pulitzer is my favorite from the lot. I go over the details and contents of this planner in this blog post: Best blogging planners for content planning in 2021.
I highly recommend calendar blocking and content planning if you feel like blogging tasks keep getting out of your control!
4. Keyword Research For Blog Post Ideas
Writer's block is not real. Do your keyword research. Harsh but true.
When keyword research is done properly, you don't need motivation or creativity as you have a list of potential content to pick from.
The best part? This list has only those blog post ideas that are worth ranking for, as opposed to random ideas that are a hit-or-miss.
Now you don't have to wait for your "creative juices" to flow and get to work with an endless list of blog posts to rank for!
Follow this comprehensive keyword research guide to ace your SEO strategy and avoid writer's block :))
5. Design New Templates
Wanted more low energy tasks that still give you the fulfilment of "working towards something" right? Design templates for your social media!
I do this all the time when I want to trick my brain into doing more work. Picking colors and shapes. How hard can that get right?
Go to Canva right now and start designing a template from scratch. Or, you could create social media graphics using existing templates!
6. Revise CTA For Your Blog Posts
The more I read my older blog posts the more I cringe at how I managed to never have a catchier CTA! But I'm glad I do now!
If you don't have a call to action (CTA) yet, time to write one for each and every blog post!
You don't have to whip out a whole new freebie for this. CTAs can be asking your readers to share your post, like or comment, follow you on social media, subscribe to your list or read a similar blog post!
The key here is to better the copy for those CTAs. Something snappier or different that compels them to act now.
7. Write An Email
The elephant in the room. Emails. Seems a lot easier to tweet or post a picture than write emails right?
But this is the most important thing you can do to improve your blog for the better. Building a connection with your audience and gaining their trust is so important for your business.
Easiest way to get started with email marketing or writing emails is to set an outline and fill in the blanks. Repurpose your blog posts as emails.
You could give a little teaser and point readers to your website to read the full blogpost!
Loved what you read so far? Then I'm sure you'll enjoy opening my emails on a Wednesday morning too! Subscribe to receive blogging and marketing tips!
8. Conduct Audience Survey
Conduct a QnA session or run a poll on Instagram, Twitter, Facebook or any other social media you use.
Ask them what problems they are facing currently, how are finding your content so far, and boom, you have more blog/social media content ideas now!
9. Study Google Analytics
If there's one thing you can absolutely do right now to improve your blog is checking your Google analytics and drawing conclusions for various metrics.
Understanding your audience is key to growth.
I go over the key metrics to focus on Google analytics in this blog post. Click the link to read it! If the Google analytics dashboard overwhelms you, this post is perfect!
It becomes so much more easier to improve your blog when you know what areas need the most attention. Google analytics dashboard is great at helping you with just that!
10. Improve Sales Page Copy
If you have a product you sell on your website, go over the sales page copy. Try to tweak it in a way that improves you chance of making a sale!
Cashvertising by Drew Whitman is my all time favorite book for all things marketing and the art of making a sale. Check it out!
11. Brainstorm Lead Magnet Ideas
There's no doubt about lead magnets increasing your email subscribers. Promoting your lead magnet to as many people ensures more exposure.
Likewise, you could also brainstorm lead magnet ideas for your upcoming blog posts or products.
As you've already created a list of keywords and have plenty of blog post ideas, you should look into roping your next customer in with a sweet deal for free!
12. Outline Product Ideas
I'm sure you've heard bloggers say that products are the way to go if you want to make money blogging long term.
It's time you applied this advice and try it for yourself! Do competitor research, market research, ask your audience about their pain points.
Then, start outlining a product for the same! I know it is easier said than done but, taking baby steps is the way to go!
13. Take a Day Off Blogging
If you're on a roll like me, taking a day off blogging is the best you can do to improve your blog! A clear mind always helps me with brainstorming new ideas.
Take a social media break and go on a hike? Also, make sure you incorporate "day offs" in your blogging routine!
These were some blogging tasks you can do right now to improve your blog. What will you be checking off the list right now? Let me know in the comments!
If you liked this post, then I'm sure you'll like my newsletter I send out 2-3 times a month. Subscribe to receive one! Also, share this blog post with someone who could benefit from this!
Heard you were feeling extra generous today! Consider sharing this thread on Twitter and follow me on there for daily threads related to blogging and marketing!