Wondering how to grow your blog traffic? It is true that anybody can start a blog. But, to increase your blog visibility and grow your blog audience from scratch as a newbie is hard. There are a lot of ways to grow your blog but being consistent and dedicated is important.
Looking at your slow growth can be frustrating. I've been there, refreshing the analytics page multiple times a day.
So, naturally, getting a lot of page views is all you'll be focused on. But the important question you need to ask yourself is what are you going to do with all that traffic?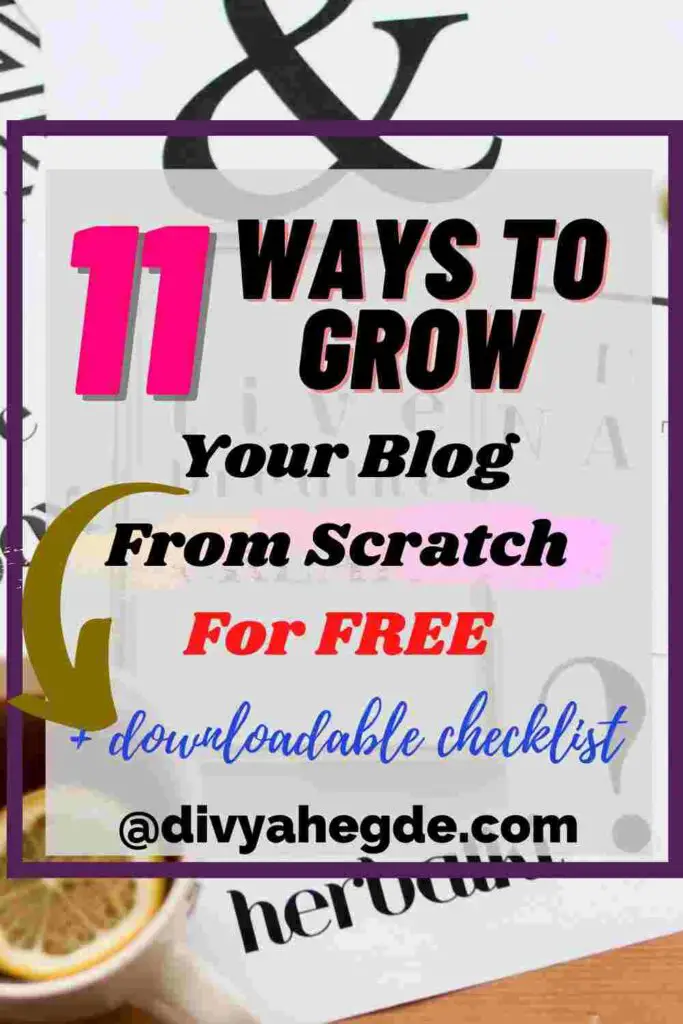 Knowing how to monetize traffic and scaling your audience is an important part of blogging as a business.
This implies you need to have clear goals and intentions with your blogging journey. A blog traffic blueprint to be precise.
Obviously you don't have to plan everything 5 years in advance. But having an end goal for each month/year is necessary.
In this post I'll be discussing some of the best ways to grow your blog from scratch for free.
11 Ways To Grow Your Blog From Scratch
This is not a "how to increase blog traffic fast" guide. However, these are some tried and tested methods that have helped me and million other bloggers to increase website traffic.
1. Doing Intense Research
Every beginner has googled "how can I grow my blog" at least once. The best way to go about this is by doing intense research.
Finding out and learning from bloggers who have already done this before is so helpful. There are many free resources on YouTube by some experienced bloggers.
If you have money to spend, you can also enroll in their courses. But that's besides the point here.
An often overlooked part of blogging by beginners is keyword research. I cannot stress enough on how important it is to incorporate relevant keywords. Learn more about Why Keyword Research is Important and Comprehensive Keyword Research Guide!
Taking advantage of trends is another way to grow blog traffic. Knowing what performs better in your niche and what doesn't will help you a lot.
2. Personalize Your Content
If you are a lifestyle blogger or someone that has a broader niche, then you have to make sure you sort out your content. This helps people interested in specific parts to easily navigate.
Make sure your writing is somewhere in between friendly and professional. This is because your readers can get their problems solved and relate to you at the same time. And as I always say, it's about the readers and not you.
3. WordPress SEO Optimization
The magic of searchable content! This is a boon for all the beginner bloggers who want to increase their blog visibility. No one really knows you exist or have a blog when you start out.
So, the best way to get some traffic coming in is by writing about searchable content. Whatever niche you write about, there's always someone searching for something related to your blog niche.
Take full advantage of this and SEO optimize your blog to generate traffic from search engines or social media. The best part about SEO optimization of blog posts is that your posts won't have a limited time i.e., they are evergreen!
I have written two posts related to SEO optimization of websites. Basics Of SEO For Beginners: The Ultimate Guide where a detailed explanation of what is SEO, why SEO and Types of SEO is given.
And 11 SEO Tips And Tricks To Promote Websites where the exact strategies you can use to generate traffic is explained.
You should definitely check them out because 3 of my blog posts have ranked on the 1st, 2nd and 3rd page of Google SERPs!! (Search Engine Results Pages) Within a week of me publishing them. (My website is 2.5 months old)
4. Install WordPress Plugins
There are certain free WordPress plugins to download. Your website needs them as they will help you understand how you can improve your content.
When I say free, I mean FREE and not FREE* (Terms & Conditions apply). You will be amazed as to how these plugins from well known companies are for free.
For a more comprehensive guide on the Free WordPress Plugins Every Blogger Must Have, click on the link.
From SEO optimization to analytics to website security, plugins will come handy. Not having some of these can cost you your site.
5. Understanding Google Analytics
The easiest answer to "how to grow blog traffic" is study your audience behavior. This is where Google Analytics comes into picture.
It is a powerful tool that tells all you need to know about your audience. From bounce rate to retention rate to exit rate to demographics.
The best part is that they show you exactly how many minutes the visitor stayed on your site. How they found your site is important because you will know where to exactly focus. Here's how you can Make the most of Google Analytics and grow traffic!
Loved what you're reading so far? Consider subscribing to get blogging tips and updates!
6. Networking With Bloggers
While you are optimizing and publishing your posts, you should also make sure you are connecting with other bloggers from your niche.
You will be surprised by how welcoming and supportive most bloggers are! This not only helps you make new online friends but also gives you exposure to a wider audience.
There are pages, groups and boards dedicated for all niche bloggers and specific niche bloggers to connect, contribute and share. Social media groups are the best way you can find these communities.
Here's a bonus! Looking for a free space to promote your work? Try joining a creator community like beloudr.com
On beloudr you can promote your work for free, making it is a great place to share your latest blog. Once it is on beloudr, other bloggers and content creators can shout it out, sharing your work with their audiences.
7. Guest Post For Popular Bloggers
Another way you can connect with other bloggers is by guest posting for them. Most of them will allow you to add a backlink to your site.
This helps you grow your blog audience because, most people reading the post you wrote would want to know who you are and what you do. So, the chances of them visiting your site and sticking with your content are high.
You might be wondering how to find bloggers who are looking for guest posts. This is hard to find out and is a slow process.
You can go to some popular blogs similar to your niche and check their contact us page. Most bloggers looking for people to guest post will mention it there.
Also, if you are a part of social media groups, then chances of people wanting guest bloggers mentioning it are high. Don't be doomed if most don't respond. This isn't a make or break situation. It's only an icing on the cake. You can always freelance write for someone!
8. Grow Your Email List
Email list is an important part of growing your blog audience. Why grow an email list when you can use social media?
Well, remember when MySpace was a thing? Not anymore. That is why. Emails are never going to go out of fashion. You will have full control over your list. And there's no fear of getting randomly suspended and losing all your followers.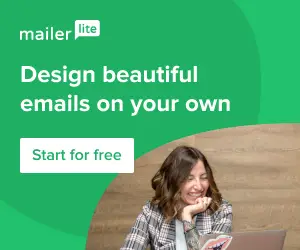 The best way to grow your blog audience is by providing freebies that are of high value.
E-mail list providers like MailerLite are a great way to get started with email marketing because they provide up to 1000 free subscribers.
Their easy to use interface and beautiful pre-made templates will help you with automating your emails! Use this Email Marketing Strategy to build an email list from scratch.
9. Grow Your Blog Traffic With Pinterest
Unless you are a complete newbie, you know how important Pinterest is for generating traffic to your site. Pinterest is more than recipes and lifestyle. No matter what niche you belong to, using Pinterest to drive traffic to your site is a must.
There's a reason why most successful companies from Apple to Walmart use Pinterest! Making the most of Pinterest group boards and pinning at the right time will change your website traffic.
For detailed explanation on Beginner Friendly Pinterest Strategies, click on the link. Also, use the collaborative boards or Pinterest group boards as much as you can.
You can learn How To Find And Join The Best Pinterest Group Boards and How To Start A Successful Pinterest Group Board.
10. Facebook Groups To Promote Your Site
Facebook groups are the next best source of traffic and engagement for most bloggers. These groups provide a variety of opportunities for bloggers to share their work. This is where experienced and newbie bloggers unite.
You can get all of your blogging related queries resolved by some of the best in game! Find out some of the Best Facebook Groups For Bloggers To Join and connect with other bloggers.
11. Tailwind Tribes
Tailwind tribes is a Pinterest recommended scheduler. It is used by a lot of bloggers to keep their Pinterest game strong.
This is also another way to ensure your content is getting maximum exposure and shares. This is how to use Pinterest for blogging in a smart way.
These were some ways in which you can grow your blog for free. If you found this useful in anyway, share this post and leave a comment down below. I would love to hear what you have to say!
Help me out by sharing this thread on Twitter or Pinterest or send it to someone who's starting out!
Subscribe to receive a newsletter twice a month about blogging and marketing!
About Divya Hegde
Divya Hegde is a blogger and copywriter who is on a mission to simplify blogging. She writers about blogging, content writing and marketing and helps aspiring bloggers turn their passion into a successful business.